Arrow Electronics to Showcase Libelium IoT Solutions for Smart Environment, Smart Agriculture and Smart Water at Microsoft IoT in Action Event in Seoul, Korea
Arrow Electronics, Inc., Libelium partner and distributor, has participated in the Microsoft IoT in Action event held in Seoul (Korea) on the 30th January 2018.
IoT and sensor technologies are driving the development of sustainable, environmentally friendly smarter cities and digital transformation around the world. South Korea recently ranked top for its readiness for sustained IoT adoption among countries in Asia Pacific region.
Arrow has shown in this event a local proof-of-concept urban-agricultural IoT solution working with Libelium's technology Waspmote designed for managing greenhouse environment and generating data analytics for optimal operation. Information gathered is sent to Arrow Connect, a cloud-based platform running on Microsoft Azure, developed by Arrow. Libelium's sensor platform along with Arrow software tools enable the seamless and secure flow of data on any device or edge over any protocol to any cloud, as well as securely provision and manage all IoT devices.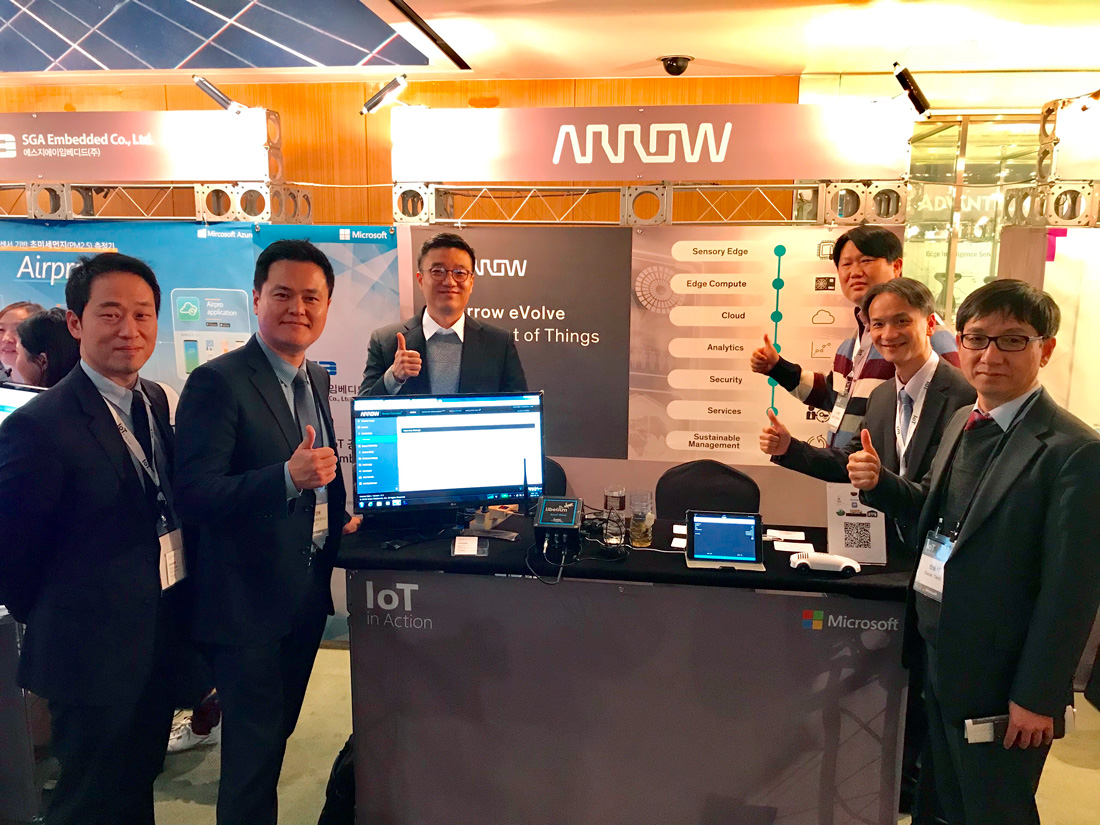 Arrow representatives showcase Libelium solutions at IoT in Action at Seoul
"Developing the kind of smart and connected devices needed to deliver the expected IoT outcomes and benefits draws on a broad spectrum of technologies and expertise. With our comprehensive 'sensor-to-sunset IoT offerings and technology portfolio from sensors, edge computing, connectivity, gateways to cloud platforms, data analytics, and security, we can reduce the engineering complexity and remove technology challenges that public and private sectors face while conceptualizing, deploying, and managing IoT devices or solutions," said Aiden Mitchell, vice president of IoT global solutions at Arrow.
"Libelium's wireless and sensor technology complements Arrow's comprehensive technology portfolio for IoT. Together we can offer pre-integrated IoT solutions that require minimal design effort before deployment", said Carlos Herrando, Libelium Sales Area Manager – Smart Cities, Industry, eHealth for Asia, Australia, and Eastern Europe. "We look forward to exhibiting alongside Arrow at Microsoft's IoT in Action."
If you want to join our IoT Ecosystem or want more information about it, contact Libelium Sales Department.