Libelium continues betting on education with the second edition of the IoT Spartans Challenge
The educational program is opened to technical schools and students to cover the gap between skills demanded by IoT companies and practical knowledge of workforce.
Libelium announces the 2nd edition of the IoT Spartans Challenge to enhance worldwide education among students and universities promoting electronics skills. Education is one of the company strategic pillars and Libelium is reinforcing its commitment to cover the gap between the skills demanded by IoT companies and practical knowledge of workforce. In the upcoming years, there will be around 4.5 million of employment opportunities for IoT developers.
The registration calendar is already opened until the 1st of June for individual participants and universities and the course will start next September. The educational program offers teaching materials, webinars, online quiz and tests for students to prepare them for the IoT world. Universities can also get the recognition as top educational centres in IoT training.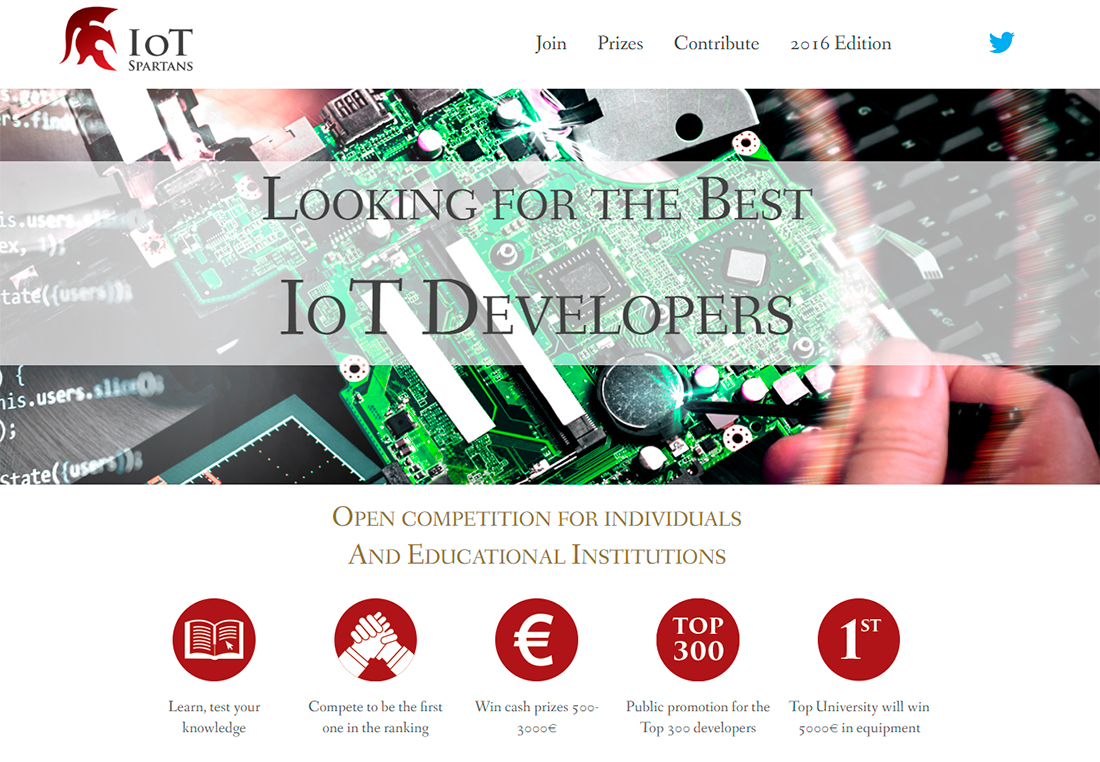 IoT Spartans Challenge second edition
Libelium will give prizes for the top three developers and the highest-ranking educational institution. For this year edition, the IoT Spartans Challenge offers three different promotion programs:
IoT Spartans Summer School
For 2nd edition of The IoT Spartans Challenge we have launched a Summer School to warm-up for the educational program with some introductory chapters. The course will be opened between the 15th of June and the 15th of July to provide training material for students during their holidays.
2016 Educational programs summary
The first edition of IoT Spartans Challenge showed some realities of technological education sector: there is a lack of specific training about IoT. Only a ten per cent of 1,200 students were able to finish the first edition of The IoT Spartans Challenge.
"The students are not enough prepared to follow the practical lessons", stated Alicia Asín, Libelium CEO, in an article published last year. In 2016 edition, twelve universities engaged actively the challenge and Microsoft was our gold sponsor providing access for the best eleven developers to Azure Cloud platform.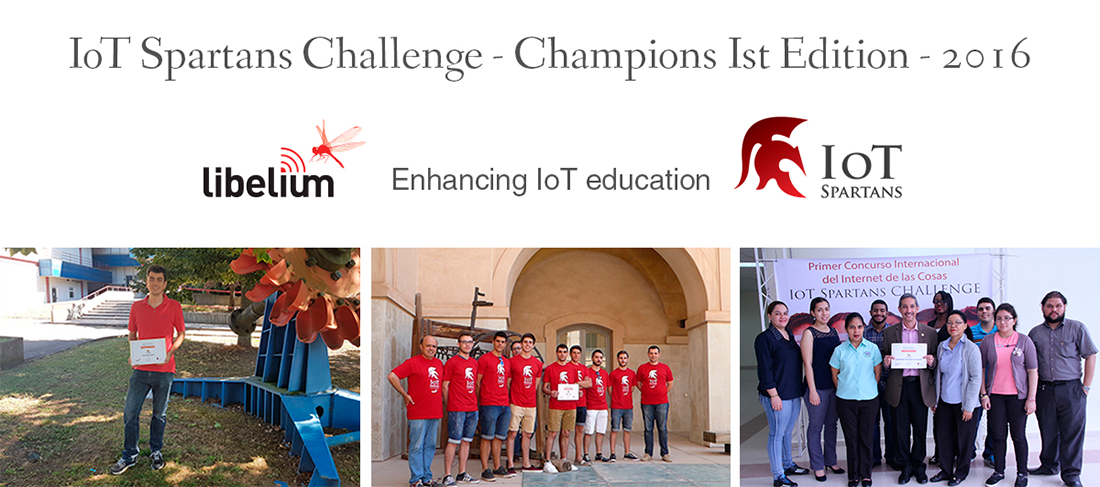 Champions of the first edition ot the IoT Spartans Challenge
Last Autumn, we launched a free educational course about IoT development with the Spanish University UNED. The introduction training based on Waspmote Sensor Platform taught students to program devices, to read sensor data, to interact with actuators or to transfer data through wireless communication protocols.
Around 1,600 students enrolled in the course and just about the 10% were able to finish it, the same percentage as the 1st edition of The IoT Spartans Challenge. Some of the students also participated in the Ideas Contest with their IoT developments.
If you want to participate as University, Sponsor or Collaborator, please contact our Industry Manager for Education.
Visit the IoT Spartans Challenge website.
IoT Spartans
Challenge
Join us in the
second edition