Libelium Hosted the Internet of Things in Aragón event
The Internet of Things in Aragón meeting took place last July 8th at Libelium headquarters in Zaragoza, Spain. The main purpose of this meeting was to bring the IoT closer to Libelium's near environment, and to share with them its expertise in this field.
Libelium founders, Alicia Asín and David Gascón, took an active part in this gathering, and the overwhelming number of attendees included representatives from local universities and research institutes, in addition to a wide list of companies, from technology, manufacturing and automotive industries to logistics and telecom companies.
It was the perfect occasion for Libelium to clarify what's behind the IoT concept, and to illustrate it with several case studies from nearby firms.
The day began with a welcome and presentation by Alicia Asín, CEO, who remarked the business opportunities that the IoT has to offer, summarized Libelium ever growing trajectory in its 9 years of experience and pointed out some of the company partners and distributors, such as IBM, Microsoft or Telefonica.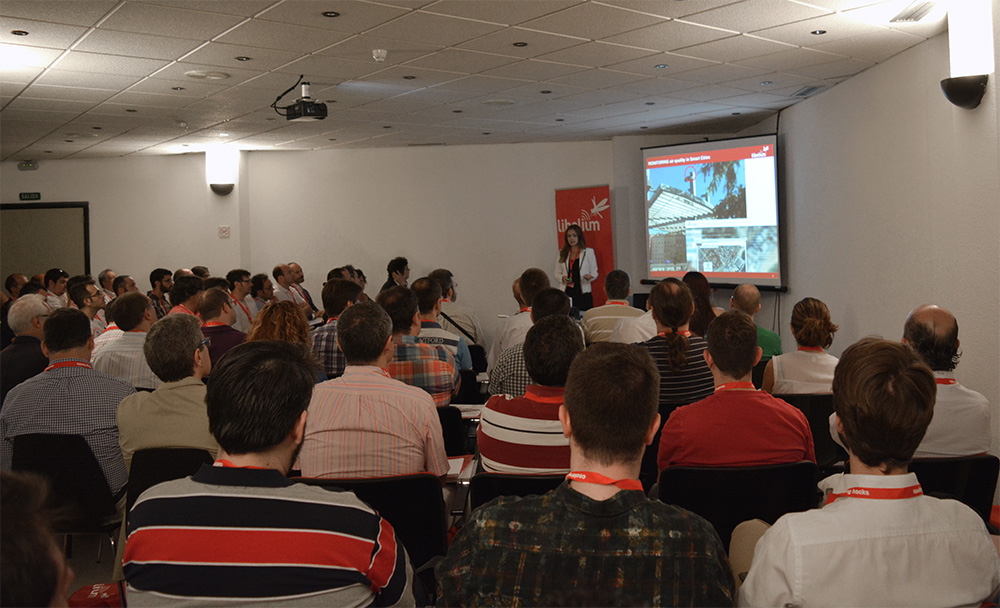 Alicia Asín presenting the IoT in Aragón Meeting
Alicia also talked about market expectations and the biggest barriers firms have to face when approaching the IoT, with hype and confusion being the main frustration. Regarding this aspect, Libelium plans to simplify technology as much as possible and provide specific training on wireless sensor networks and electronics to meet the increasing demand for developers. Find out more about Libelium IoT Training.
David Gascón, CTO, briefly introduced Waspmote, an open source wireless platform for the IoT with over 80 sensors available, Meshlium, Libelium multiprotocol router, and the new IoT Vertical Kits. To exemplify the deployment of this hardware, some case studies were explained, particularly Smart Logistics, the collaboration with Tahona Goyesca, an Aragonese leading company in the bakery sector.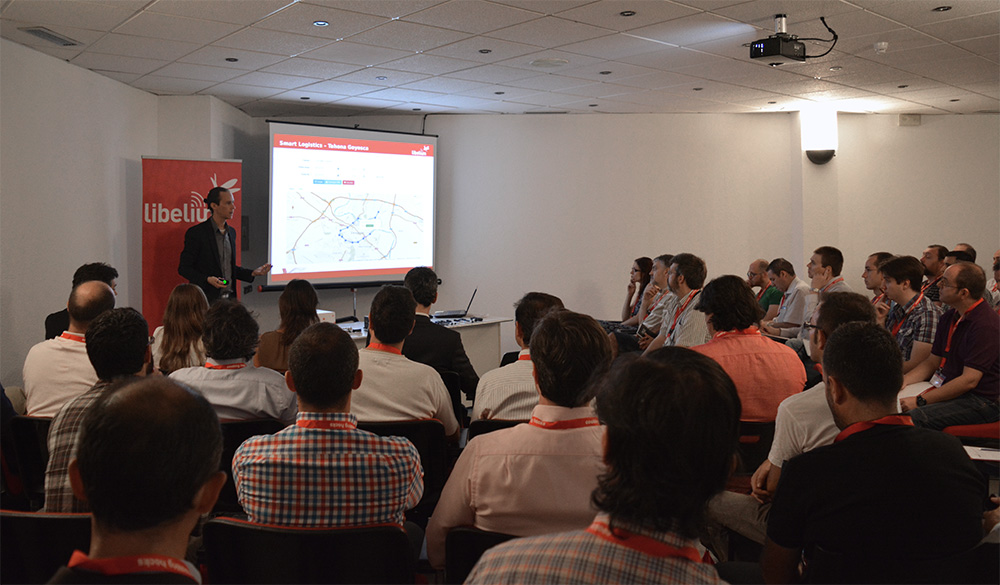 David Gascón introducing Smart Logistics.
Libelium designed a smart tracking solution with 3G and GPS technologies using Waspmote Plug and Sense! and the Meshlium gateway to help this company to control temperature in its fleet of refrigerated vehicles, making delivery more efficient.
Finally, David pointed out the current state of this emerging technology, and looked over at the future of the firm, as well as the following projects, remarking the steady innovation reflected in a continuous product release.
The day continued with the presentation of Smart Water sensoring platform and the Fluvial Aquarium of Zaragoza project, described by Ana Sancho, Key Account Manager. Libelium helped to reduce the required time and effort to measure key parameter like temperature, conductivity or pH, installing Smart Water sensors that capture data and send it to two different Waspmote nodes, placed in the piranhas and anaconda tanks. A Meshlium router gathers the data from the nodes and transmit it to the Cloud, so it is available in real time for the Aquarium technicians.
Javier Martínez, VP Business Development & Sales, continued with Smart Agriculture and Open Garden, Libelium solution to make irrigation and farming efficient by measuring soil moisture, solar radiation or leaf wetness.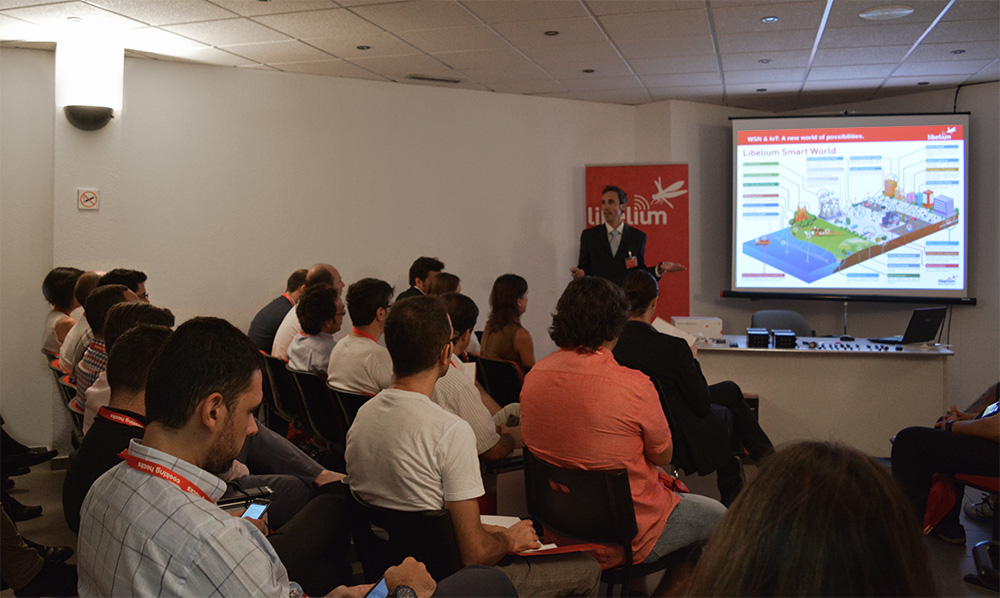 Smart Agriculture in Flores en la Mesa case study
Javier alluded to Flores en la Mesa, a local company that cultivates and crystallizes edible flowers for the gourmet market, which installed Waspmote Plug and Sense! Agriculture nodes in a greenhouse to achieve an automated irrigation system with real time data control.
The last case study to be presented was Polibol, a manufacturing company in the flexible packaging sector. Libelium designed a specific application using Waspmote to monitor air temperature near printing machines and in pipes, and CO2 concentration in the workers' area. The Meshlium gateway allows to transmit data from the sensor nodes to the Cloud for a real time analysis by Polibol.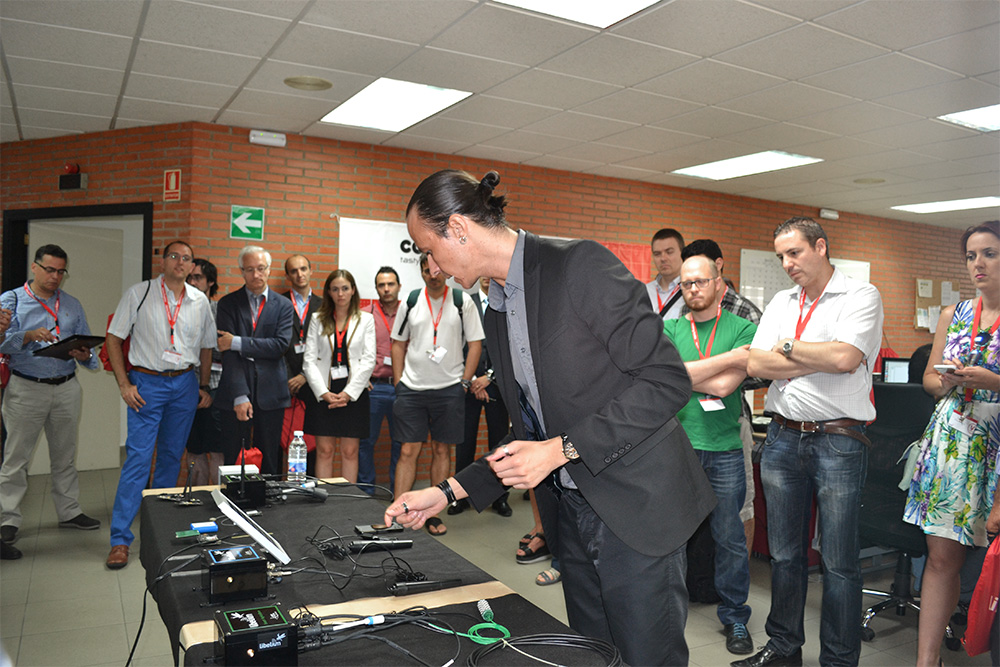 Waspmote Plug and Sense! demo
After that it was time for a tour of Libelium facilities, where David Gascón conducted a demo of some of the firm's core products and introduced the soon to be released new projects. The event was finished by a networking coffee in which attendees could share their first thoughts on the IoT and Libelium.
Libelium was pleasantly surprised with the participants' reaction and the outcome of this meeting , and will be looking forward to host similar events in the near future.
For more information about our products contact the Libelium Commercial Department.