MySignals' voice control demo at the IoT Tech Day 2017
The IoT Tech Day took place last 19th of April in Ultrech (The Netherlands). The event is one of the biggest European IoT conference showing new smart technology applications and disruptive solutions.
Vinicius Senger, CTO and Inventor of Globalcode, participated there in a practical workshop where he explained his development based on MySignals eHealth platform and BLE sensors. The project has integrated MySignals SW BLE Complete Kit as the hardware base, Raspberry Pi 3 and Google Home, the hands-free Google Assistant voice-activated speaker.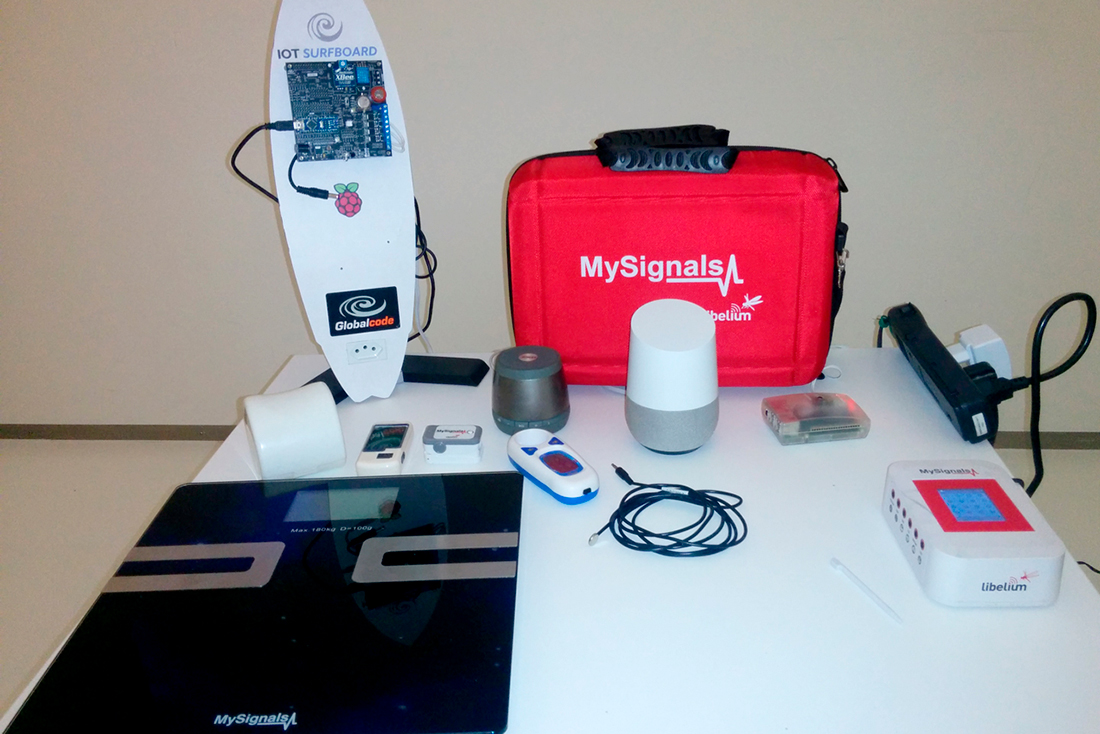 Material for the hands-on lab based on MySignals
The first part of the hands-on lab integrates MySignals Cloud with a local database. This integration has been made using Node-RED and REST interfaces to read the data and then push them to a personal MongoDB database.
The most innovative part of this development is the second part: MySignals voice control. BLE sensors of the eHealth platform are paired with a Raspberry Pi through bluetooth and triggered with the Google Voice assistant of a Google Home device. Once data is collected is after sent to MySignals Cloud. They are read using Node-RED and then visualized in a dashboard at the same time that the speaker says the values loudly.
A taste of our Open-health Workshop this Wednesday at @iottechday with #libelium, Node-RED, Google Home and much more! pic.twitter.com/HOMmrlmh5c

— Vinicius Senger (@vsenger) 17 de abril de 2017
The project will also be presented in Amazon Smart City hackathon at Amazon Smart City hackathon at The Developers Conference or j-spring. It shows the countless possibilities that MySignals enables for eHealth product developers or engineeres that want to create their own applications.
More information at: MySignals Technical Guide.
For more information about our products contact the Libelium Sales Department.
Buy the Libelium MySignals Kit at The IoT Marketplace!
The IoT
Marketplace
Buy off-the-shelf
IoT kits