New Calibrated Gas Sensors allow maximum accuracy for Industrial, Environmental, Agriculture and Farming applications
UPDATE: The article is out of date. For more information about the new calibrated sensors, please visit these articles:
Libelium has launched a new line of Calibrated Gas Sensors that improve the accuracy readings of gas sensors present in both our Waspmote and Plug & Sense! lines. This new line is developed in response to requirements of customers who needed to get maximum accuracy in their industrial, environmental, agriculture and farming applications.
Applications that are improved by adding calibrated sensors include:
Environmental:
Forest Fire Detection: minimum amounts of CO (30 ppm's) need to be measured to detect combustion
Air Pollution: strict regulations make it important to control gases such as: SH2, Methane (CH4), CO, air pollutants
Agriculture:
Wine Production: toxic levels of CO
Green Houses: O2, CH4
Farming:
Animal Offspring Care: SH2, Methane (CH4), NH3
Toxic Gas Levels (waste): SH2, Methane (CH4), NH3
Industrial:
Indoor Air Quality: O2, NH3, CO
Explosive and Hazardous Gases: O2, H2, Liquefied Petroleum (Isobutane, Ethanol)
Storage Incompatibility Detection: SH2, CH4, Liquefied Petroleum (Isobutane, Ethanol)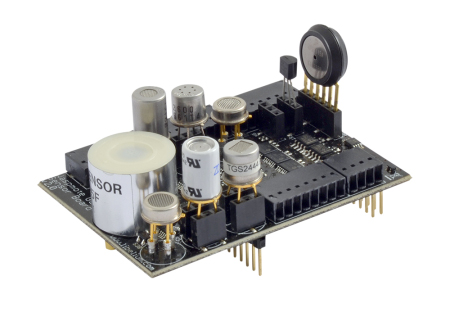 Gas Sensor Board for Waspmote with Calibrated Sensors
What is the accuracy of non-calibrated sensors?
Up to now, with gas sensors without calibration we could get useful information on the overall range of a certain gas. This means we could get two types of information:
Presence / Absence of a gas: useful for detection
Average levels: low / medium / high
This information is useful for applications where knowing the relative levels is enough and where price is key factor, as non-calibrated gas sensors are cheaper than the calibrated ones. Take into account that air quality projects such as the Nest Smoke Alarm, the Air Quality Egg, or Smart Citizen work with non-calibrated sensors, in the same way that Waspmote and Plug & Sense! do up to now. This shows how knowing the relative values and the presence / absence of a gas is enough for many applications.
What accuracy do we get with calibrated sensors?
Sensor
Range
Accuracy
Air Pollutants II

(C6H5CH3, H2S, CH3CH2OH,NH3, H2)

1~100ppm
±4ppm
Alcohol Derivatives

(CH3CH2OH, H2, C4H10, CO,CH4)

50~5000ppm
±10ppm
Methane (CH4)
500~10000ppm
±100ppm
Oxygen (O2)
0-30%
±1%
Carbon Monoxide (CO)
30~1000ppm
±4ppm
Liquefied Petroleum Gases

(H2, CH4, Ethanol, Isobutene)

500~10000ppm
±200ppm
Why are some gas sensors not included in the calibrated list?
Some sensors such as CO2, NO2, VOC, O3 NH3, Air Pollutants 1 haven't been included in the calibration process as the internal operation of these sensors do not allow setting reference points in the vacuum chamber. This means we can keep using these sensors to measure relative changes but not specific ppm measurements. In any case, these sensors are extremely useful to measure the overall kind of concentration (LOW, MEDIUM, HIGH) of each gas and to detect its presence in a given place to control specific events.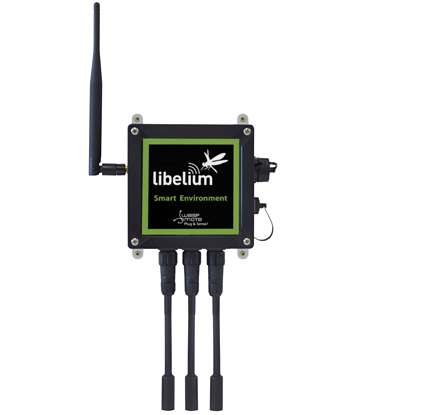 Plug & Sense! Environmental Model with Calibrated Sensors
These sensors are calibrated in the laboratory using a vacuum chamber and adding small quantities of the gas to create a specific response curve for each sensor. When purchasing a calibrated sensor, a calibration certificate is included, indicating the conditions of the calibration and the output of the sensor for the three calibration points. From this data we obtain the concentration value in ppms (which is the final value we want to measure).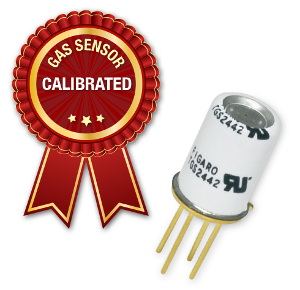 For more information about the Libelium's new line of Calibrated Gas Sensors contact our Commercial Team.
UPDATE: The article is out of date. For more information about the new calibrated sensors, please visit these articles: