Nominated for the 4th Annual IoT Awards
We are proud to announce that we have been nominated in six different categories for the 4th Annual IoT Awards hosted by Postscapes.com.
These awards honor the year's best products, organizations and ideas shaping the Internet of Things and their spirit is to showcase best IoT people, products and companies.
The categories we have been nominated in are:
Find Why!
In the blink of an eye 2014 has gone... We have launched a lot of innovative product releases, increased our distribution network, moved to our new headquarters and received different prizes and recognitions.
Some examples of the products Libelium launched in 2014 are:
Smart Water
Libelium launched in 2014 a Smart Water wireless sensor platform to simplify remote water quality monitoring. Equipped with different sensors that measure up to a dozen of the most relevant water quality parameters, Waspmote Smart Water is the first water quality-sensing platform to feature autonomous nodes that connect to the Cloud for real-time water control. It is suitable for potable water monitoring, chemical leakage detection in rivers, remote measurement of swimming pools and spas, and levels of seawater pollution. The water quality parameters measured include pH, dissolved oxygen (DO), oxidation-reduction potential (ORP), conductivity (salinity), turbidity, temperature and dissolved ions (Na+, Ca+, F-, Cl, Br-, I-, Cu2+, K+, Mg2+, NO3-).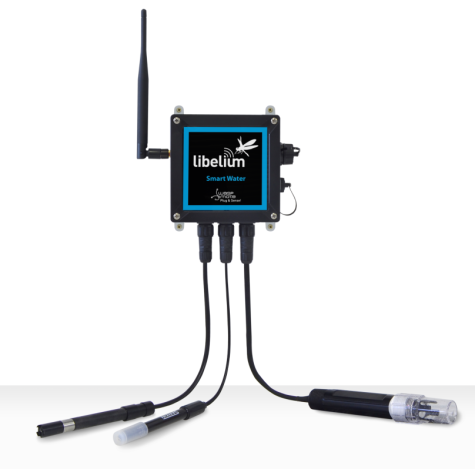 Waspmote Plug & Sense! Smart Water model
More info about Libelium Smart Water.
Smart Logistics - Realtime Tracking and Sensing of Goods
Libelium released in 2014 new Smart Logistics modules for Waspmote sensor nodes that provide position, sensing and transmission capabilities to enable real time tracking, via 3G, GPS and GPRS. These new modules for Waspmote and Plug & Sense! devices can read geolocation coordinates, collect extra sensor data such as humidity, luminosity, CO, CO2, temperature, or vibration, then send all the information to a web or Cloud server. Smart Logistics applications include continuous vehicle fleet tracking, container goods control, and asset management, or other location-based services.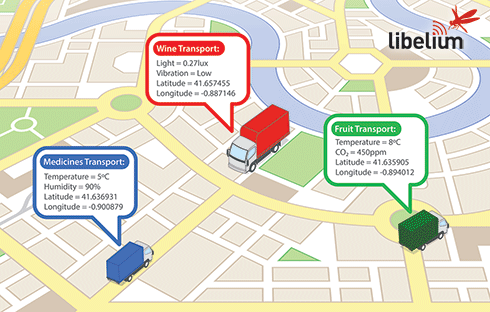 Smart Logistics - Realtime Tracking and Sensing of Goods
Read more about Libelium Smart Logistics.
New Industrial Protocols modules for Waspmote
Libelium released in 2014 new industrial protocol modules and API libraries for Waspmote sensor nodes that allow sensor information from industrial devices to connect to the Cloud. The new modules support the most widely used industrial communication network protocols such as RS-232, RS-485, CAN Bus, and Modbus, used for process or industrial automation, building automation, military and automobile applications, for sensor network capability in remote or factory floor environments. In conjunction with the new modules, Libelium released an special sensor board to connect 4-20 mA sensors (current loop)—the most commonly deployed in industrial environments.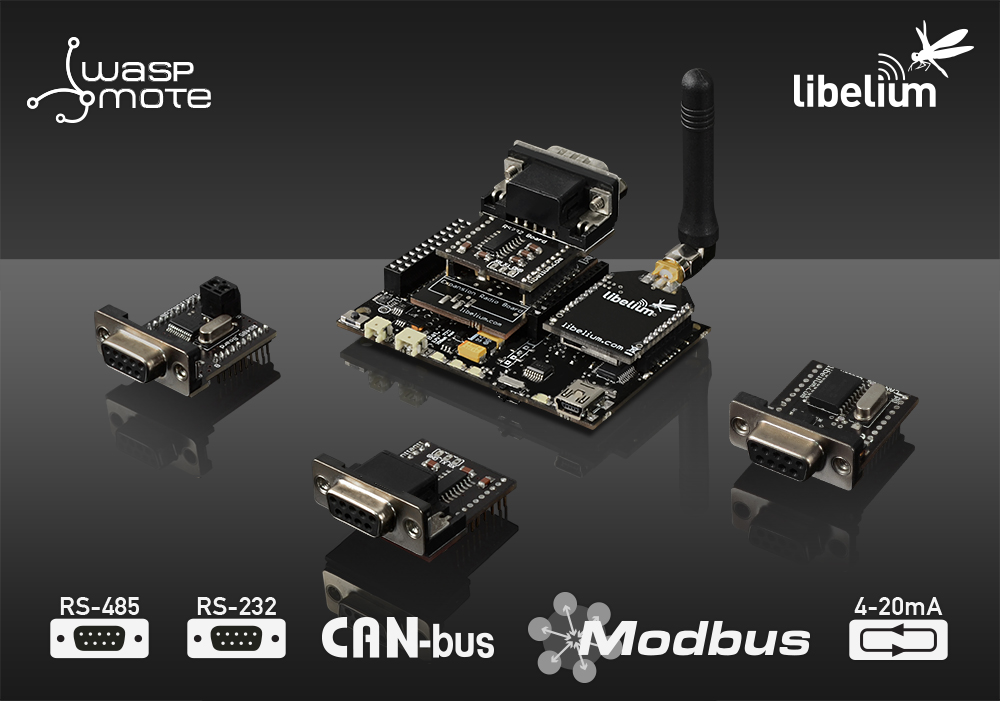 Libelium Waspmote Industrial Protocols
More info about Libelium new Industrial Protocols modules for Waspmote.
Bluetooth Low Energy
Libelium launched in 2014 a Bluetooth Low Energy (BLE) module that connects Waspmote sensor nodes to smartphones, tablets, and all other BLE compatible iOS and Android devices. The Bluetooth 4.0 wireless protocol, also known as Bluetooth Low Energy (BLE) or Bluetooth Smart, offers low-energy power management for short-range wireless connectivity that is location-aware, and context-aware. Integrated with Waspmote, Libelium's BLE module allows sensor devices to function as real time location systems, with encrypted data transactions.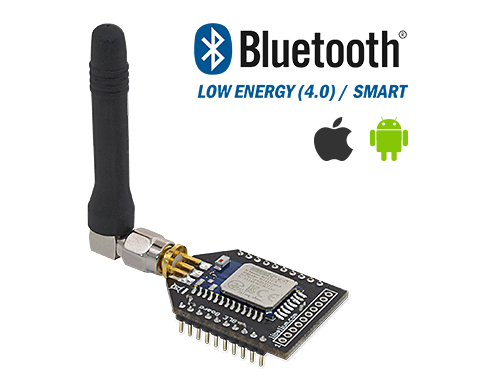 Bluetooth Low Energy to Connect Sensors with Smartphones and Tablets
Read more about Libelium Bluetooth Low Energy.
LoRa communication protocol
Libelium added in 2014 long-range wireless coverage to Waspmote and Plug and Sense! sensor nodes, by integrating Semtech's LoRa™ RF technology in a new module-on-a-chip embedded radio design for Smart Cities and Internet of Things (IoT) deployments. Waspmote sensor nodes are designed to deploy by the thousands, connecting any sensor using any communication protocol to any Cloud system. The LoRa communication protocol extends wireless connectivity so that Waspmote sensors can transmit data at distances of several miles, even through buildings, and over 20 miles in open spaces.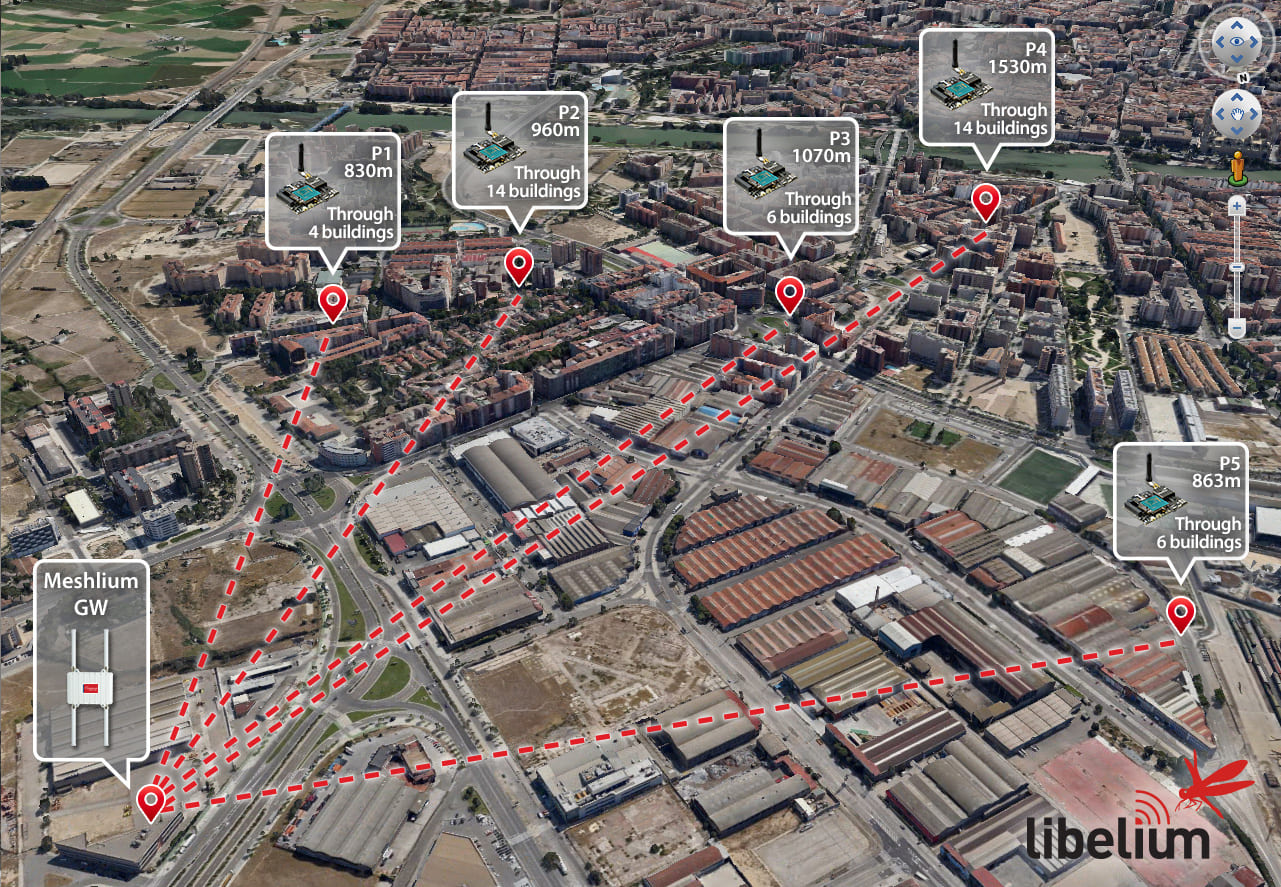 Non Line of Sight Tests in Urban Environment
Read more about Long-range wireless coverage to Waspmote and Plug and Sense! sensor nodes.
Some examples of 2014 partnerships with new Cloud platforms are:
Telefónica
Libelium added new Cloud technology options to its Waspmote wireless sensor platform by integrating the Cloud solution from Telefónica, the global broadband and telecommunications provider, to allow faster time-to-market for Smart Cities and Internet of Things (IoT) projects.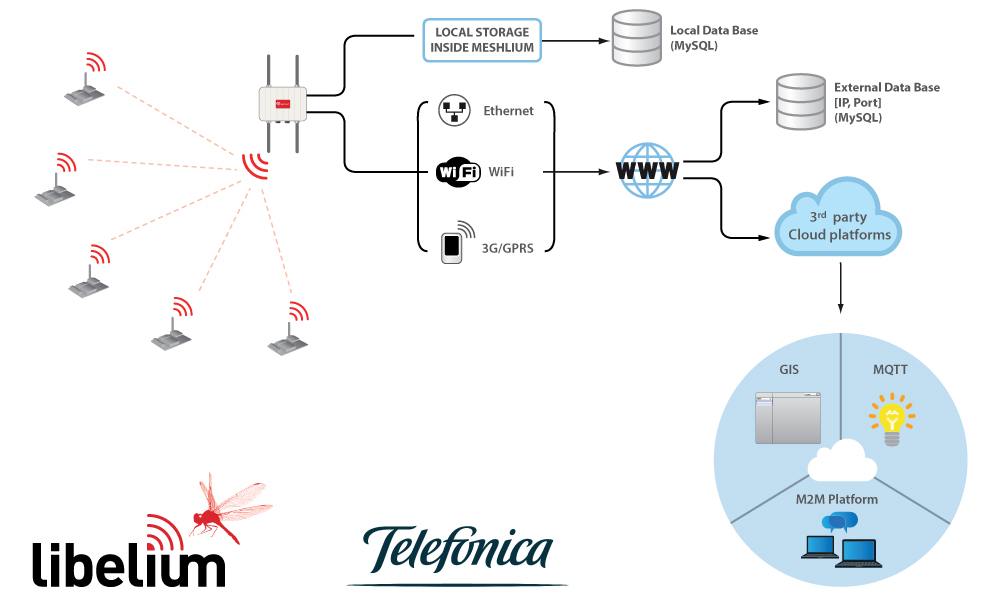 Integration diagram - More info: http://www.libelium.com/products/meshlium/wsn/
Read more about Telefónica integration.
Sentilo
Libelium included in the 2014 the Sentilo open source software platform in its core product line for Smart Cities deployments, to link with Libelium's Waspmote sensor network device and the Meshlium Internet gateway. Sentilo is the first Smart Cities software platform developed by a municipality, based on experience and knowledge of the requirements of a large city such as Barcelona.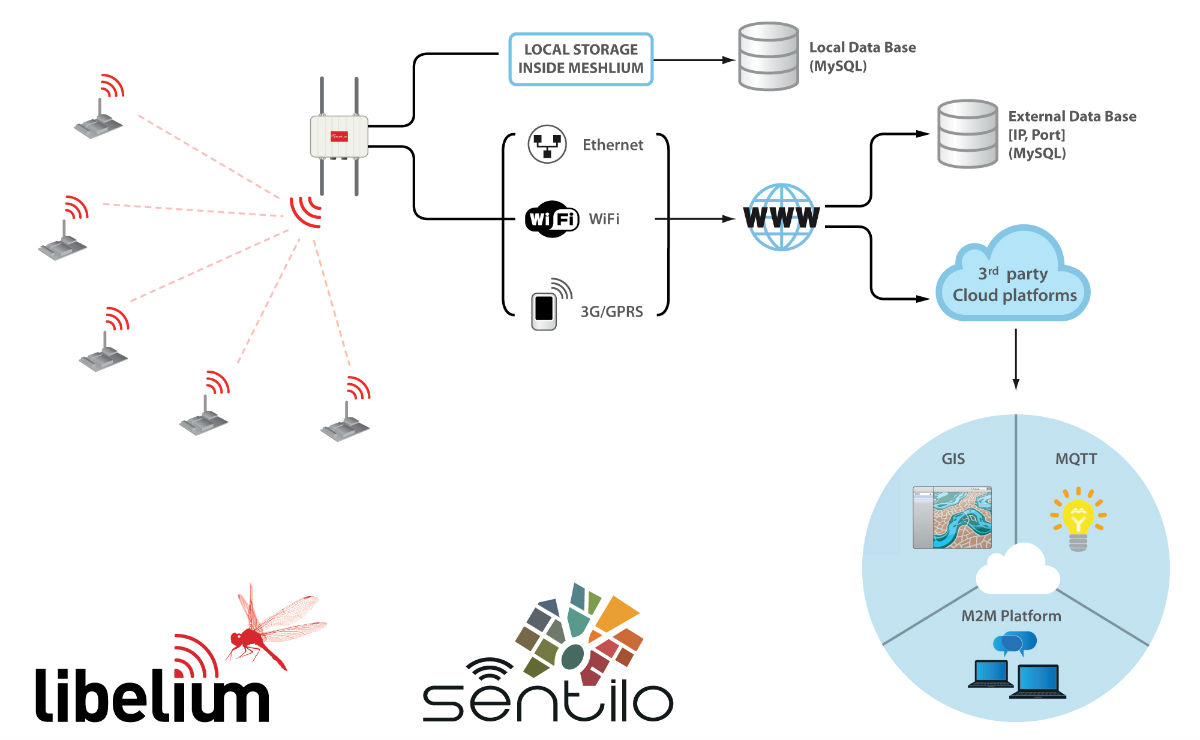 Meshlium Connection Options Cloud
Read more about Sentilo integration.
Other 2014 Key Points
National Young Entrepreneur Award 2014
Libelium received in 2014 the National Young Entrepreneur Award at the annual meeting of the Spanish Confederation of Young Entrepreneurs (CEAJE).
Alicia Asin, co-founder and CEO of Libelium, was in charge of collecting the award from their Royal Highnesses the Prince and Princess of Asturias in the ceremony held at the Hotel Villa Magna in Madrid.
Read more about the National Young Entrepreneur Award.
New Headquarters
In 2014 another step forward has been taken in Libelium growth trajectory. We moved to a new headquarters last October, a three-storey building where we have 4,000 square meters. Thus, we multiplied nearly sevenfold the space that we had in our previous facilities, where we were located from our birth in 2006, and where we only had 600 square meters.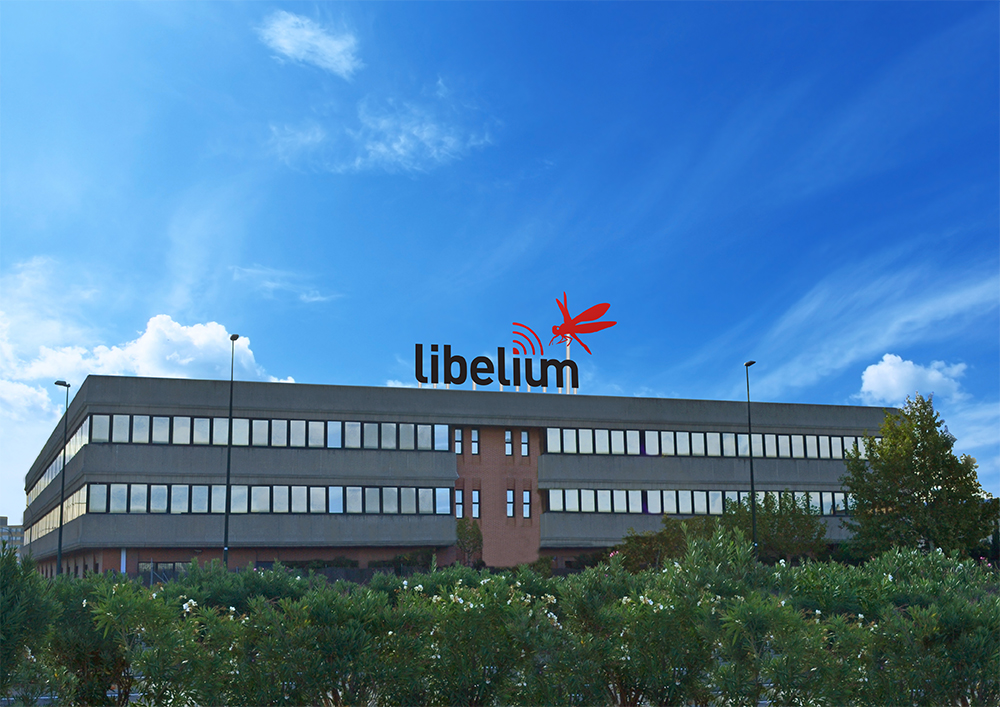 Read more about our new location.
Alicia is Libelium's Co-Founder and CEO. She has been lately attending as keynote speaker at Strata Barcelona + Hadoop World (see the full Alicia keynote video entitled "Hiding Information Inside Big Data, and the Hypocrisy of Privacy"), and at BORDERSESSIONS, International Technology Festival 2014 in The Hague, Netherlands.
She participates in different forums worldwide spreading IoT word and particularly talking about the challenges, actions and outcomes of Smart Cities projects.
Alicia Asín speaking at Strata Barcelona + Hadoop World, November 2014
Read more about Alicia Asín.
Our versatile and horizontal platform allows implementation of any Wireless Sensor Network in a wide variety of Smart Cities projects. With more than 70 sensors and 15 radio technologies available, Waspmote has been specially designed to be extremely low consumption.
We are focused in develop a technology that make it easier for everyone to develop new products and services for the Internet of Things.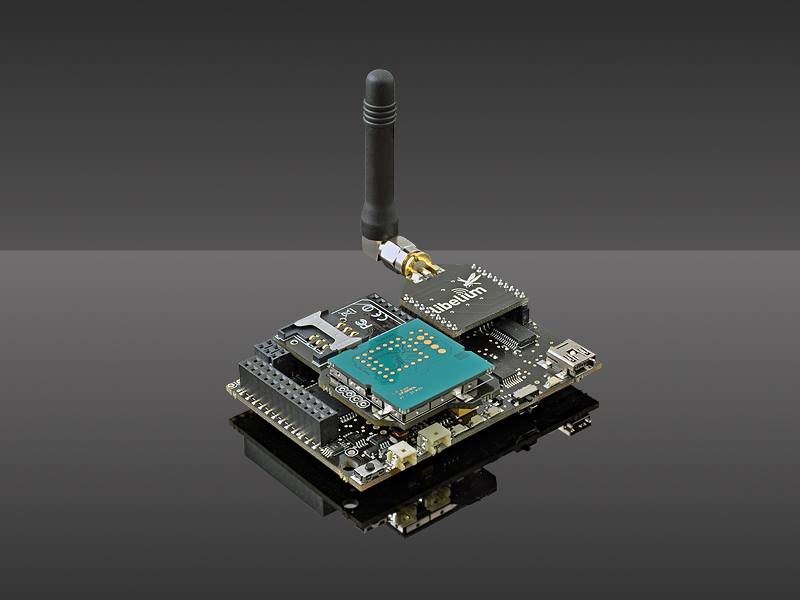 Connect any Sensor using any Wireless Technology to any Cloud platform
More info about Waspmote.
This 3G shield for Arduino enables the connectivity to high speed WCDMA and HSPA cellular networks in order to make possible the creation of the next level of worldwide interactivity projects inside the new "Internet of Things" era.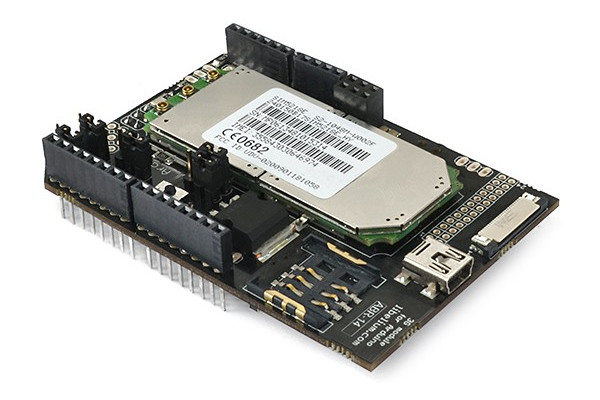 Read more about our 3G Shield for Arduino.
We are concerned with Open Source movement and we truly believe that IoT is a revolution that involves everyone, including (and specially) Makers. In Cooking Hacks we provide complete documentation about our IoT Awards nominated Open Source projects, e-Health, Open Garden and Open Aquarium.
e-Health
The e-Health Sensor Shield V2.0 allows Arduino and Raspberry Pi users to perform biometric and medical applications where body monitoring is needed by using 10 different sensors: pulse, oxygen in blood (SPO2), airflow (breathing), body temperature, electrocardiogram (ECG), glucometer, galvanic skin response (GSR - sweating), blood pressure (sphygmomanometer), patient position (accelerometer) and muscle/eletromyography sensor (EMG).
e-Health Sensor Platform V2.0 for Arduino and Raspberry Pi [Biometric / Medical Applications]
More info about e-Health Sensor Platform V2.0.
Open Garden
The Open Garden platform consist of three different kits, each ready for a specific kind of growing plant scenario: indoor (houses and greenhouses), outdoor (gardens and fields) and hydroponics (plants in water installations). The platform allows to control the state of the plants by sensing several parameters depending on the kit: Soil moisture (Indoor & Outdoor kits), Temperature + Humidity + Light (All kits), and Water sensors: pH, Conductivity, Temperature (Hydroponics kit).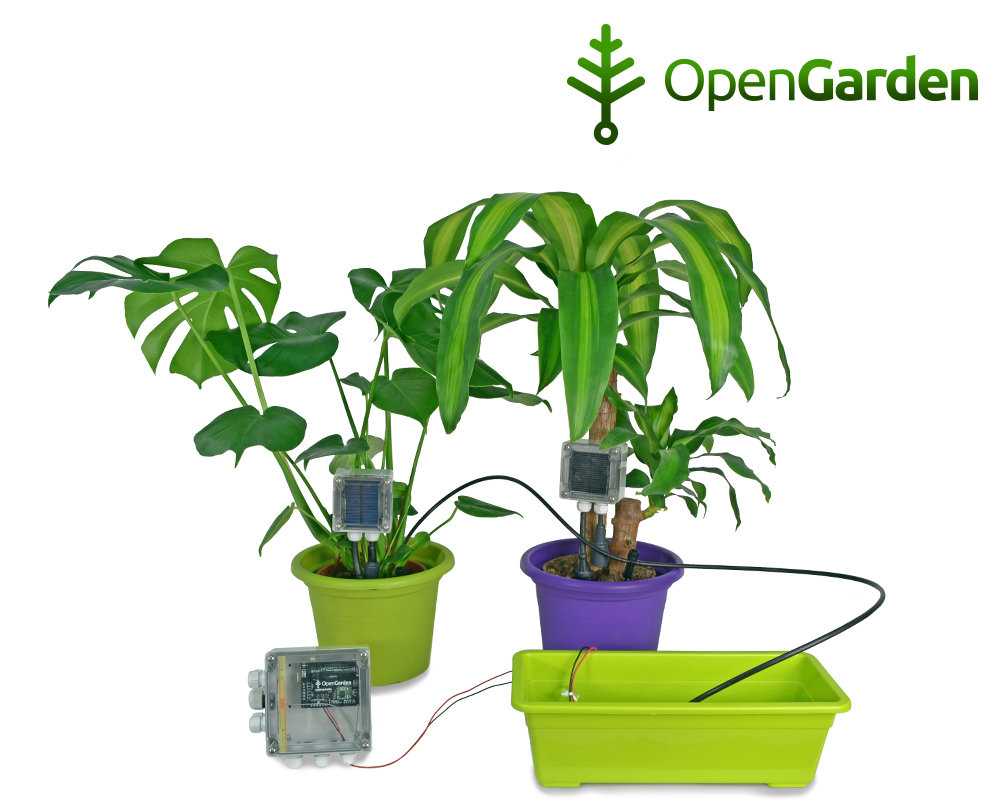 Open Garden - Hydroponics & Garden Plants Monitoring for Arduino
Read more about Open Garden (Arduino).
Open Aquarium
Open Aquarium has been designed to help you to take care of your fish by automating the control and maintenance tasks that take place in the fish tanks and ponds. Open Aquarium consists of two different and complementary kits: Basic and Aquaponics, and many several extra accessories.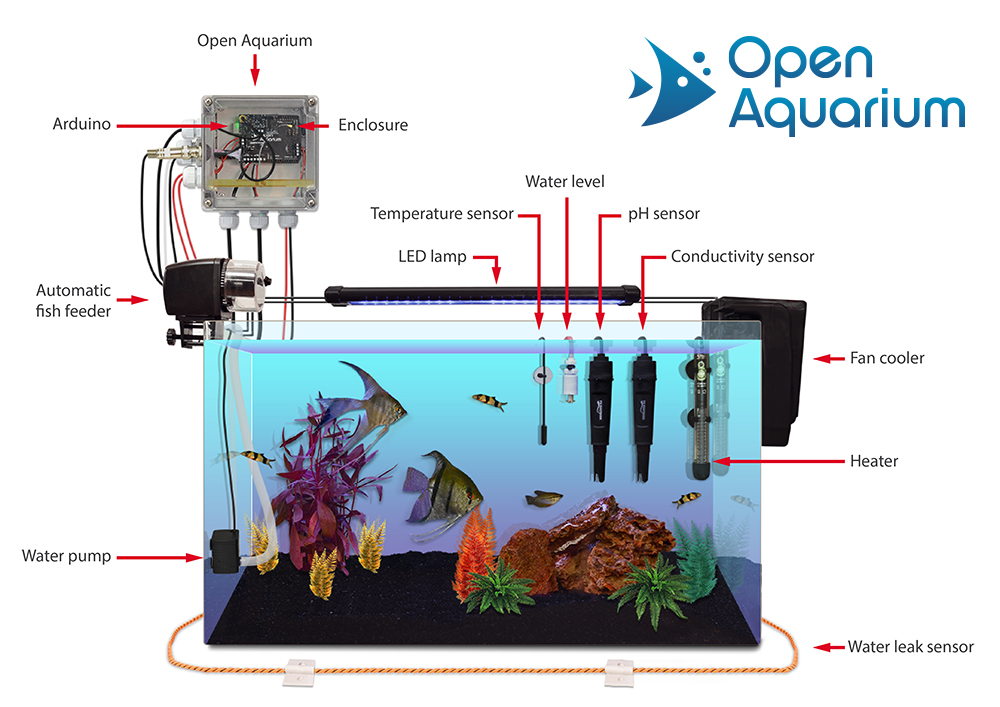 Open Aquarium - Aquaponics and Fish Tank Monitoring for Arduino
Read more about Open Aquarium (Arduino).
We are very happy just for the recognition of being included in 2014 best products/projects from across the industry and we will continue in 2015 helping to create an Internet of Things sharing our efforts, projects and ideas.
We invite you to vote for us in these 2014 IoT Awards (clic above on each category).
Thank you very much for your support.