SensorInsight uses Libelium Smart Security sensors to improve Senior quality of life
Libelium's partner SensorInsight has launched recently the SensorInsight @Home (at Home) Pilot Program, a project that has been created with Libelium IoT hardware platform to provide aging adults and the disabled improved security, freedom and support. This program has been designed by SensorInsight in partnership with a State Agency for Aging and Adults with Physical Disabilities.
With more and more seniors deciding to stay and live within their own home, additional support is required to care for them. Elder care can involve daily visits, monitored phone calls or even emergency devices. SensorInsight @Home provides a more holistic solution, offering both the resident and the caregiver a greater peace of mind.
@Home Program – source: sensorinsight.io
This solution includes a variety of Plug & Sense! Smart Security sensors. Presence and light sensors are installed around the home, monitoring activity in determined areas and if the lights are being used regularly. Temperature and humidity sensors are also employed, as well as door and window monitors.
Some locations like the bathroom and the kitchen need specific monitoring. Water flow and water leakage sensors can be installed here to prevent water overflow or any other sink misuse.
Waspmote Plug&Sense! Smart Security node at SensorInsight @Home Pilot Program
The main goal of this project is to give senior and disabled adults autonomy while also providing their caregivers and loved ones peace of mind. This system does not take the place of the caregiver, but helps in identifying if a resident needs immediate assistance when the caregiver is unable to be with the resident physically.
The SensorInsight @Home monitoring solution, gives the user a vertical hardware and software platform where real-time data can be viewed and alarms can be customized.
The hardware core of this solution is provided by Libelium's Waspmote Sensor Platform. Three to five Waspmote Plug & Sense! Smart Security nodes per home are installed using the following sensors: hall effect, presence, temperature, humidity, pressure, luminosity, and water flow sensors.
SensorInsight @Home Waspmote Plug&Sense! nodes
Data gathered by the sensors is sent via LoRaWAN to a gateway, which then communicates with the cloud via Ethernet or Cellular. The SensorInsight @Home software platform then collects the data and performs machine learning to understand daily patterns in the residents activity for monitoring.
The SensorInsight IoT Platform is built from the ground up to provide comprehensive and robust out-of-the-box data collection and visualization capabilities ready to help you solve real-world challenges. Our easy to use interface and flexible integration tools can give you the power to visualize, analyze, and monitor your environment in real-time.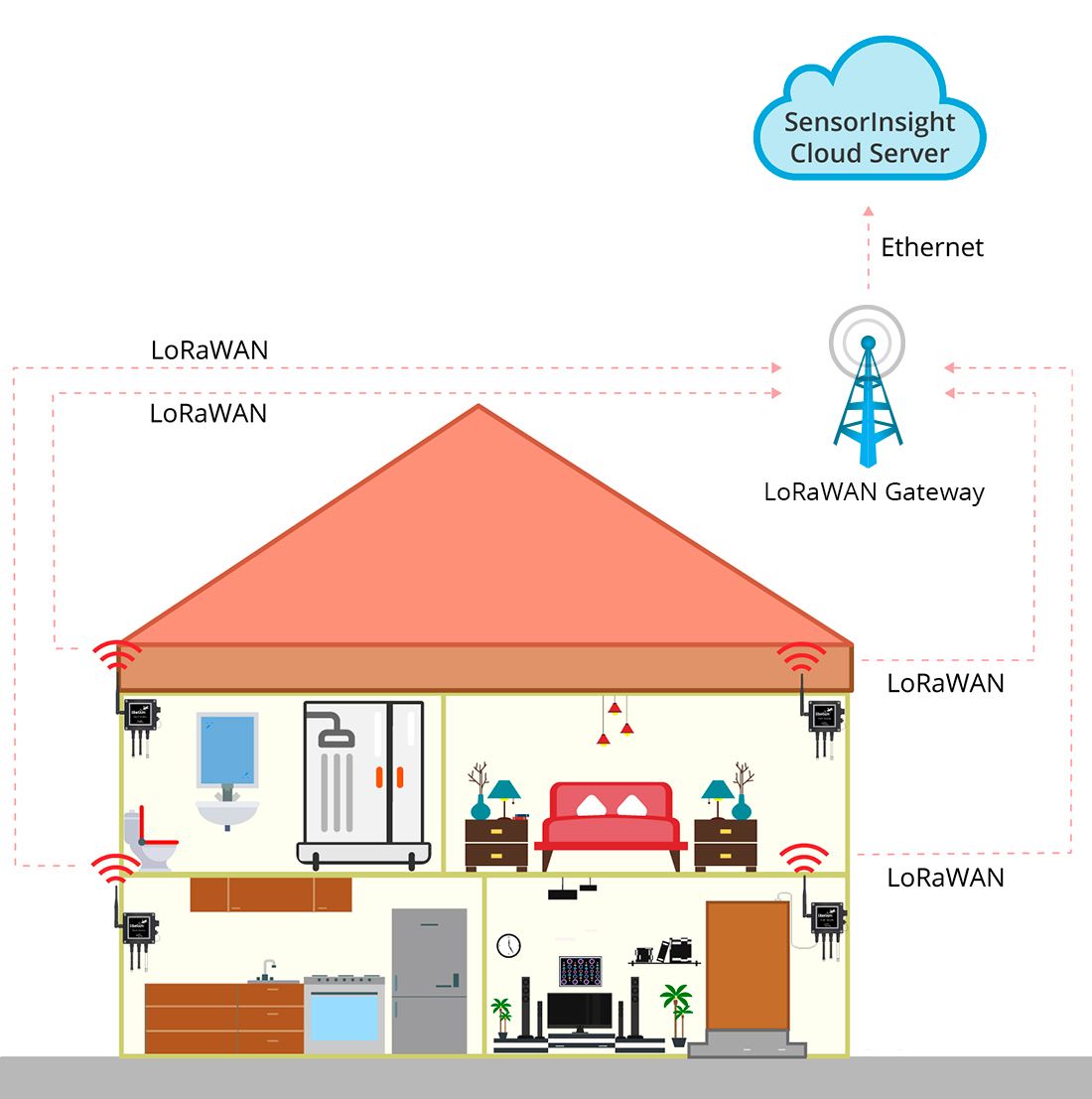 SensorInsight @Home Diagram
SensorInsight @Home delivers a new phase of Smart Home monitoring giving the users an experience of safety and health in their own home. "You could not have come in a better time. My husband fell recently, and knowing that someone is watching out for him when I cannot is priceless", a SensorInsight @Home customer pointed out.
For more information about our products contact the Libelium Sales Department.
More information:
References:
Discover SensorInsight IoT Kits at The IoT Marketplace.