The IoT Spartans Summer School: warming-up for the greatest IoT educational program
The new course starts the 15th of June and will last one month to prepare worldwide students before the IoT Spartans Challenge.
Libelium has launched the second edition of the IoT Spartans Challenge, the educational program whose aim is to cover the gap between skills demanded by IoT companies and practical knowledge of workforce.
The main novelty for this year is the Summer School that will be warming-up the course during summertime between the 15th of June and the 15th of July. Participants will have access to free webinars which explain basic concepts of the Internet of Things using Waspmote Sensor Platform.
Students and universities can join 2017 edition until the 11th of June. At this time there are around 300 participants from more than 150 different worldwide universities. The punctuation that the students get during this introductory course will be added in their IoT Spartans profiles for the long challenge. Participants who reach the highest scores when the IoT Spartans Challenge finish will win a first prize of 3,000 Euros, a second one of 1,500 Euros and the third ranked will earn 500 Euros.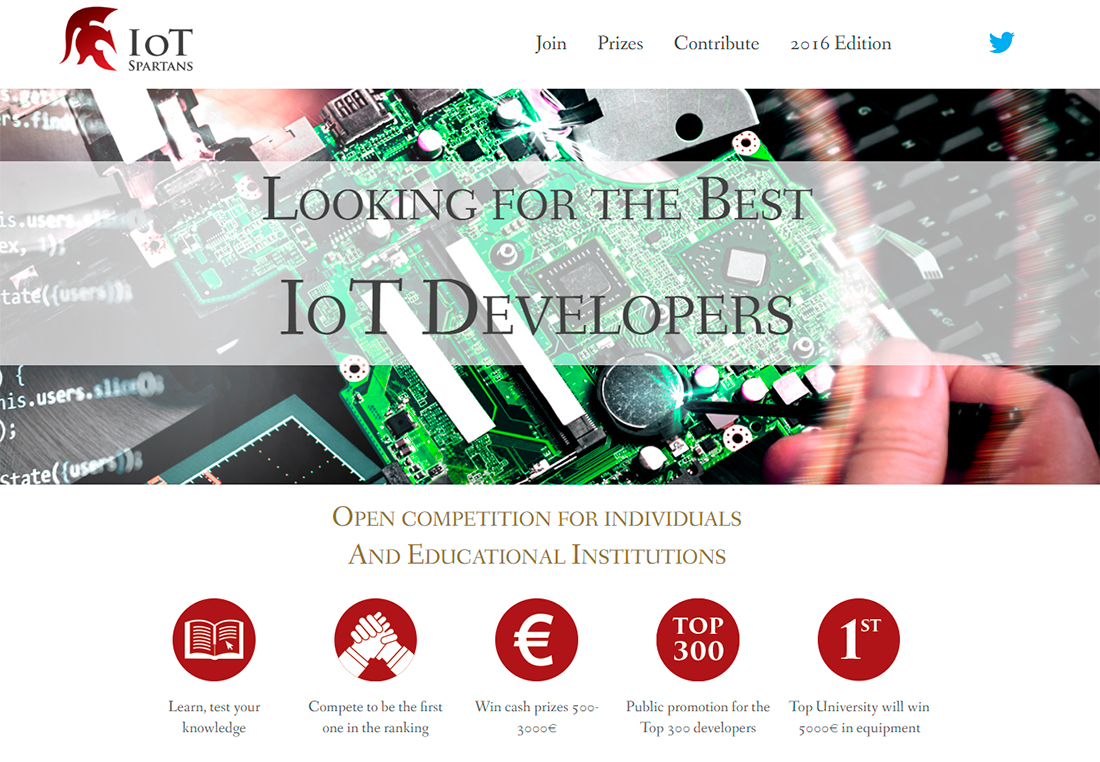 IoT Spartans Challenge second edition
The market is demanding engineers specialized in developing IoT projects or programming Cloud services so universities and technical schools are taking the opportunity that Libelium is giving. Six educational centers have already joined the challenge equipping their labs with the hardware needed to follow the webinars and online quizzes: Aarhus University from Denmark, Charles Sturt University from Australia, Instituto Politécnico do Cávado e do Ave (IPCA) from Portugal, Telecommunications and Remote Sensing Lab (University of Pavia) from Italy, University of the Philippines Diliman from Philippines and Universidad Tecnológica de Panamá. Remember that the best university will win 5,000 Euros in equipment from Libelium catalogue and will get public recognition through Libelium PR tools.
Technological and IT companies can also be part of the educational program as Sponsors. The IoT Talent Consortium has been the first one to join 2017 edition. Libelium has released this year the Collaborator program to its Cloud partners ecosystem to offer students specific training material about their software services.
Remember! The IoT Spartans Challenge starts the 15th of September
The 2nd edition of the IoT Spartans Challenge will start the 15th of September providing students with the knowledge needed to become an IoT developer. The program will last two and a half months until the 30th of November and participants will have to complete nine different modules about IoT, analog and digital I/O, SC card, interruptions, accelerometer, RTC, power management, networking and sensors.
Discover the official Waspmote Kit for the IoT Spartans Challenge:
If you want to participate as University, Sponsor or Collaborator, please contact our Industry Manager for Education. Take advantage of the Challenge content to prepare the next course program of your University!
Visit the IoT Spartans Challenge website.
IoT Spartans
Challenge
Join us in the
second edition