Cooking Hacks, the open hardware division of Libelium, today announced the immediate availability of a new 3D Printer Kit that includes all the hardware components needed to mount a 3D printer device from scratch, a step-by-step instruction guide and access to hands-on Build-It Workshops.
Destined for makers, hobbyists and DIY enthusiasts, the Cooking Hacks 3D Printer Kit includes professional online customer support for assembly and calibration.  Starting May 17, a series of hands-on workshops is offered at TechShop, in its Menlo Park location in California, and at Cooking Hacks in Spain, to guide users as they build their personal 3D printer.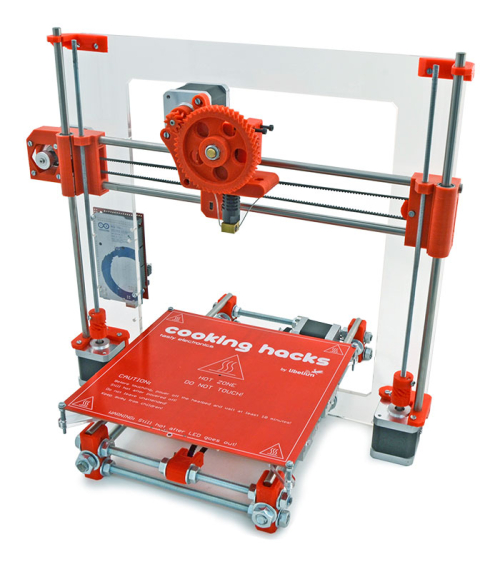 "We're bringing 3D printing to a new community of makers with an affordable, high quality kit and face-to-face instruction in the U.S. and Europe," said David Bordonada, Manager of Libelium's Open Hardware division, Cooking Hacks. "Now anyone can build their printer in just one day and get started on their own design projects."
The Cooking Hacks 3D Printer Kit is based on the latest Prusa iT3 open hardware design with components tested in the Libelium lab. With multi-voltage/frequency (220v/110v, 50/60Hz) capabilities, the, Kit has worldwide operability and includes:
– Electronics: motors, drivers, RAMPS to allow printing from an SD card, heated bed, end stop, Arduino Mega, thermistor (thermal resistor)
– Mechanics: standard hotend, bearings, fasteners, rods, belts, pulleys
– Structure: extruder, frame, plastic parts
– Tools for mounting
The Cooking Hacks 3D Printer Kit is now available for purchase online for 650€. Attendees of the hands-on Build-It Workshops at TechShop Menlo Park may purchase the Kit when they sign up to attend. To order, click here.