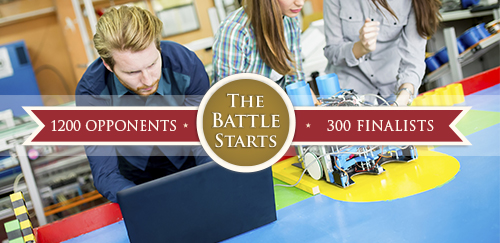 Around 1,200 students registered to compete at The IoT Spartans Challenge, the academic program to identify and give public recognition to the best future IoT developers and Universities
With the aim to cover the educational gap to find future Internet-of-Things developers, Libelium opens the online IoT learning platform, an international contest with 1,200 participants that will battle online to be recognized as the best in the world.
"The IoT Spartans Challenge" is an academic program by Libelium to identify and give public recognition to the best future IoT developers. It is an open competition for students and educational institutions. Participants will gain specific IoT knowledge that will enable them to extend current education, freshen job skills and prepare for a new career in today's IoT world. The first in the ranking will obtain money prizes up to 3.000 euros and the top 300 developers will be promoted in professional circles.
In 2020 there will be 50 billion connected devices generating 4,5 millions of IoT developer jobs. Nowadays, around 26% of European employers have difficulty filling jobs due to the lack of talent. That demonstrates that the IoT will be a huge opportunity specially for today's teenagers. "Educational institutions and Universities are key in IoT future since they are producing tomorrow's engineers and developers", says Alicia Asín, Libelium's CEO. "The only way to prepare professionals and students for jobs that still do not exist is through a better technical education provided by our IoT academic platform for individuals, high schools and universities, so the best prepared will be the more demanded for future employment", remarks Alicia Asín.
Ten Universties have joined the challenge offering their students the hardware needed to follow the webinars and online quizzes: Universidad Politécnica of Cartagena (Spain), College of Nyíregyháza (Hungary), Universidad of Las Palmas de Gran Canaria (Spain), Bhoomraddi College of Engineering & Technology (India), Edinburgh Napier University (UK), Universidad Tecnológica of Panamá, Universidad de Córdoba (Spain), Escuela Politécnica Nacional of Ecuador, Instituto Politécnico of Aveiro (Portugal) and CyRIC, Cyprus Research & Innovation Center will compete for the first position awarded with 5,000 euros prize.
The online ranking with the best "IoT Spartans" and the best University will be published by 16th June and Libelium will promote the list through professionals IoT networks.
Follow results at www.iot-spartans.com
Due to the big demand to join the program we have decided to keep on accepting participants one more week. Lastest opportunity to join on March 9th!
Contact at iot-spartans@libelium.com