Libelium participates as exhibitor in the GSMA Mobile World Congress 2016 to display different solutions for Smart Cities and Internet of Things (IoT) market. Applications based on Libelium wireless sensor platform are as varied as parking and traffic congestion management, environmental monitoring, air and water quality control and precision agriculture, among other.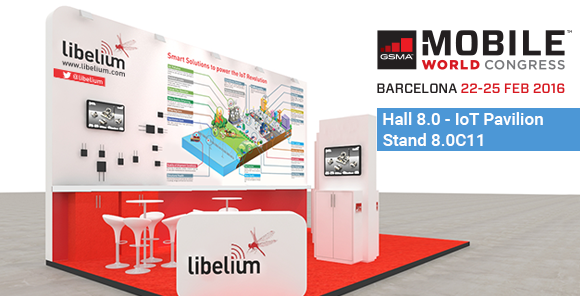 Libelium designs and manufactures hardware for wireless sensor networks and a complete software development kit (SDK) so that system integrators, engineering, and consultancy companies can deliver reliable Internet of Things (IoT), M2M, and Smart Cities solutions with minimum time to market.
Waspmote—the Libelium's wireless sensor platform—is modular and ready to integrate with key Cloud systems (Microsoft Azure, IBM Bluemix, B-Scada, Devicify, Element Blue, Esri, IoTSens, Sentilo, Solvver, Telefonica, ThingPlus, ThingWorx), and low-energy IoT connectivity protocols (LoRa, MQTT, Sigfox).
Libelium welcomes in the Mobile World Congress (MWC) booth the participation of four key partners involved to show vertical and real IoT solutions implemented with Libelium technology. Envirosuite, SmartISCity, ThingPlus and Thingworx will expose the latest IoT solutions developed with Libelium hardware.
For more information about our products contact the Libelium Sales Department.
Environmental Intelligence for Better Decision-making with EnviroSuite
With real-time monitoring, reporting and forecast environmental data for up to seven days in advance, users always know the next step while being able to access their last. Archived data is stored securely in the cloud, allowing for effective team collaboration, accountability and complete transparency.
This company presents two solutions at Libelium booth in MWC. The first one, EnviroSuite Ambient is a forecasting and complaint backtracking system that uses Libelium IoT sensors to monitor environmental data. Environmental forecasts provide fact-based data (7 days in advance) for transparent environmental impact prediction and management policies. Citizens can also directly communicate odour complaints via smartphone, to be verified and addressed by our experts. The demo will show how the solution would benefit a large area in New Delhi (India).
The second solution, EnviroSuite Indoor is an award-winning solution using Libelium IoT sensors and an SMS alert system to reduce indoor infection risks and other effects of poor air quality in sterile indoor environments. It allows for rapid response and intervention before a detrimental incident occurs.
SmartISCity Platform for Successfully Managed Cities
At Libelium booth in the MWC they will offer a demo of SmartCityPlatform that connects Libelium Technology with all the core elements of a successfully managed cities. It allows the SmartMayor to optimize the city's development potential in a responsive, open and transparent manner and in close cooperation with people. SmartCityPlatform offers six applications for smart city management: Performance, Budget, Projects, Voice, Sense and DataBank.
Public Facility Monitoring and Cabbage Farms Control based in ThingPlus IoT Cloud Platform
At Libelium booth in the MWC this company will offer real solutions implemented to Public Facility Monitoring in a Smart City Project developed in one of the Korean big cities. ThingPlus aggregates data from various sensors including temperature, humidity and dust. Facility Operation Staffs are using the analyzed information for the efficient facility management.
They will also exhibit an interesting demo about Cabbage Farm Control in Korea where ThingPlus is used for the real-time monitoring of the cultivation environment by multiple sensors. This improves the yield by providing the optimal crop growing environment in energy efficiency.
ThingWorx Platform to Prevent and Control Air Pollution
For more information about our products contact the Libelium Sales Department.