To support the future IoT workforce, new contest opens to universities and students to learn new electronics skills, with kits, hands-on training, and cash prizes awarded to the very best
SAN MATEO, Calif., and ZARAGOZA, Spain—November 10, 2015—Who is going to build the projected 50 billion connected devices and Internet of Things systems slated to come online by the year 2020? Libelium is throwing down the gauntlet to empower the future IoT workforce by promoting electronics skills in universities and high schools, offering specialized training and a contest to rank and reward the most promising developers and their educators. With technology advancing at a rapid clip, Libelium's IoT Spartans Challenge intends to bridge the gap between the skills today's employers need and the career development of a new, emerging IoT workforce whose products and services will touch every sector of the global economy.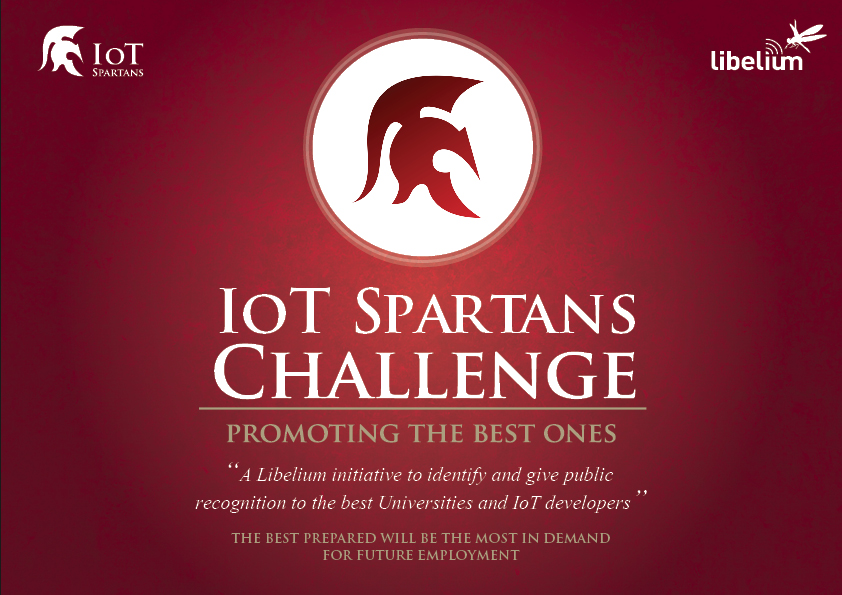 IoT Spartans Challenge – How it works:
"Today, a shortage of qualified professionals to build the Internet of Things could be holding the industry back," said Alicia Asín, Libelium's CEO. "Building the IoT requires teaching and learning new skills that involve electronics, sensor networks, hardware, and software development. With the IoT Spartans Challenge we are helping universities, colleges and high schools train and guide the future workers who will build and run IoT projects and long term deployments, and giving them recognition for their efforts."
The IoT Spartans Challenge is available to individuals and educational institutions, with free online registration open between December 16, 2015 and January 31, 2016. In 2016, from February 1 through June 10, participants may attend webinars covering IoT concepts using the Waspmote IoT development platform, and take quizzes and exams. A ranking of the top 300 IoT Spartans will be published every month between February and June 2016. The top three developers will win cash prizes ranging from 500 Euros to 3,000 Euros for individuals, and the highest-ranking educational institution will win 5,000 Euros in equipment from the Libelium catalogue.
IoT Spartans Ambassador
Technology, engineering, and electronics students can nominate their professors and teachers to participate as IoT Spartans Ambassadors.
Visit www.iot-spartans.com