Sensor platform ecosystem expands to include specialized Cloud partners worldwide
SAN FRANCISCO, Calif., and ZARAGOZA, Spain—September 15, 2015—Today at Dreamforce, Libelium announced new Cloud integration options from software partners specialized in automotive systems, business process management, civil engineering, industrial applications, supervisory control and data systems (SCADA), and Smart Cities solutions, in the latest build-out of its wireless sensor network ecosystem.
Libelium's new Cloud partners include software providers from Asia, North America, and Spain, reaching markets all over the world. Based on the Meshlium wireless gateway, Libelium's Cloud connector framework allows easy configuration of Cloud platforms without the need of programming or further integration to reduce time-to-market for IoT and Industrial IoT (IIoT) applications. Existing Meshlium customers can access this new group of Cloud platforms by upgrading their Meshlium software.
Waspmote Sensor Platform Cloud Partner Ecosystem:
"IoT project integration should be as flexible and easy as possible to nurture new development and incorporate legacy systems, and that is why we are giving customers access to such a wide selection of Cloud software solutions," said David Gascón, CTO at Libelium. "Because it is modular and scalable, Waspmote is a complete hardware platform for the Internet of Things, capable of integrating any sensor, any communication protocol, and sending retrieved data to any Cloud system for analysis or storage."
At Dreamforce, Libelium CEO Alicia Asín will speak in the IoT Customer and Partner panel discussion today at 2:00 pm at the Hilton San Francisco Union Square Hotel, Grand Ballroom A, and present a talk on Smart Cities 2.0 at 4:30 pm. Visitors to the IoT Zone can experiment with IoT sensors in a hands-on workshop featuring Waspmote.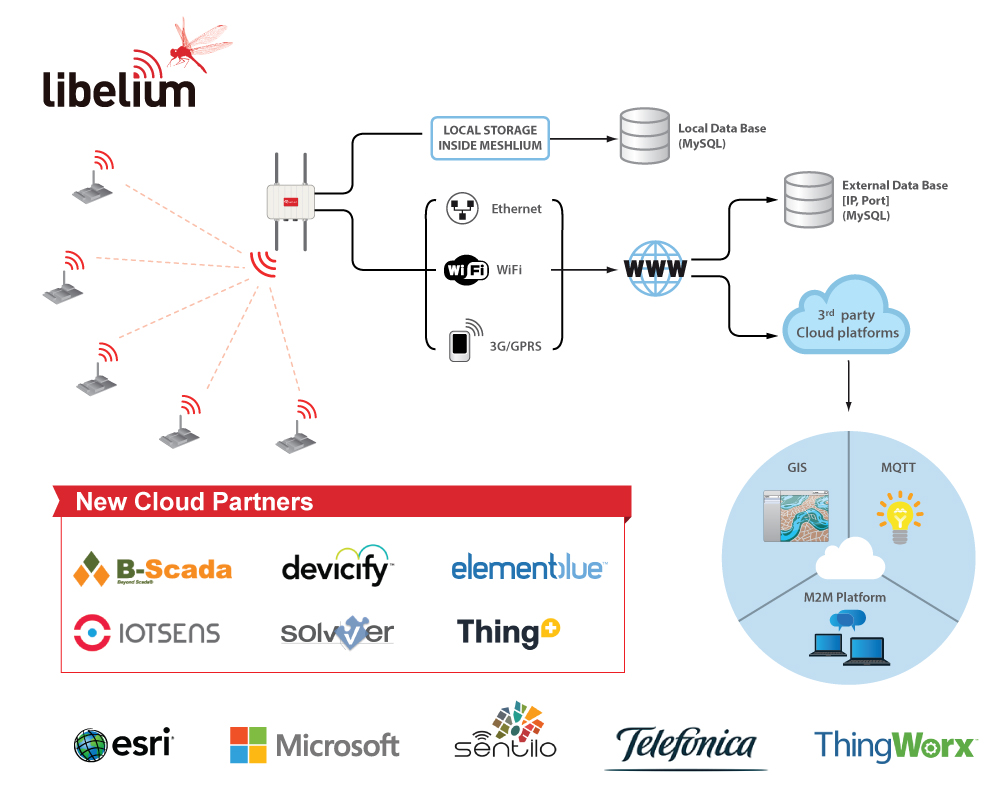 Waspmote Sensor Platform Cloud Partner Ecosystem
Libelium 2015 Cloud Partners
B-Scada – U.S.
B-Scada's VoT Platform allow users to create IoT and M2M applications that consolidate and organize data from any device, providing visualization and analytics tools in a real-time monitoring system. www.votplatform.com
Devicify – U.S.
Devicify CPM (Connected Products Management) is an IoT Business Management application that connects a company's deployed products and remote devices to its business operations and applications. www.devicify.net
Element Blue – U.S.
Provider of the SensorInsight IIoT platform and end-to-end solutions including hardware, software and services to energy and utilities, healthcare, transportation, public sector, and manufacturing industries around the world. www.elementblue.com
IoTSens – Spain
Provides a fully integrated real-time monitoring platform for Smart Cities services, including solutions for energy, environment, Smart Government, and urban mobility. www.iotsens.com
Solvver – Spain
Delivers Cloud-based systems for civil engineering environments, specialized in monitoring and instrumentation solutions, and real-time application management with the SolvView Cloud platform. www.solvver.com
Thing+ – South Korea
Specialized IoT Cloud platform that allows customers to build their own IoT services with flexible device connectivity and IoT SaaS manage capability. www.thingplus.net
For more info, please visit: Cloud Software Solution Partners