IBM, one of Libelium worldwide partners, has developed a precision farming solution called "Cognitive Agriculture" to monitor soil parameters and weather conditions in the IoT Center. The project is located at IBM's Headquarters in Munich for Watson Internet of Things.
This Precision Farming solution captures a range of farming data using Waspmote Plug & Sense! Smart Agriculture solutions with soil sensors and sending data remotely such as weather and satellite images which are continually monitored.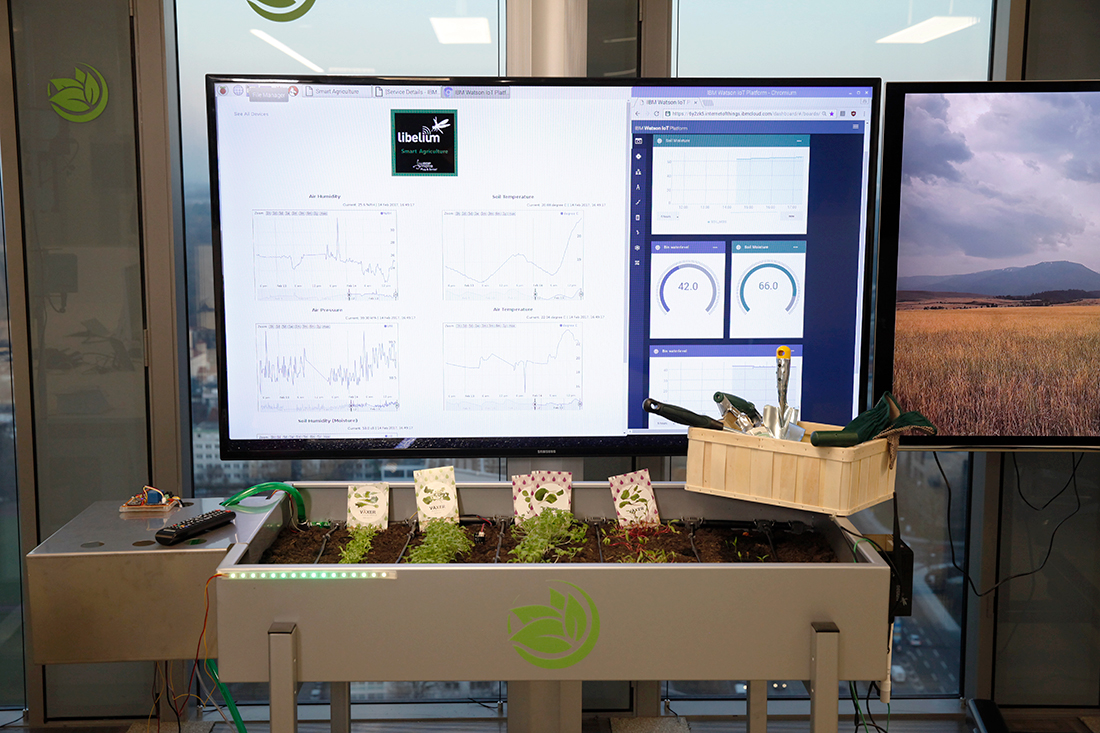 Cognitive Agriculture application
PAIRS and Precision Farming Analytics allows the health of the farm to be known. Data from The Weather Company provides real time monitoring of the farm. Cognitive Agriculture application is used for accurate and real time risk assessment, based on geographic weather data and the general health of the farm, and to automate claim processing triggered by events such as drought and disease.
Data can also be used as a service for farmers to improve harvest yield based on weather data to determine when to start it and also to get a decision support system with real-time maps, information and trends to schedule future actions.
With this proof of concept, IBM demonstrates the benefits that the Internet of Things gives to the agriculture sector: cost savings in irrigation and pesticides, improving the crops productivity, helping to make the right decisions based on real-time data and definitely, enhancing the quality of life of the farmers.
IBM, partner of Libelium, launched an Application Development Kit that can be found in The IoT Marketplace. This kit is the best option for those that want to program a solution on top of the IBM Bluemix using Watson IoT Platform and test it with real sensors. Includes nodes for Smart Cities and Smart Agriculture applications.
More info:
References:
For more information about our products contact the Libelium Sales Department.
Discover the IBM Kits at The IoT Marketplace.
The IoT
Marketplace
Buy off-the-shelf
IoT kits
*TERMS AND CONDITIONS TO USE LIBELIUM CONTENT.
Libelium is the owner of all images provided on the website and it can only be used quoting the source. Any video, photograph, diagram, infographic or logo cannot be used or transformed without Libelium authorization. You can request the files in high resolution to publish on your website or to insert in marketing flyers always using Libelium logo and linking with Libelium website.
If you are going to publish the article in a website or media or in a white paper or research study, it must be done including all the references and mentioning Libelium as the source of the content.
© Libelium Comunicaciones Distribuidas S.L. – www.libelium.com