Lagash, a Microsoft partner, has developed a project in the regional office of Microsoft in Bogotá, Colombia. The company has worked on a Smart Garden at the terrace of the building that was presented last 27th of April to partners and media.
"This kind of projects enable us to show the potential of IoT and smart projects to companies from Bogotá and also provide them the chance to interact with sensors to learn about the benefits of Precision Farming solutions", argues Julián Zuluaga, Lagash director.
Smart Garden at the terrace of Microsoft offices in Bogotá
Libelium Smart Agriculture IoT Vertical Kit has been installed to control soil conditions with soil moisture and temperature sensors, ambient parameters such as temperature, humidity and solar radiation and plants' needs with leaf wetness sensor. The goal of the smart project is to enhance sustainability and reduce the consumption of conventional energy.
These have been the main achievements of the project:
Evaluating the difference between soil and ambient temperature because it is an indicator of the biological activity (worms, parasites, etc.).
Measuring solar radiation in certain plants that require low solar exposition. Solar radiation levels are monitored to know the status of each plant to know if they have been overexpose or if the water level is not the suitable one.
Soil moisture in two depth levels. Bogotá is a damp city with a high level of rainfalls and also located at high altitude. For this reason, it has been essential to control soil conditions because condensation on the leaves can result in plant diseases.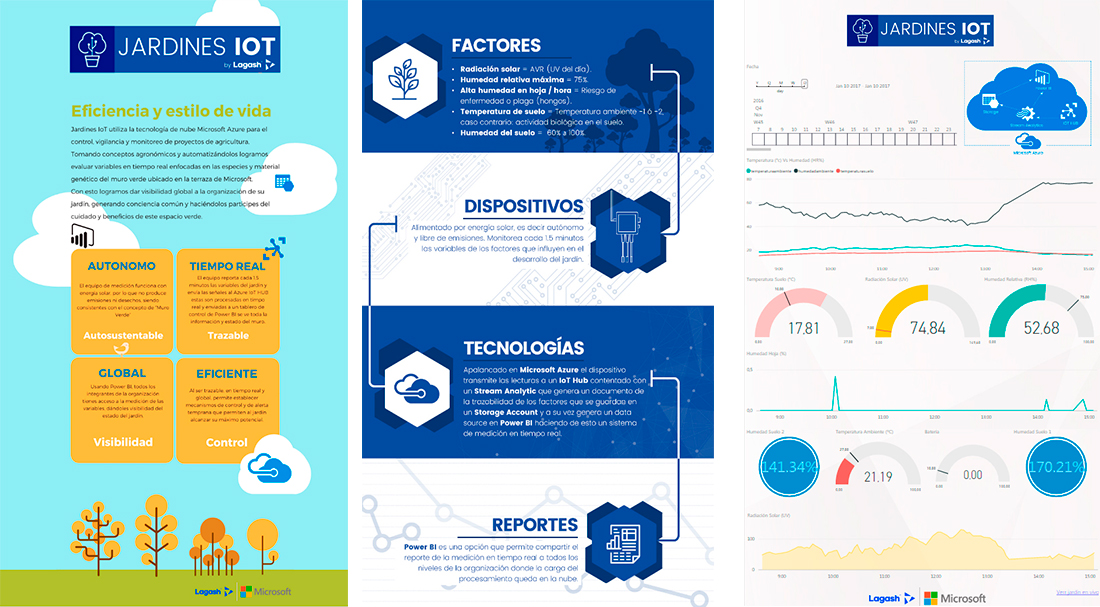 Information about the Smart Garden project
Waspmote Plug & Sense! Smart Agriculture PRO sends data gathered by the sensors to Meshlium. The IoT Gateway communicates with Microsoft Azure Cloud platform and the information is visualized and analysed the in powerBI dashboard.
"Libelium technology combined with Azure IoT platform, give the right support to develop sustainable projects where the engineering team just have to focus on the business, providing quick solutions to high complexity problems", states Fager Bahr, Lagash developer.
Discover our Libelium Smart Agriculture IoT Vertical Kit at The IoT Marketplace
The IoT
Marketplace
Buy off-the-shelf
IoT kits