We are happy to announce the new version of the software included in Meshlium Scanner (v3.1.4). This new version increments from 70% to the 95%* the amount of smartphones, tablets, hands free, and laptops detected by its MAC address by scanning WiFi and Bluetooth signals.
* Under which conditions do you get a 95% detection rate of devices? Read more in the Smartphone detection chapter of the Meshlium Technical Guide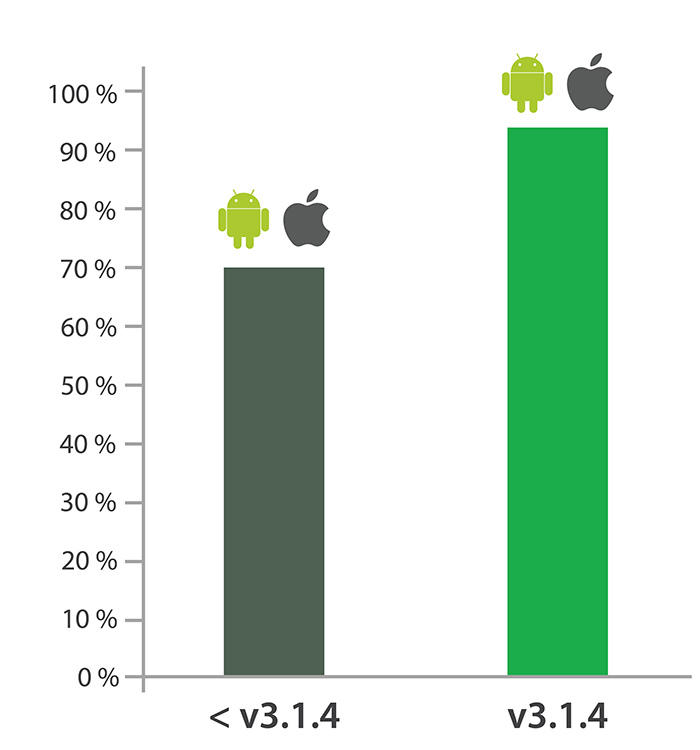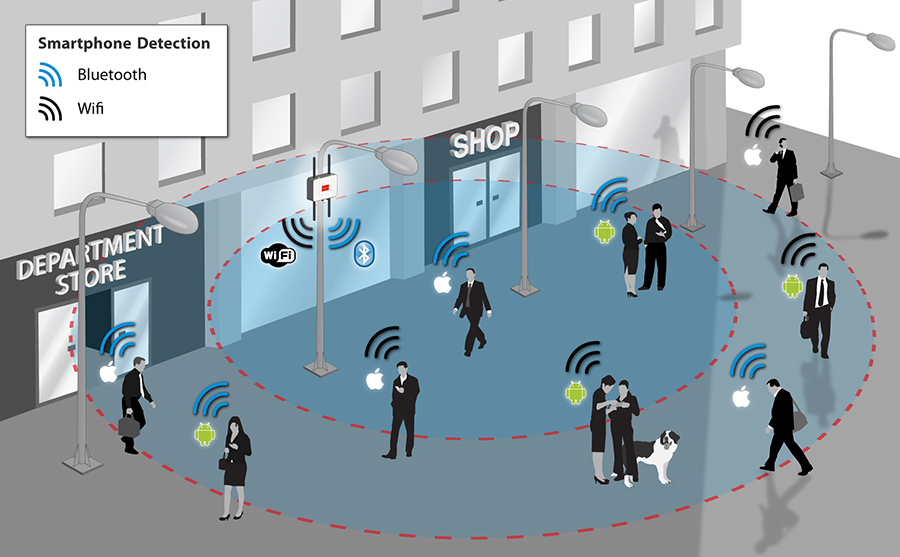 Detection of the current version includes any of the last models even those that implement low consumption techniques when using the radio interfaces:
iPhone (*all models*): 4, 4S, 5, 5S, 5C, iPad (2, 3, 4, Air, Mini, Retina)
Android (*all models*): Nexus, Samsung Galaxy, LG, Sony Xperia, HTC, Motorola, Huawei, Asus,…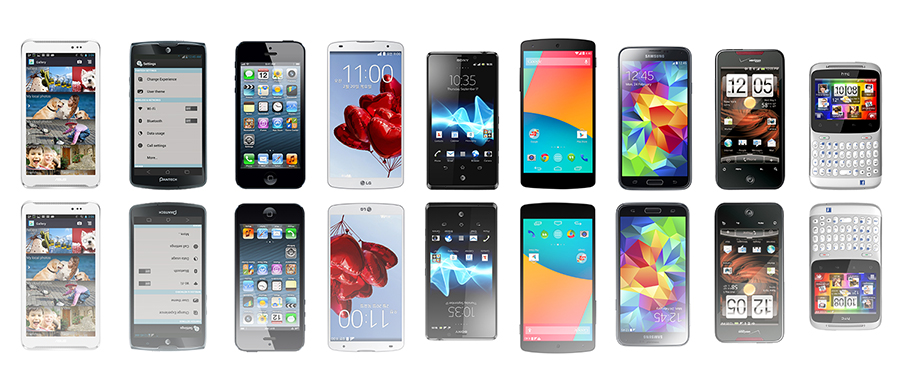 Minimum time between scanning intervals
The improvement of the number of devices detected in the new version is due to the reduction between scanning intervals. Now it is just 1 second against the 20 seconds of the previous versions. So even those models that have long cycles between advertising WiFi frames (beacons) will be captured.
Vehicle Traffic Monitoring
Due to the reduction of the time between scanning intervals, now vehicle traffic detection rate has increased from 50% to 80% even at a speed of 100 km/h (62 miles/h)
Monitor in real time the number of vehicles passing for a certain point in highways and roads
Detect average time of vehicle stance for traffic congestion prevention
Monitor average speed of vehicles in highways and roads
Provide travel times on alternate routes when congestion is detected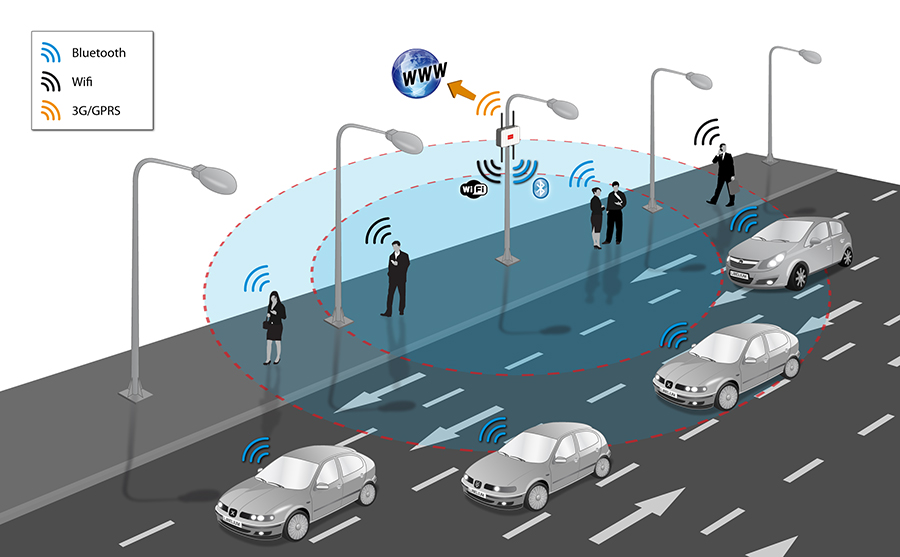 NOTE: The usage of directional antennas is required for Vehicle Traffic Monitoring applications. Ask to our Commercial Department for more information.
Update to the 3.1.4 Version
To update to the last version in Meshlium go to Update Manager -> Install Updates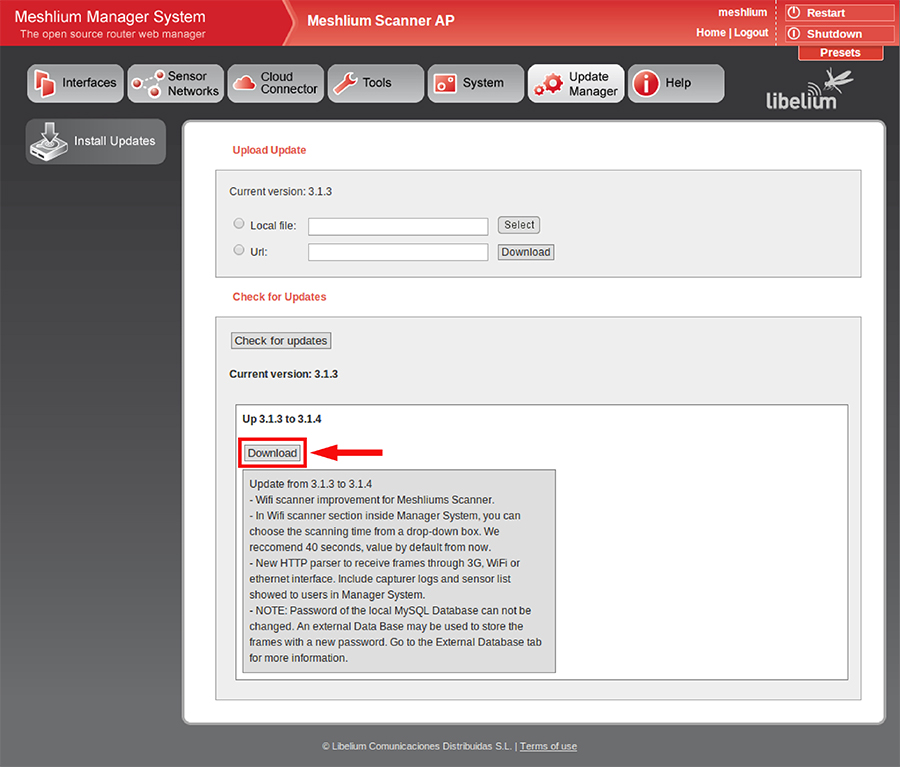 All the information about Meshlium Scanner here.
For more information about this new version of the software included in Meshlium Scanner (v3.1.4) contact the Libelium Commercial Department.