Libelium and Minsait Join Forces to Offer Innovative Solutions in Smart Cities and Internet of Things
Measurement of water quality, fire detection and optimisation of sprinkler systems are just a few of the applications offered by Waspmote sensors integrated into the Sofia2 platform
Madrid, – March 2016.- Minsait, the Indra business unit in charge of respond challenges posed by digital transformation, and Libelium have forged an agreement to offer solutions with highly innovative content in the fields of Smart Cities and Internet of Things as a result of the inclusion of Libelium wireless sensor technology and gateways in FEEP IoT Platform Sofia2, the Internet of Things platform belonging to the technology consultancy multinational.
This is the first joint initiative fostered by the two companies since Indra joined the Libelium Cloud Programme. This latter features the leading suppliers and manufacturers in the development of real solutions for the Internet of Things (IoT), machine-to-machine (M2M) and Smart Cities.
Developments in record time
Integration means the wireless sensor devices manufactured by Libelium – Waspmote and Waspmote Plug & Sense! – gather data (e.g. temperature, humidity and air quality) which is sent via the Meshlium gateway to the FEEP IoT Platform Sofia2 Cloud platform, enabling the development of new Internet of Things applications in record time. Such is the case with solutions for water quality measurement in the public water system, fire detection, traffic management and optimisation of sprinkler water, amongst others.
In turn, the FEEP IoT Platform Sofia2 (http://sofia2.com) by Indra acts as middleware and a repository enabling the interoperability of multiple systems and devices. It acquires real time information from sensors, devices, social networks, IT systems and people and it can trigger real time actions based on both information received and previously acquired knowledge. Furthermore, it stores the information in Big Data infrastructure to derive knowledge through Analytical and Machine Learning techniques and can share this with other systems or with people.
The integration of Indra and Libelium technologies will enable the configuration of multiple management solutions for Smart Cities from the cloud without requiring any additional programming. Thus, Meshlium users will now be able to connect their applications to FEEP IoT Platform Sofia2 by Indra by simply updating their software.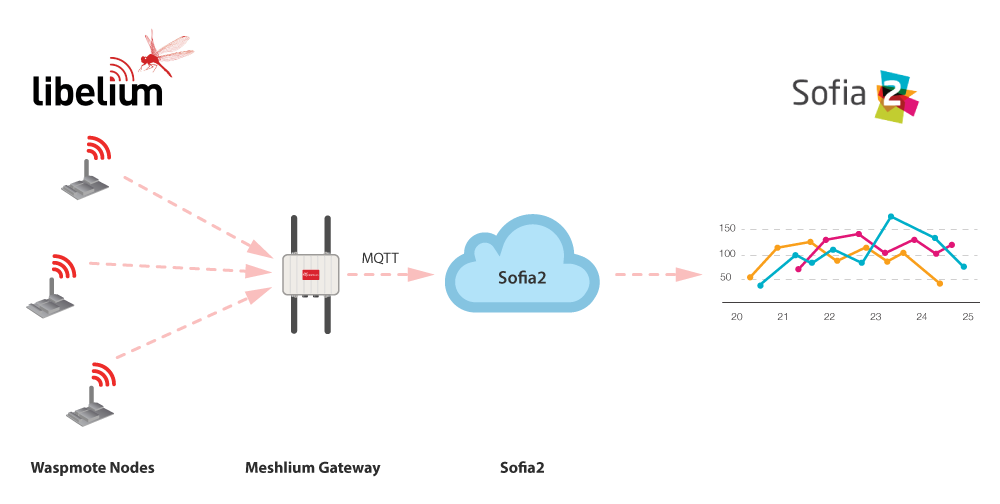 Waspmote integration in Sofia2
About Minsait:
Minsait is Indra's business unit that addresses the challenges posed by digital transformation to companies and institutions, using its immediate and tangible range of results. Indra has grouped
its entire digital business technology and consulting solutions under Minsait, which has turned it into one of the leading companies in this market in Spain. And it has driven it with a differential
methodology, a broad portfolio of business solutions, a proprietary and unique model for sales, delivery and support aimed at impact generation; and a flexible organization based on
multidisciplinary teams, made up of specialists with very specific profiles. Minsait will complete the Indra's current offering of high-value vertical products, supporting their orientation toward the
key businesses of its clients, thus becoming a driving force for their growth.
About Indra:
Indra is one of the main global consulting and technology companies and the technological partner for the key operations of its clients' businesses throughout the world. It offers a
comprehensive range of its own solutions and cutting edge services with a high added technological value, which add a unique culture that is reliable, flexible and adaptable to its clients
needs. Indra is a world leader in the development of comprehensive technological solutions in fields such as Defense & Security, Transport & Traffic, Energy & Industry, Telecommunications &
Media, Financial Services and Public Administrations & Healthcare. Through its Minsait unit, it provides a response to the challenges of digital transformation. In 2015 it reported revenues of
2.850 billion euros, employed 37,000 professionals, had a local presence in 46 countries, and delivered projects in more than 140 countries.
More info:
Discover our Libelium-Sofia2 Smart Cities Solution Kit at The IoT Marketplace!
The IoT
Marketplace
Buy off-the-shelf
IoT kits