Libelium gets Ericsson on board of its IoT Ecosystem and expands interoperability to 40 Cloud Partners
C2M, Ericsson, Infiswift and Redd System new cloud partners adding compatibility with Meshlium, the IoT Gateway by Libelium.
The IoT Marketplace presents five new solutions for industrial projects and air quality control and sums up 60 "ready to be deployed" kits to ease the IoT adoption.
Libelium reinforces its commitment with interoperability and expands its wide IoT Ecosystem. With this aim, the company has reached 40 Cloud platforms already integrated with Meshlium, the IoT Gateway.
One of the worldwide largest multinational networking and telecommunications companies, Ericsson, has joined Libelium Cloud partner program. The company is focused on transforming businesses providing an IoT platform to monitor parameters from sectors such us Industry 4.0, Smart Cities, Precision Farming or Air Quality monitoring.
Libelium has also integrated infiswift, an American IoT platform specialized in solar photovoltaic monitoring and precision farming; C2M, from Plasma company, which had already released an Application Development Kit at The IoT Marketplace; and Redd System, the second South American platform that joins Libelium ecosystem. These new partners have joined to existing Cloud platforms as Amazon Web Services, Arrow, Azure Microsoft, IBM Bluemix, Indra, Telefonica, Telit or Thingworx with which we have already developed projects in more than 120 countries.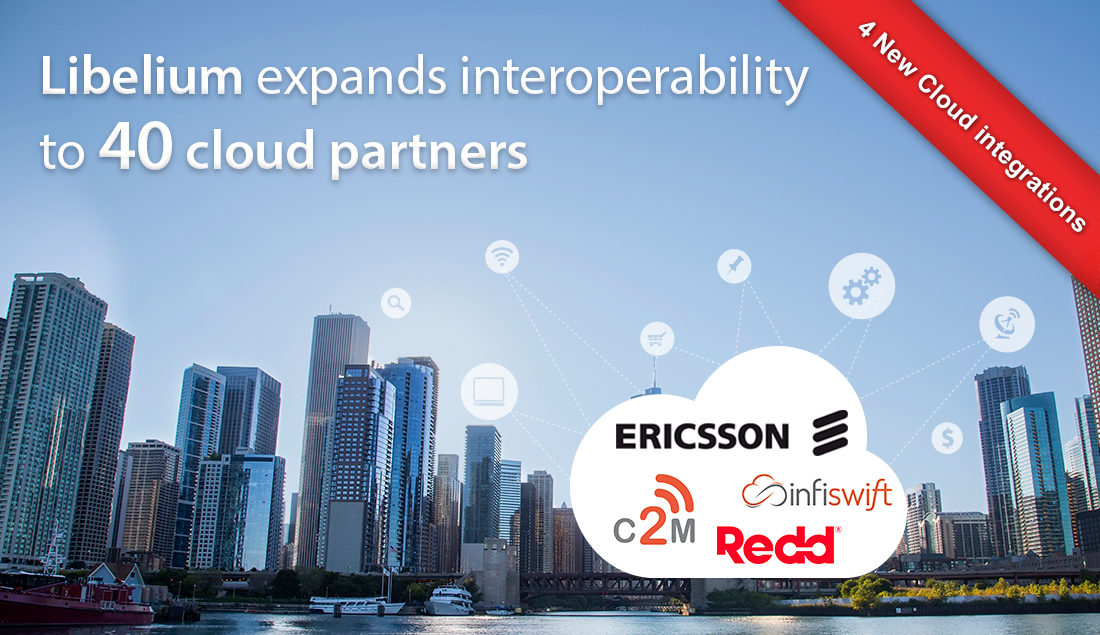 "Big players have realized that the IoT market is not going to be dominated by a single company. The great interoperability of our IoT platform allows them to access to new market opportunities by connecting any sensor to any cloud platform through any communication protocol", has stated Alicia Asín.
IoT Kits to improve industrial and environmental applications
Libelium also presents five new solutions ready to be deployed through the IoT Marketplace, an initiative launched 15 months ago that sums up 60 kits in verticals such as Smart Agriculture, Air Quality, Smart Water, Smart Cities, Smart Parking or Industry 4.0 to ease the adoption of the IoT:
Libelium Smart Industrial Protocols IoT Vertical Kit

New Cloud partners certified

C2M is a three layered IoT and Digital Transformation platform that has a vast set of built-in functionality such as Connectivity, Device Management, Big Data, Analytics supporting Machine Learning, Visualization, Event Management/Streaming Analytics and Business Workflows. The true value of C2M is to further automate an organization's complex business processes through Digital Transformation and the Internet of Things (IoT) while remaining totally agile and friendly to change.




Over the past 140 years, Ericsson has been at the forefront of communications technology. Today, we are committed to maximizing customer value by continuously evolving our business portfolio and leading the ICT industry. We are a global leader in delivering ICT solutions. In fact, 40% of the world's mobile traffic is carried over Ericsson networks. We have customers in over 180 countries and comprehensive industry solutions ranging from Cloud services and Mobile Broadband to Network Design and Optimization.




Infiswift offers the most powerful platform to develop, manage and customize your connected solutions. The patent-pending architecture enables world-class security and scalability to support real-time and data-intensive applications. It features a low-latency, highly reliable data broker, powerful development environment, flexible analytics front end, and robust rules engine. Get started with our free tier supporting up to 100 connections and 1 million messages per month.




Redd, a company focused on delivering telemetry and telecontrol solutions for our clients' assets, with the aim of optimizing and simplifying operations, and most importantly, providing them with the necessary information to make quick and timely decisions.




If you are interested in adding your cloud platform, contact us and visit the Cloud Partner Program.

For more information about our products contact the Libelium Sales Department.

Buy our IoT Kits at The IoT Marketplace!

The IoT
Marketplace

Buy off-the-shelf
IoT kits