"Sensor Technologies Healthcare, Wellness and Environmental Applications" Book.
This book written by Michael McGrath and Cliodhna Ni Scanaill of Intel, is an exploration of the current state of sensor technology.
Focusing heavily on real-world healthcare and environmental applications, the book discusses both technical and non-technical challenges to consider as we move toward a more connected world.
Citizens are taking a proactive approach to sensor technology—from radiation detection to air and water pollution monitoring to self-administered biometric sensing for home healthcare—and the future is driven by consumers. External forces, such as the proliferation of Smart Technology, inform and shape the next steps in this technological evolution. The book cites real-world, impactful deployments by industry leaders and innovators such as Libelium.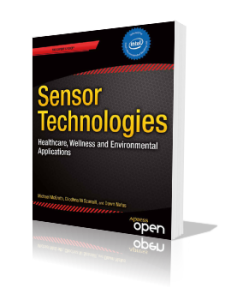 Sensor Technologies: Healthcare, Wellness and Environmental Applications, by Michael J. McGrath and Cliodhna Ni Scanaill.
(Apress Media | Springer Science+Business Media)
ISBN13: 978-1-4302-6013-4
336 Pages
User Level: Beginner to Advanced
Publication Date: December 25, 2013
Available eBook Formats: EPUB, MOBI, PDF