Today, at Sensors Expo, Libelium has announced new integration agreements with software cloud partners. The company, that designs and manufactures hardware for wireless sensor networks, keeps on expanding interoperability of Meshlium IoT gateway and facilitating the access to end solutions in the IoT.
"Our Waspmote IoT ecosystem is designed for interoperability, giving developers access to the widest range of sensors, communication protocols and cloud systems to build IoT applications quickly and safely", said Alicia Asín, CEO at Libelium.
More Cloud integration options
Libelium's new Cloud partners include seven worldwide software providers: Amazon Web Services (AWS), Amplía, Eagle.io, Extunda, IoT-Ticket.com, Simfony and Smart City Platform.
They join the existing 15 cloud partners ecosystem like Azure by Microsoft, Esri, IBM Bluemix, Indra, Telefonica or Thingworx.
The cloud integrations in the Meshlium IoT gateway allow easy configuration of solutions without further integration and reducing time-to-market for IoT and Smart Cities solutions.
These software providers allow developing applications for IoT projects and create analytic or data reports. Existing Meshlium customers can access this new group of Cloud platforms by upgrading their Meshlium software.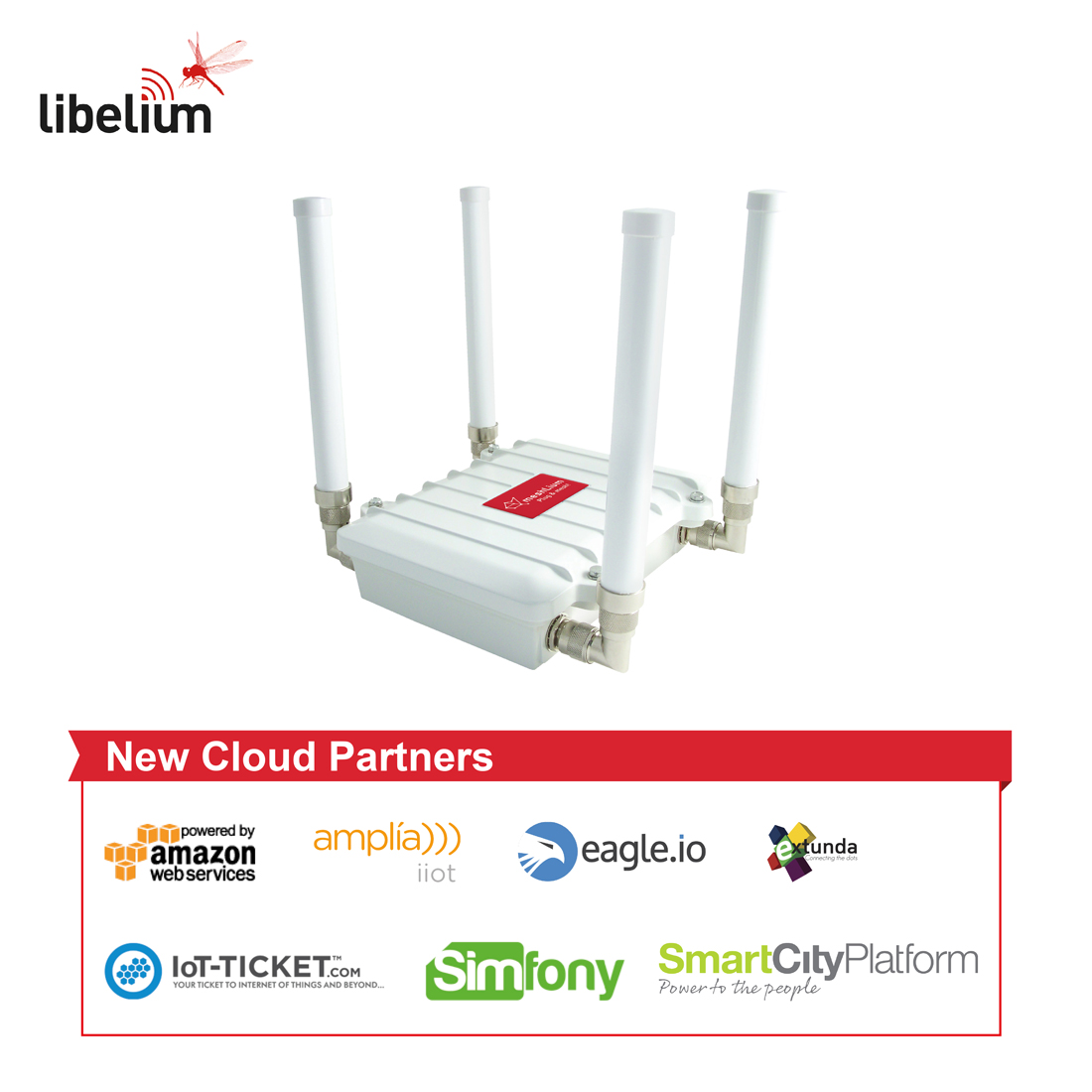 New cloud partners at Libelium ecosystem

AWS IoT provides secure, bi-directional communication between Internet-connected things (such as sensors, actuators, embedded devices, or smart appliances) and the AWS cloud. This enables you to collect telemetry data from multiple devices, store and analyze the data and also create applications.

Provider of Open Gate, amplía))) helps you improve the productivity of your business avoiding unnecessary costs in development, deployment and maintenance. They achieve this by getting nearer to devices and machines, managing the whole life cycle, and lowering the downtimes of the infrastructure.

Eagle.io is your hub connecting monitoring assets, engineers and decision makers. Acquire data in real-time from Meshlium and Waspmote devices, receive alerts for critical events, and share access with stakeholders.

With its completely customizable back-end platform and analytics, Extunda eliminates the complexities of infrastructure to increase your return on investment and make your Internet of Things implementation seamless.

With IoT-Ticket you can build IoT applications in your web-browser in minutes, no plug-ins required. You can create dashboards, reports, analytics or augment reality based on big-data collected from your Things.

Simfony's IoT Platform is focused on providing the core set of tools that enables the rapid rollout of any IoT project or service. Companies can use our service to easily and rapidly design, prototype and deploy IoT projects that match their exact needs and requirements, rather than looking for an off the shelf product that fits best.

SmartCity Platform is an innovative platform for digital transformation of cities. Our solution connects key city stakeholders such as: city leaders, citizens and businesses. The platform serves as a smart governance tool and big data market place that create value for future city development.
For more info, please visit: Cloud Software Solution Partners.
If you are interested in purchase information, please contact our Sales Department.
If you are interested in adding your cloud platform, contact us and visit the Cloud Partner Program.