How can Libelium help to achieve SDGs?
The Sustainable Development Goals (SDGs) are a call for action by all countries to promote prosperity while protecting the planet. Ending poverty must go hand-in-hand with strategies that build economic growth and address a range of social needs including education, health, social protection, and job opportunities, while tackling climate change and environmental protection.
Libelium values and encourages the prioritization of sustainable goals to maximize the impact that the IoT can provide for a better world. Especially considering that the Social Development Goals, promoted by the United Nations, cover the three dimensions of sustainable development: economic growth, social inclusion and environmental protection.
Nowadays, IoT technology is contributing to the improvement of citizens' quality of life and companies' competitiveness. Among the reasons to invest in IoT technology, we find:
Manufacturing cost reduction
Better use of natural resources and preservation
Product quality improvement
Regulatory compliance
Libelium has identified the following SDGs as those that have been achieved through the different projects developed over the last years.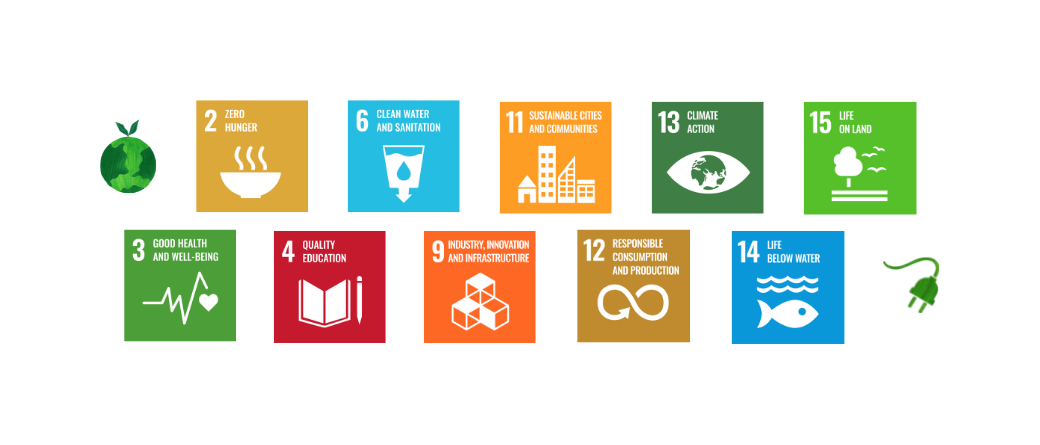 And summarizes in a report how IoT technology works in favour of the SDGs and which projects have been deployed worldwide according to each objective.
➤ SDG 2: ZERO HUNGER:
2 billion people in the world do not have regular access to safe, nutritious and sufficient food in 2019.
➤ SDG 3: GOOD HEALTH AND WELL-BEING:
3 billion people worldwide lack access to basic sanitation. Noncommunicable diseases alone will cost low- and middle-income countries more than $7 trillion in the next 15 years.
➤ SDG 4: QUALITY EDUCATION:
About 258 million children and youth were still out of school in 2018, nearly 1/5 of the global population in that age group.
➤ SDG 6: CLEAN WATER AND SANITATION:
2.2 billion people around the world still lack safely managed drinking water,including 785 million without basic drinking water.
➤ SDG 9: INDUSTRY, INNOVATION AND INFRASTRUCTURE:
54% of the global population use the Internet. In the least developed countries only 19% have online access.
➤ SDG 11: SUSTAINABLE CITIES:
The world's cities occupy just 3% of the Earth's land, but account for 60-80% of energy consumption and 75% of carbon emissions.
➤ SDG 12: RESPONSIBLE CONSUMPTION AND PRODUCTION:
Electronic waste grew by 38% but less than 20% is recycled.
➤ SDG 13: CLIMATE ACTION:
Global emissions of carbon dioxide (CO2) have increased by almost 50% since 1990
➤ SDG 14: LIFE BELOW WATER:
Globally, the market value of marine and coastal resources and industries is estimated at $3 trillion per year or about 5% of global GDP.
➤ SDG 15: LIFE ON LAND:
Two billion hectares of land on Earth are degraded, affecting some 3.2 billion people, driving species to extinction and intensifying climate change.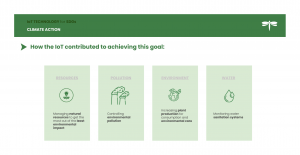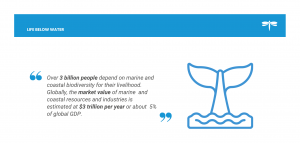 Improve your IoT proposals for public and private entities adding the benefits that demonstrate that technology can transform our everyday life for a better world.
Download the REPORT: IoT helps to reach Sustainable Development Goals 2030: