The Sustainable Development Goals (SDGs) are a call for action by all countries to promote prosperity while protecting the planet. Ending poverty must go hand-in-hand with strategies that build economic growth and address a range of social needs including education, health, social protection, and job opportunities, while tackling climate change and environmental protection.
Libelium values and encourages the prioritization of sustainability goals to maximize the impact that the IoT can provide for a better world. Especially considering that the Social Development Goals, promoted by the United Nations, cover the three dimensions of sustainable development: economic growth, social inclusion and environmental protection.
Nowadays, IoT technology is contributing to the improvement of citizens' quality of life and companies' competitiveness. Among the reasons to invest in IoT technology, we find:
Manufacturing cost reduction
Better use of natural resources and preservation
Product quality improvement
Regulatory compliance
Libelium resumes in a report how IoT technology works in favour of the SDGs and which projects have been deployed worldwide according to each objective.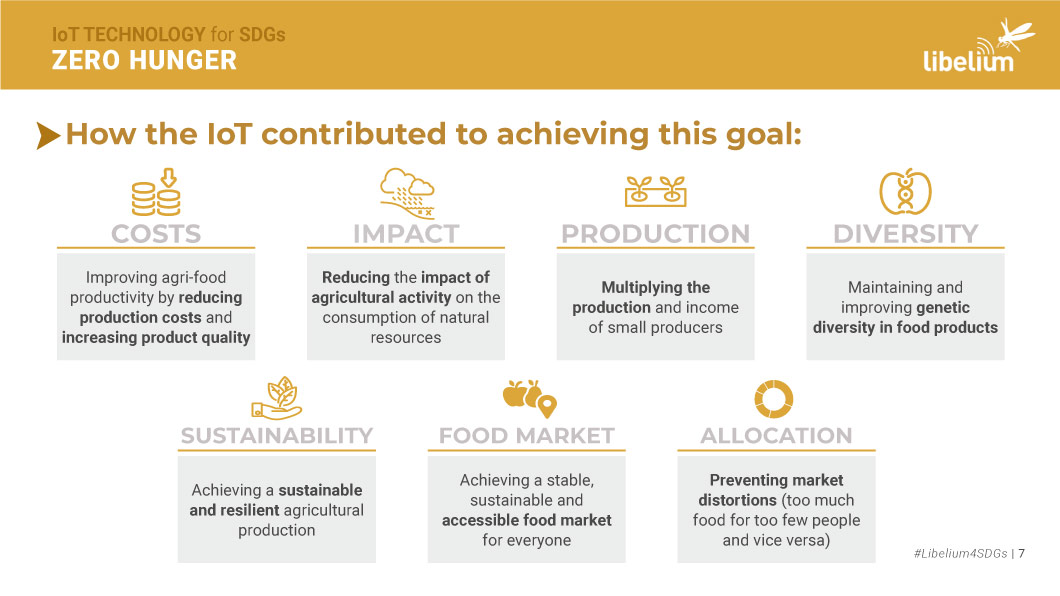 ➤ SDG 2: ZERO HUNGER:
An estimated 821 million people were undernourished in 2017. Annual cereal production will need to rise to about 3 billion tonnes and annual meat production will need to rise by over 200 million tonnes to reach 470 million tonnes to feed 9.1 billion people by 2050.
➤ SDG 3: GOOD HEALTH AND WELL-BEING:
3 billion people worldwide lack access to basic sanitation. Noncommunicable diseases alone will cost low- and middle-income countries more than $7 trillion in the next 15 years.
➤ SDG 6 & 14: CLEAN WATER AND SANITATION and LIFE BELOW WATER:
Around 700 million people in 43 countries suffer today from water scarcity. By 2025, 1.8 billion people will be living in countries or regions with absolute water scarcity, and two-thirds of the world's population could be living under water stressed conditions.
➤ SDG 9: INDUSTRY, INNOVATION AND INFRASTRUCTURE:
For the lower-income countries, the existent constraints regarding infrastructure affect firm productivity by around 40 per cent.
➤ SDG 11: SUSTAINABLE CITIES:
Half of humanity – 3.5 billion people – lives in cities today and 5 billion people are projected to live in cities by 2030.The world's cities occupy just 3 per cent of the Earth's land, but account for 60-80 per cent of energy consumption and 75 per cent of carbon emissions.
➤ SDG 13 & 15: CLIMATE ACTION and LIFE ON LAND:
Given current concentrations and on-going emissions of greenhouse gases, it is likely that by the end of this century, the increase in global temperature will exceed 1.5°C. Global emissions of carbon dioxide (CO2) have increased by almost 50 per cent since 1990.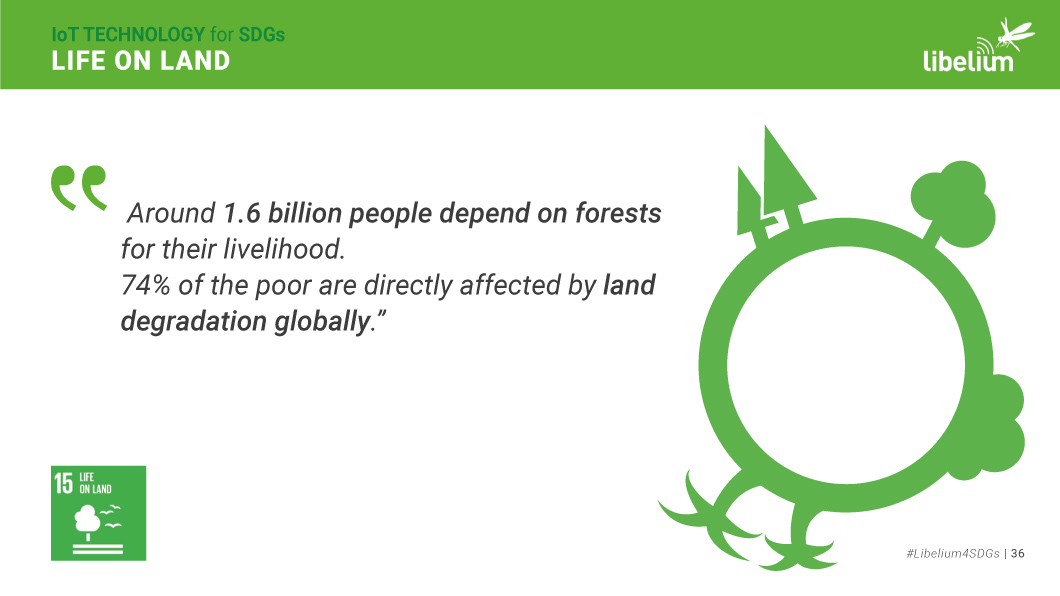 Improve your IoT proposals for public and private entities adding the benefits that demonstrate that technology can transform our everyday life for a better world.
Download the quick report to know more about how IoT can helps to achieve the SDGs 2030.
---
*It is forbidden any total or partial reproduction of the content of our website or any of its text or photographs. Any entity -public or private- that want to use the information in the report must quote Libelium as the author of the study and link to the web for download.