DOWNLOAD REPORT:
Discover how can universities be modernized with IoT technology ✅
IoT technology entered the world of universities years ago in many different ways. The application of wireless sensor networks has allowed many international campuses to be recognized for their smart facilities. This knowledge has allowed the development of large research projects that have led to very interesting pilot projects.
How can universities be modernized with IoT technology?
1. Building a smart campus.
Each university campus can become a small smart city with its buildings and public spaces connected to the Internet. There are multiple applications that can help manage these spaces using wireless sensor network technology.
● Smart gardens and orchards:
Connect campus gardens or create an organic farming garden to monitor the weather and growing conditions of crops so that they are only watered when necessary.
→ Smart Agriculture Solution and Agriculture Success Stories
● Environmental network for air quality and noise monitoring:
Air and noise pollution affects people's health. Creates an air pollution control network at different points on campus to control pollution levels and restricts road traffic when levels are saturated. Monitors noise levels in different spaces to identify the points of greatest saturation that can harm teaching activity and coexistence within the campus.
→ Smart Environment Solution and Environmental Success Stories
● Parking space occupancy control:
The availability of parking spaces is a critical point of services to campus users. Optimize to the maximum the use of parking spaces with radar devices that are able to detect (both indoor and outdoor) when and where there are free spaces. This way you can even get extra revenue for those spaces that are never occupied and that could have a higher level of turnover.
→ Smart Parking solution and related case studies
● Optimization of electric vehicle charging points:
The expansion of the electric car is already a reality that requires the existence of recharging points. For a better performance of the use of those recharging parking lots, monitoring devices can be installed to monitor the occupancy of those spaces that favor a rational use of them. → Italian company that monitored the recharging points success stories
● Measurement of vehicle and pedestrian traffic:
Detection of the volume of vehicular and pedestrian traffic is possible through the identification technology of bluetooth devices of cell phones and hands-free car devices. It is very useful to know the occupancy level of certain spaces -indoor and outdoor- and to adjust campus services according to users' consumption patterns and habits.
Discover our Smartphone detection solution | View Success Stories
2. Setting up a Smart IoT laboratory
Equipping electronics laboratories with testing technology that allows students to develop pilot projects. You can connect all smart campus projects to the IoT Lab and create a monitoring and control point to visualize data from the entire sensor network and establish derived applications based on artificial intelligence. → IoT kits ready to use on The IoT Marketplace
3. Updating teachers' knowledge.
Updating the contents of educational programs in IoT programming. Teacher training is essential for the renewal of educational curricula according to the needs of companies. The future employability of students depends on their preparation for tomorrow's technology.
The IoT is an ever-growing sector,
Let's Power the Revolution with specialized engineers.
And don't stop learning IoT with us!
• Learn how to interact with sensors and communication modules step by step with Waspmote platform.
• The course includes video lessons, specific hands-on practices and individual tutorial sessions.
• Programming with Waspmote Kit: This is the hardware pack included in the course to implement the knowledge acquired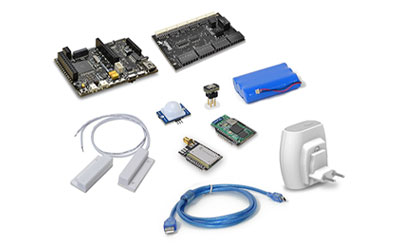 Hardware Material:
Waspmote PCB
WiFi module
Waspmote Events Sensor Board
PIR Sensor OEM
Temperature, Humidity and Pressure sensor
Hall-Effect Sensor (doors and windows)
Battery
USB cable
LoRaWAN Module
Base station TTN indoor
☛ Download a teaser for free ☛ More info about this IoT Course
• Innovate and refresh the educational content on IoT programming and development.
• Equip the laboratory and all the content to start a full course.
• The course includes a complete guide for the teacher to plan different exercises for students.
• The exercises cover a wide range of knowledge about Waspmote such as LED configuration, motion detection or accelerometer management.
• With the Waspmote University Kit, teachers and students can access to an exclusive list of video tutorials to get extra information and to follow the hands on practices.
The Waspmote University Kit contains everything you need to start programming with Waspmote.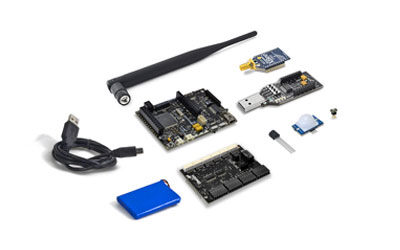 Hardware Material:
10 x Waspmote
2 x Waspmote Gateway
12 x Antennas
10 x Batteries
12 x XBee Pro
10 x Waspmote Event Boards
10 x Temperature sensors
10 x Temperature, Humidity and Pressure sensors
10 x PIR sensors
10 x USB cables
☛ More info about this IoT course
---
Do you want this article in Spanish🇪🇸 ?