IK10 (EN 50102): Impact protection certification
"Smart Parking v2" was tested according to the standards UNE-EN 50102:1996 + A1:1999 + Corr:2002 + A1 CORR:2002 (EN 62262:2002).
The node was submitted to 20 J impacts in several points of the enclosure (the equivalent to the impact of a 5 kg mass dropped from 400 mm above the impacted surface). After tests, no cracks nor holes were observed on the tested samples, proving an IK10 impact protection. IK10 is the maximum rating for protection against external mechanical impacts.
Sample ELT0053/1 before test
Sample ELT0053/1 test set-up & after test, showing the 5 points of impact 
Sample ELT0053/1 showing the internal side without cracks and the electronics container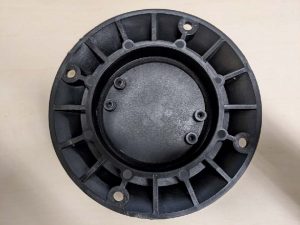 What is IK degree of impact protection?
Degrees of protection provided by enclosures for electrical equipment against external mechanical impacts (IK code).
And IK10, is one of the highest degrees of mechanical protection defined by EN 50102 standard. Protected against 20 joules impact.
Equivalent to impact of 5 kg mass dropped from 400 mm above impacted surface.
Main characteristics of Libelium Smart Parking technology:
| | |
| --- | --- |
| Enclosure dimensions | 37.25 mm x 200 mm |
| Power supply | Built-in lithium-thionyl chloride (Li-SOCl2) batteries; expected lifetime of 4-10 years* |
| Configurable sleep time | Min: 20 s / max: 10 min |
| Radio protocol | LoRaWAN module |
| Dual detection | Radar (main) and magnetic (backup) |
| Provisioning | Ready to install (default LoRaWAN OTAA IDs and key are loaded to each node) |
| Node configuration | Via "Remote Configuration Form" (webform) |
| LoRaWAN configuration | Via "Smart Devices App" (Java desktop application) |
| Operating temperature | -20 to +65 °C |
| Market certifications | CE (Europe) and FCC (USA) |
| Ingress protection certification | IP68 (maximum rating against dust and water ingress) |
| Impact protection certification | IK10 (maximum rating against impacts) |
(*) Under normal circumstances and depending on settings. The next table shows the basic Smart Parking node characteristics.


The device is fully certified according to CE, FCC, IP68 (EN 60529), and IK10 impact protection (EN 50102) – available for EU, US, Latam, India, Asia Pacific, and Australia. This is a real product ready for the main markets.
Get here the official Product Compliance Documentation.
---