The Internet of Things is an ever growing sector, an argument supported by the main researchers and experts. With a reasonable growth perspective, the market is demanding specialized engineers in the developing of IoT projects. There is a need to bridge the gap between the skills today's employers require and the career development of a new and emerging IoT workforce.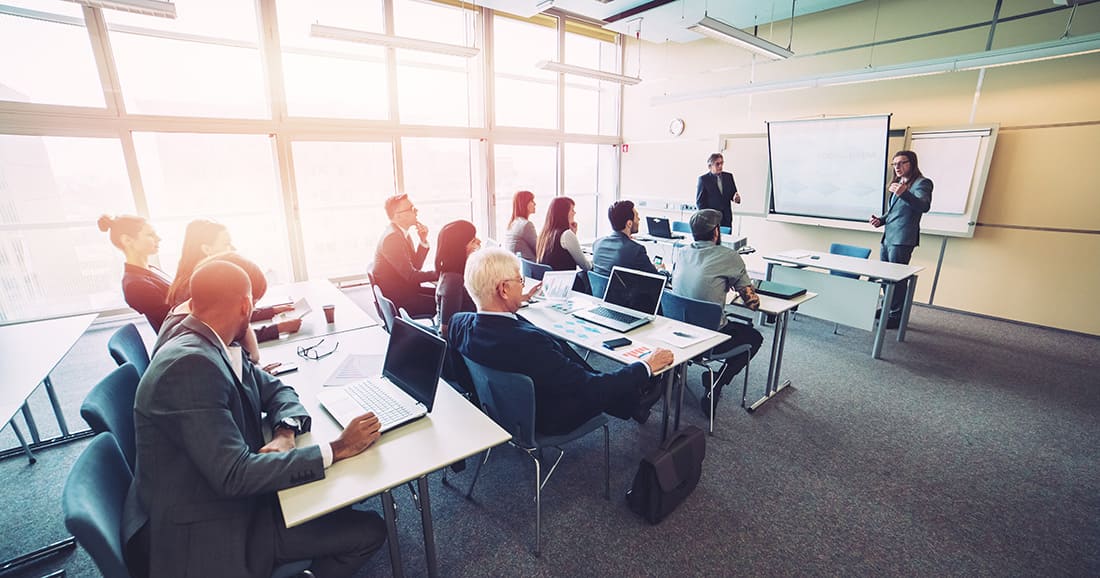 The continuous commitment with education is one of the main pillars of Libelium's mission. The company has always supported this by providing a wide educational offer for engineers, IoT professionals, teachers, and students, among others.
Libelium configures its new learning portfolio by promoting skills with specialized courses. Depending on the objectives to reach, Libelium offers 3 different courses to acquire all the knowledge needed to be employed in the IoT market.
1. Design and Architecture of IoT Solutions Course
This training is intended for CEOs, CTOs, CFOs and everyone interested in knowing how to use the IoT in their own organization. Discover the best IoT solutions for the most demanded applications. With this one-day training course participants will learn what to know to set up a smart project and how to develop an IoT platform step by step. This is the best complete workshop to understand the basis of the IoT value chain and how to make money with IoT exploiting new businesses opportunities.
Exclusive content for teachers from universities and IT schools to improve the students' skills to be the future IoT workforce. Many teachers find it difficult to offer new content that includes the implementation of real IoT projects. The Waspmote University Kit contains everything a professor needs to teach how to start entering in the IoT world and programming with Waspmote platform. It includes all the material needed to equip the laboratory and all the content to start a full course: video tutorials, handbooks and the latest IoT technology.
3. IoT Programming with Waspmote
It is the best way to get started with the Waspmote Platform. This course was launched in 2011, as one of Libelium's first bets for education in IoT, oriented to developers, IoT architects, system integrators and software companies. It is divided into two modalities: the basic and the advanced training courses. In just 2 intensive days you will walk step by step from installing the compiler to write your first programs and interact with sensors and communication modules.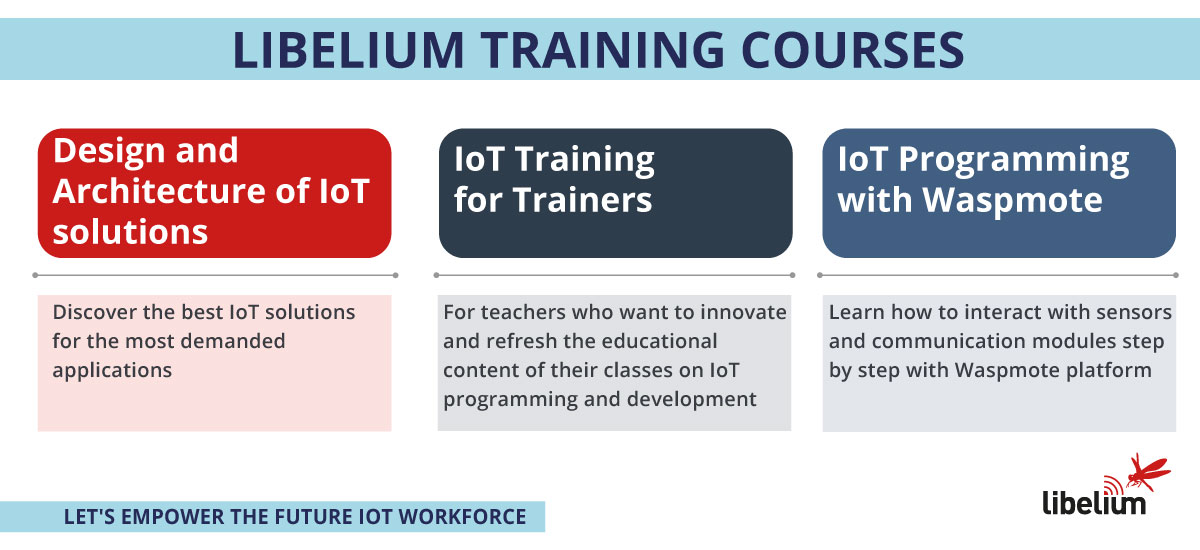 Libelium Team offers all its IoT knowledge at your disposal. The courses are based in our professional experience helping to empower the future IoT workforce. "Our courses are totally pragmatic. We want the attendants to learn how to work with Waspmote, how to configure the platform and its peripherals, how to connect Waspmote with Meshlium Gateway and finally, how to send data from sensors to the cloud," declares Libelium's trainer Yuri Carmona.
Marni binti Dato' Mohd Rani, from company Maxvec (distributor in Malaysia) found that "the workshop was fantastic and very formative. Do not worry if you have a low programming background, because the instructors made it easy to understand."
"I strongly recommend to everybody, who are connected to the technological sphere, join these courses, if they have such a possibility. Because in the end, you achieve not only knowledge about this harsh topic, but also the unique experience of communication with same-minded people!" adds Dimitriy Levin, CEO of Digital Transformation Company (Ukraine).
If you were interested in knowing more about this program, visit our Training web section or contact our Sales Team.