By 2050, outdoor air pollution is projected to become the top cause of environmentally related deaths worldwide.
More than 500,000 people dead prematurely every year due to poor air quality in Europe. The biggest problem coming from Particulate Matter, nitrogen dioxide (NO2) and ozone (O3). The Common Air Quality Index (CAQI) is an air quality index used in Europe since 2006. The European Environment Agency started encouraging its use on websites and for other ways of informing the public about air quality.
The Smart Cities market is rapidly developing. Smart Cities look for sustainable growth, diminishing the impact of economic and demographic changes and taking advantage of IT and communication technologies.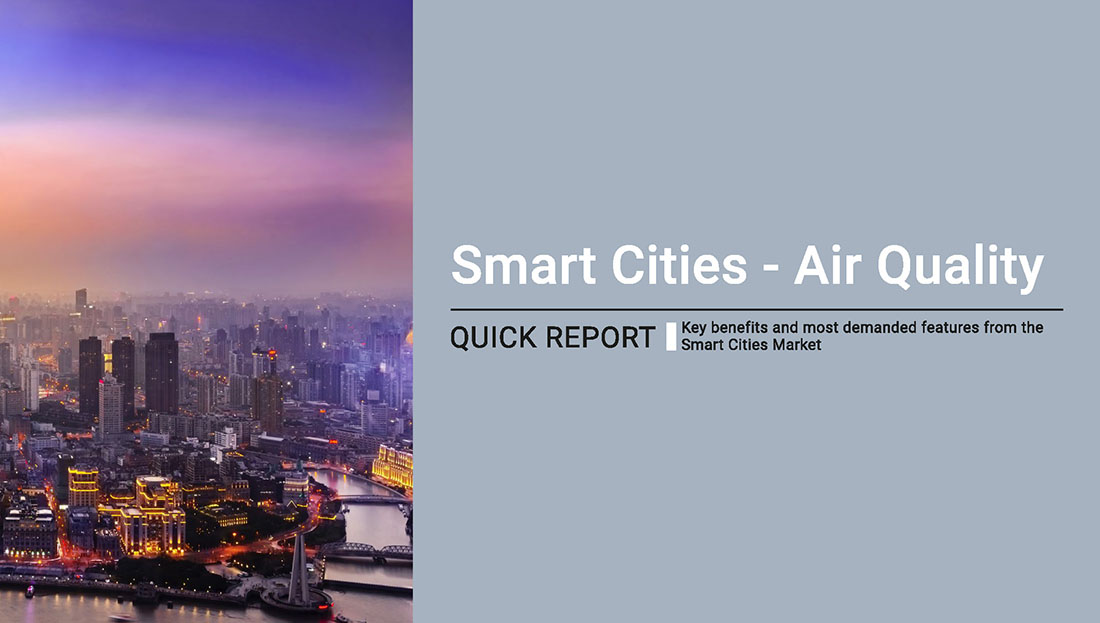 Libelium Smart Cities–Air Quality IoT Solution Quick Report
As a pioneer in the Internet of Things sector, Libelium unites all benefits and most demanded features from the Smart Cities–Air Quality market in a new Quick Report. A document showing how the Internet of Things can collaborate on key dimensions such as: environment protection, urban planning, social cohesion or risk prevention.
Smart Cities improve citizens' quality of life above money-saving or return on investment. Smart City visions that are holistic, pluralistic and citizen-centric, focusing on improving services and solving pressing urban issues, will be the most effective and cost-efficient in the long term.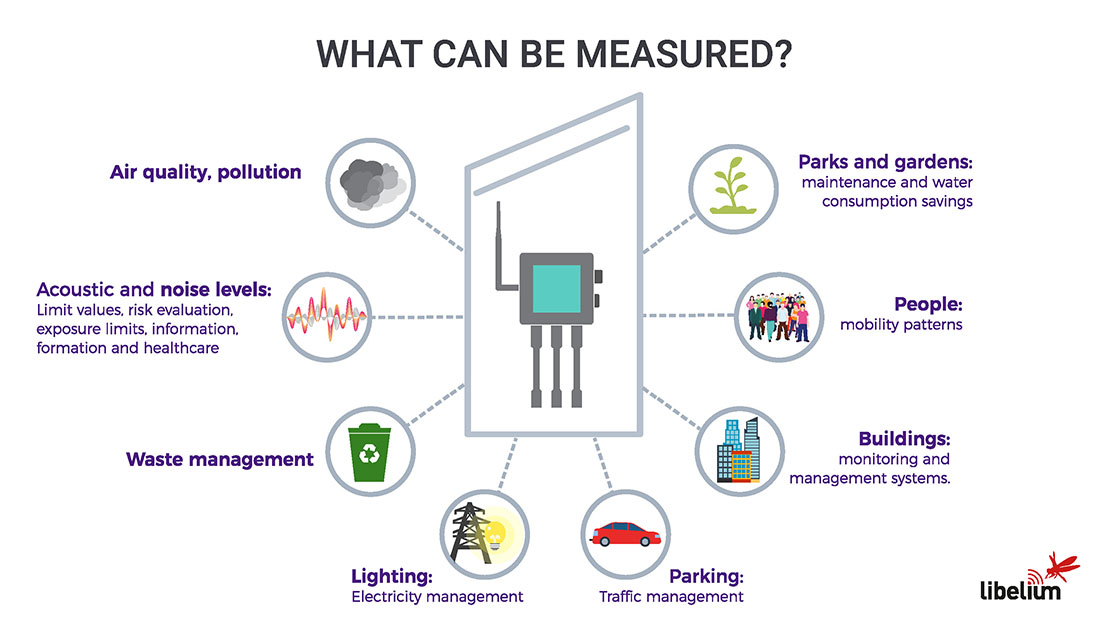 With the aim to improve control on environmental emissions and sound pollution as key factors to combat climate change and to prevent the impact in citizens health, Libelium launched a sensor platform according to the last legislation requirements including worldwide certifications: Smart Cities PRO.
Libelium has broad experience and deep knowledge of the market in the 5 continents. Products are constantly updated, improved and developed to offer the greatest efficiency. Libelium strategically allied with specialized companies, integrating the best sensors in the market.
The main applications of the Smart Cities Platform turn around pollution, air quality control, industrial environment or farming projects with high requirements in terms of accuracy, reliability and measurement range as the sensors come calibrated from the factory.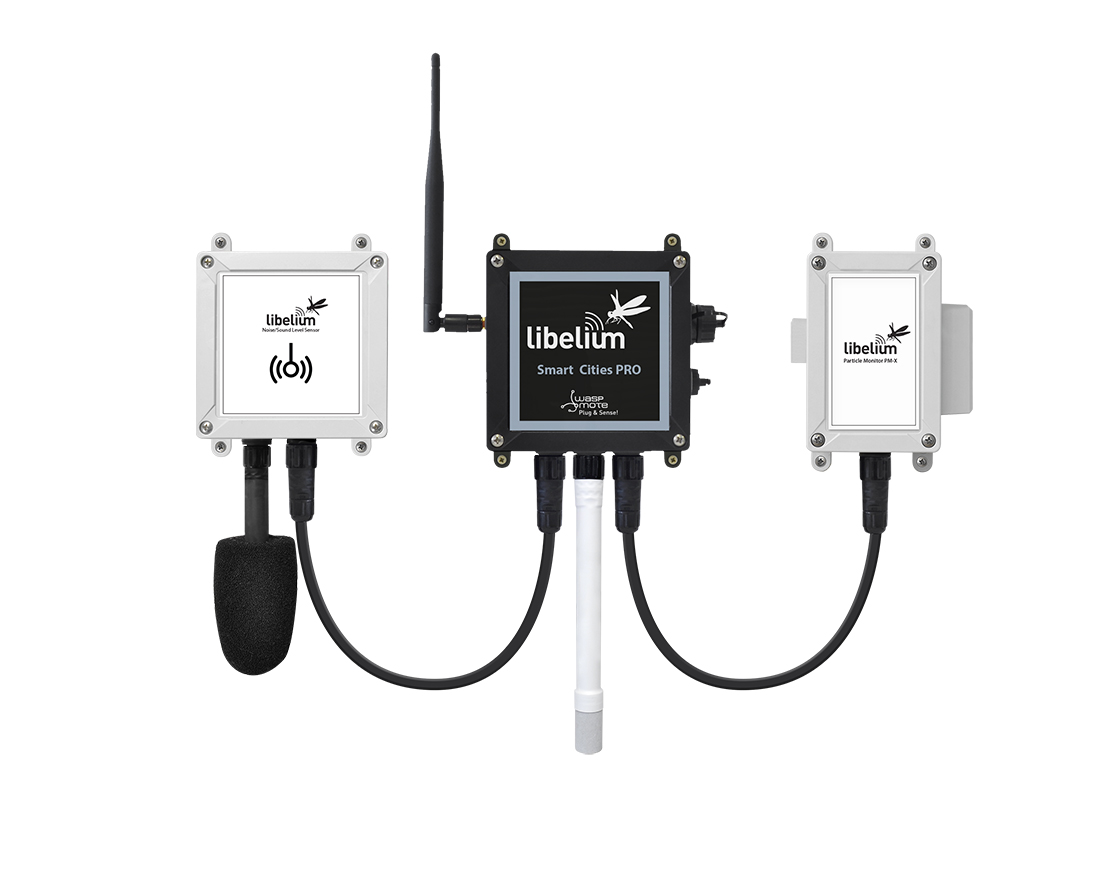 Waspmote Plug & Sense! Smart Cities Sensor Node
These sensors address current market demands of higher precision in measurements and are aimed to complete the pricey equipments like professional sonometers and weather stations to increase city capillarity on these services.
Check out all the IoT Kits available in The IoT Marketplace that include complete solutions for the Smart Cities Market ready to be deployed:
Libelium – SmartIS Green Cities Solution Kit
Libelium – EXM LoRaWAN AQI Solution Kit
More information:
References:
Download the Libelium Smart Cities and Air Quality report:
*TERMS AND CONDITIONS TO USE LIBELIUM CONTENT.
Libelium is the owner of all images provided on the website and it can only be used quoting the source. Any video, photograph, diagram, infographic or logo cannot be used or transformed without Libelium authorization. You can request the files in high resolution to publish on your website or to insert in marketing flyers always using Libelium logo and linking with Libelium website.
If you are going to publish the article in a website or media or in a white paper or research study, it must be done including all the references and mentioning Libelium as the source of the content.
© Libelium Comunicaciones Distribuidas S.L. – www.libelium.com