Air quality application based on IoT unites technology and healthy lifestyle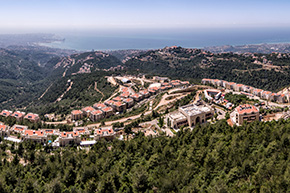 BeitMisk is a private community located in a beautiful natural setting that enjoys a good environment with clean air quality. One of the main objectives of the ideologists of this new city was to guarantee the quality of the air and to offer this information to the tenants in a smart way.
On the hills and with sea views, twenty minutes away from Beirut, is located BeitMisk residential area. This new city concept joins self-sufficiency with ecology. Its green areas represent 80% of the district with more than 200,000 new trees, irrigated with recycled rainfall water.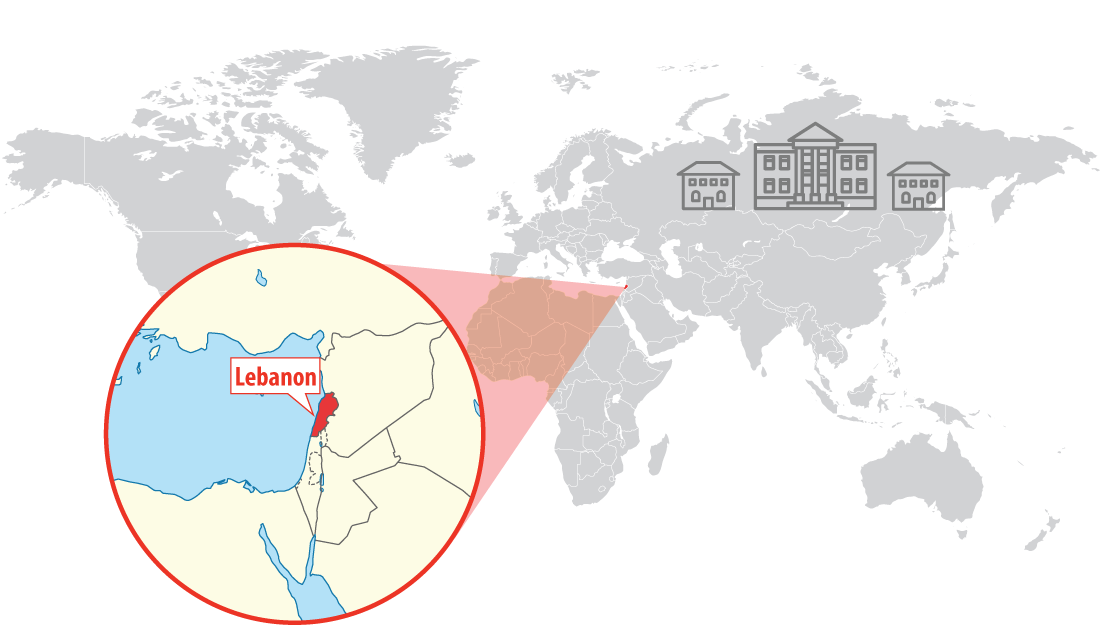 Location of Lebanon
Data Consult, Lebanese company established in 1991, is known for providing avant-garde integrated solutions, managed services, solution design, that help its clients maintain business sustainability. With over 150 highly skilled professionals, Data Consult successfully proved its technical prowess in digital innovation.
Recently the company embarked on a new adventure, launching the first smart city in Lebanon developed with Libelium's technology. The project includes digitizing of the physical elements of the city, adding a layer of machine learning and artificial intelligence to provide data insights and predictive analytics. This deployment allows tenants and facility management teams to connect with their city through various intuitive communication tools, save on resources and enjoy a better citizen experience.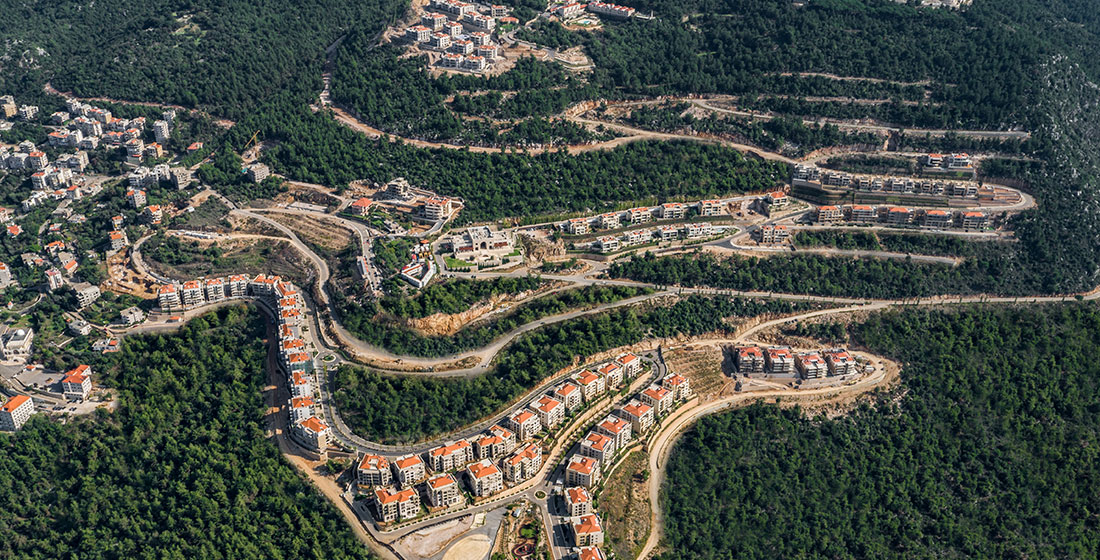 Aerial picture of BeitMisk
BeitMisk management offers an exclusive and exceptional living experience, associating technology with a healthy lifestyle. Data Consult is the company in charge of developing the new sensor network and the software application related.
Libelium environmental and AQI wireless sensors were installed by Data Consult throughout the residential area to bring more awareness to the environment, bringing the users the possibility to know when it is the best time of day for children to play outside or when is a good time to go out jogging.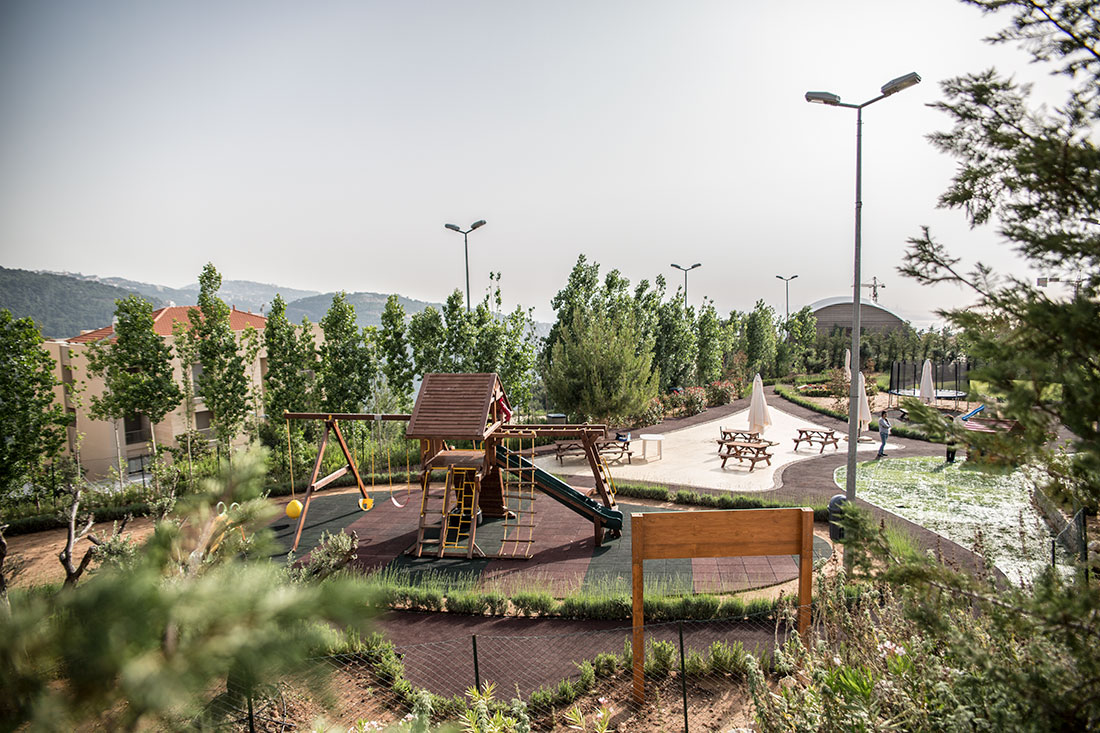 Playground at BeitMisk
BeitMisk usually hosts recreational events such as concerts, film festivals or lunch meetings. For the village's management, all this information permits to better plan any activity, project or construction without increasing the air pollution.
Additionally, having this data also helps to add proper air filters to power generators and in maintaining a better control of traffic within the community, creating an environmentally friendly awareness among neighbors.
Data Consult installed several Waspmote Plug & Sense! Smart Environment PRO to measure the following air quality parameters:
Temperature, humidity and atmospheric pressure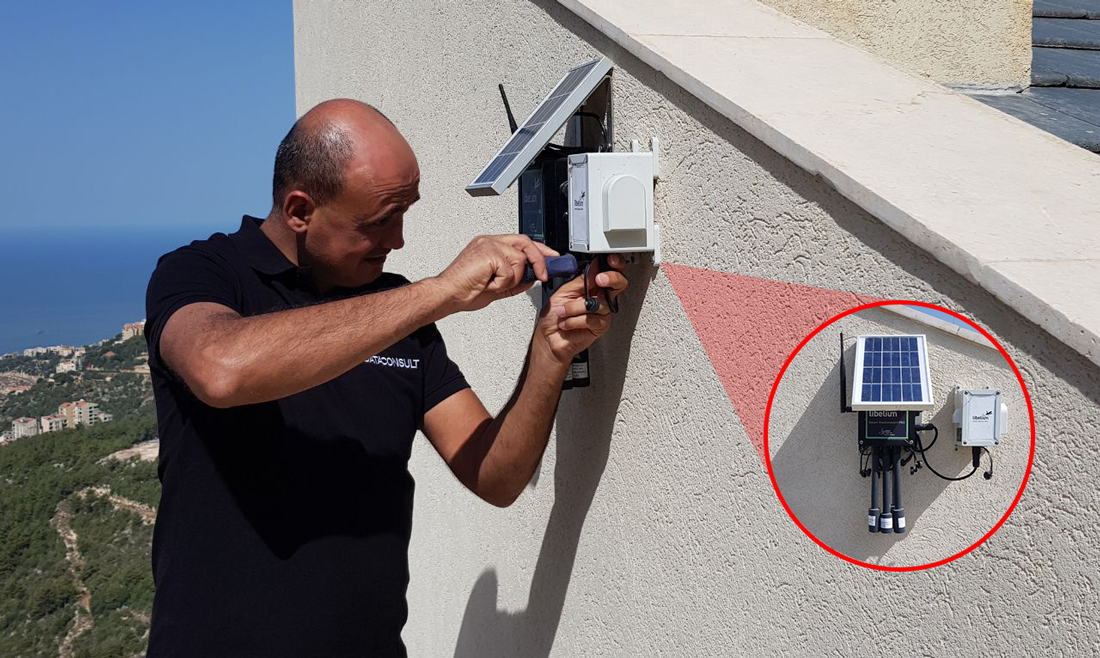 Installation of Waspmote Plug & Sense! at BeitMisk
The nodes use LoRaWAN communication protocol to have the data sent to the LoRaWAN Gateways, which were part of the Ogero nationwide Internet of Things network. The gateways are linked to the Google Cloud and hooked to a platform and an application server built by Data Consult, where it is collected, processed with machine learning and finally displayed. An intelligence layer was added to provide insights and predictive analytics that allow for a better decision making process.

Diagram of BeitMisk Smart City Project
Users experience the product through the interface provided, so information can be accessed in three different ways depending on the reader:
The facility management: through a web dashboard.
Tenants: through mobile application.
Other tenants can contact the chat bot.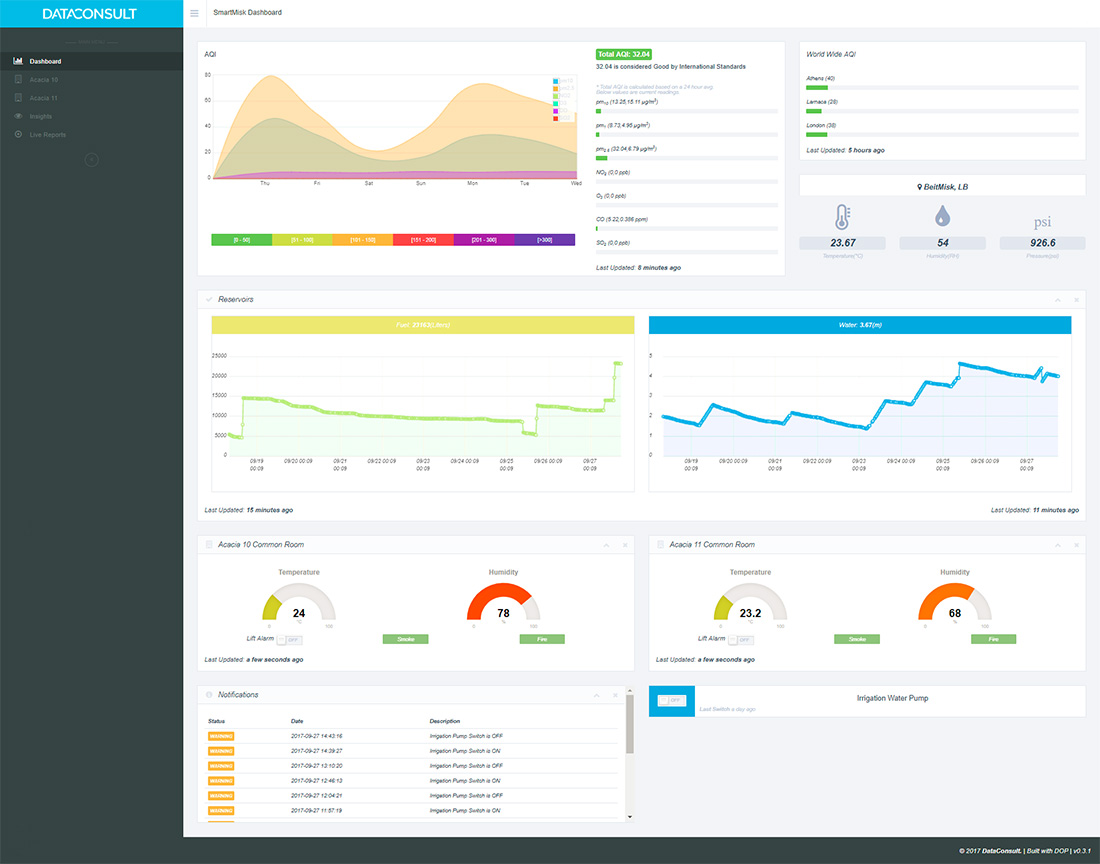 Data Consult web dashboard
The reasons for Data Consult to choose Libelium Sensor Platform reside in the versatility of the Waspmote sensor platform, which offers an integrated solution, with solar powered devices, calibrated sensors and LoRaWAN connectivity.
Additionally, Data Consult also highlights that installing and running the project in a short period of time has a positive impact on the overall smart enhancements the city is planning to deploy.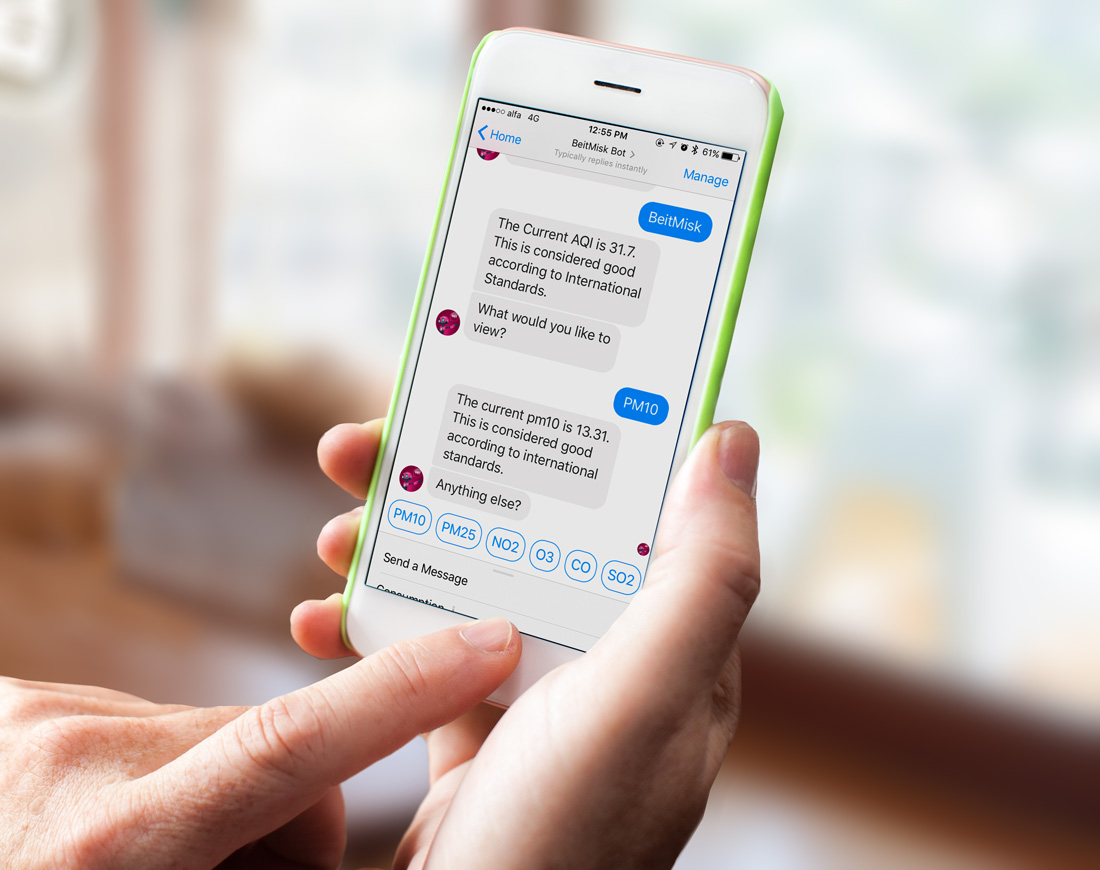 BeitMisk Bot developed by Data Consult
Marc Nader, Chief Operating Officer of Data Consult, who led the company's transformation towards managed services, cloud and IoT declared that "working with Libelium on this project was a very positive experience. The combination of LoRaWAN and solar power made it very easy to install with minimal intrusion on the customer's environment. It was working perfectly ever since, data is flowing into the platform continuously without a single maintenance operation. It's a precise and reliable product. The users were extremely happy to have this real-time data available".
This case study helps to achieve the following Sustainable Development Goals:




For more information about our products contact the Libelium Sales Department.
If you want to download the article in Spanish, please click here.
More info:
References:
Discover our Smart Cities Kits at The IoT Marketplace.
*TERMS AND CONDITIONS TO USE LIBELIUM CONTENT.
Libelium is the owner of all images provided on the website and it can only be used quoting the source. Any video, photograph, diagram, infographic or logo cannot be used or transformed without Libelium authorization. You can request the files in high resolution to publish on your website or to insert in marketing flyers always using Libelium logo and linking with Libelium website.
If you are going to publish the article in a website or media or in a white paper or research study, it must be done including all the references and mentioning Libelium as the source of the content.
© Libelium Comunicaciones Distribuidas S.L. – www.libelium.com