EU project uses Libelium sensors to monitor ozone levels in volunteer homes

Do you want this case study in pdf?
Download it in English🇬🇧  and Spanish🇪🇸  directly to your inbox.
Ozone is one of the major pollutants in Europe, excessive exposure to ground-level ozone is estimated to cause about 20,000 premature deaths per year in Europe, according to the European Environment Agency.
European Union project CAPTOR measures tropospheric ozone in areas where levels usually exceed regular values. Libelium sensors are used to control air quality in rural areas and real-time information of the Captor nodes can be consulted using the captorAIR app.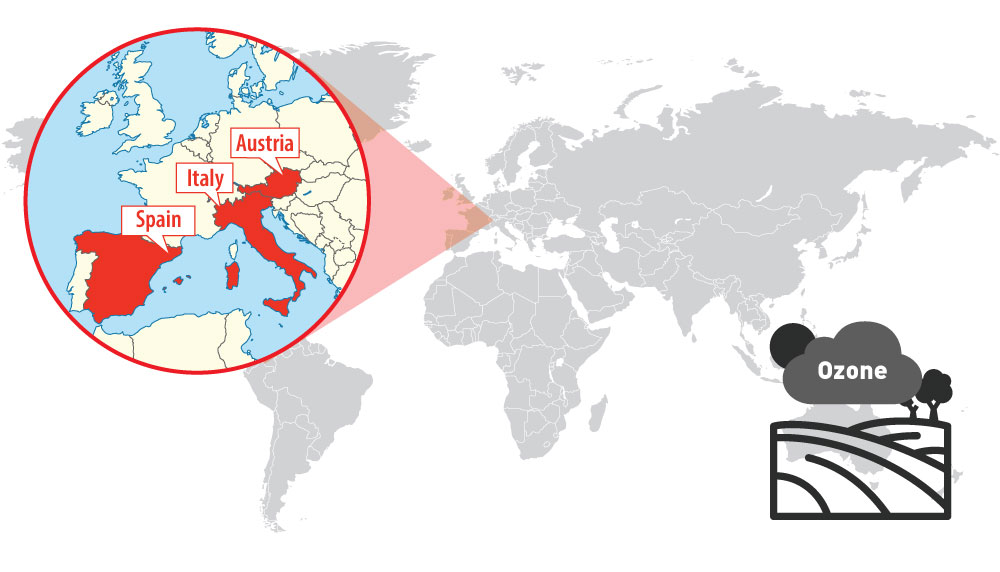 Location of Spain, Italy and Austria
The UPC (Universitat Politecnica de Catalunya) is leading the Collective Awareness Platform for Tropospheric Ozone Pollution (CAPTOR), a platform which uses Libelium's IoT technology to monitor tropospheric ozone as well as other secondary pollutants (NOx and VOC).
Ozone is a greenhouse gas, often considered the "forgotten pollutant" because its effects are felt far from the areas that cause it. But ground level ozone is primarily an air pollutant, which is of high concern in Europe.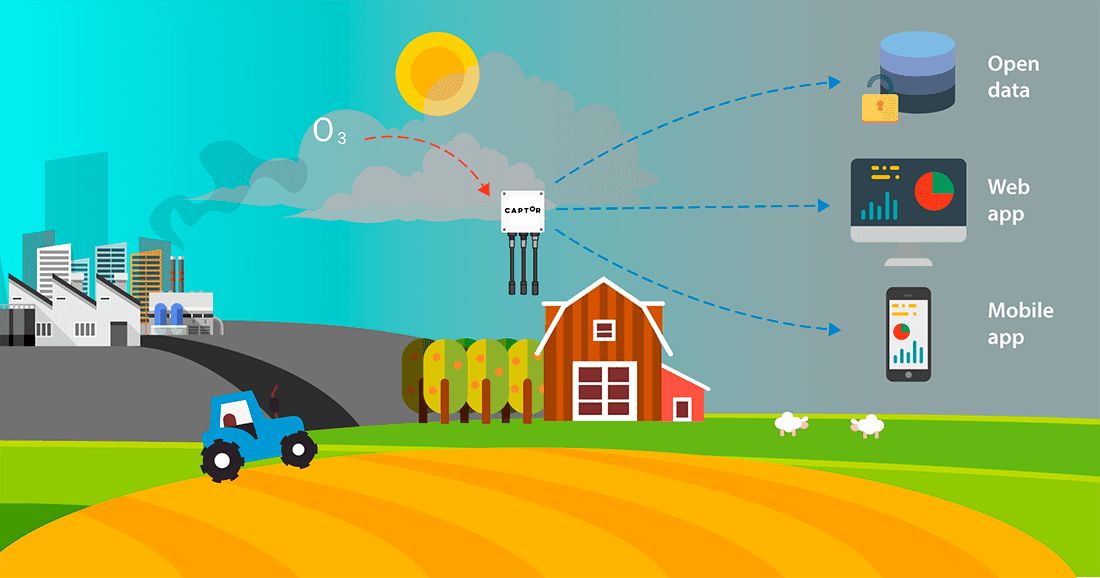 Diagram of CAPTOR project
The polluters (the urban population) do not suffer the degradation of the air quality caused by their gas emissions, whereas the rural population (which has a limited ability to control the emissions) breathes degraded air. Due to this decoupling between the sources and the effects of tropospheric ozone, it usually receives less attention than other pollutants such as particles of sulfur dioxide (SO₂) and nitrogen oxides (NOx).
A network of sensors were installed to measured ozone in three affected areas:
Barcelonès-Vallès Oriental-Osona area in Spain
La Plana Padana, in the Po Valley (Italy)
Burgenland, Styria and Lower Austria (Austria)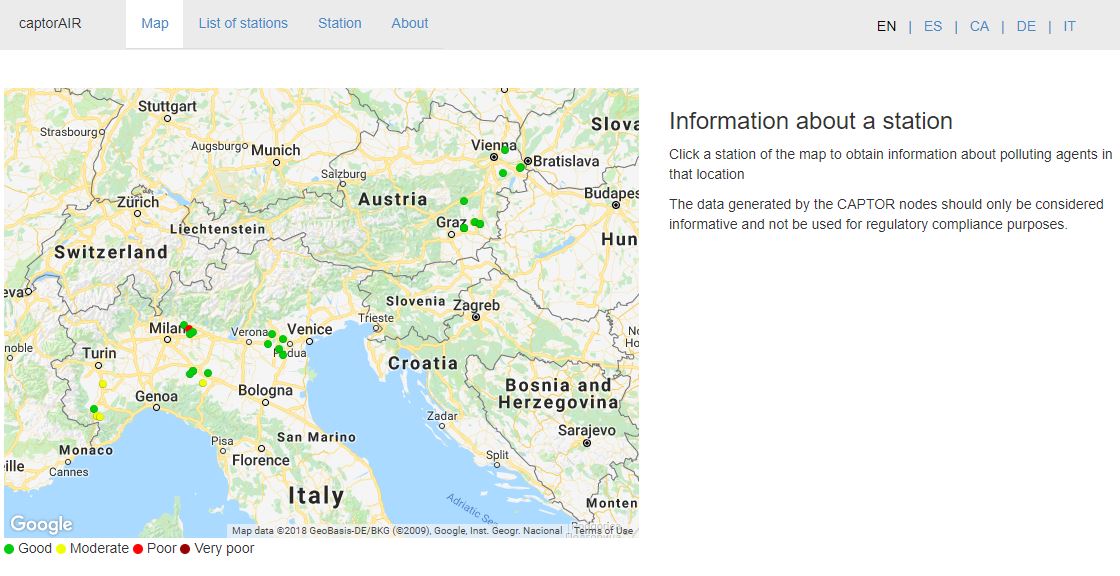 CAPTOR web application
Libelium's wireless sensor platform Waspmote is extraordinarily flexible and has been designed to work in many different IoT smart cities projects: measuring polluting gases levels, controlling particle pollution, light intensity levels or even noise pollution from road traffic, industry and construction.
The devices, which has been inspired by Libelium's Waspmote Plug & Sense! Smart Cities PRO line, have been managed and maintained jointly by the Institute of Environmental Diagnosis and Water Studies (IDAEA) of the Spanish National Research Council (CSIC) and the UPC.
CAPTOR sensor nodes measure ozone and other pollutants
Three ozone measurement campaigns are planned for the summer period (2016-2018), when tropospheric ozone reaches the highest concentrations. In the first year, 2016, the campaign was only carried out in Spain, in order to test the system and the tools for publishing the data. In 2017 and 2018 the campaign was carried out in private houses of volunteers from three countries: Austria, Italy and Spain.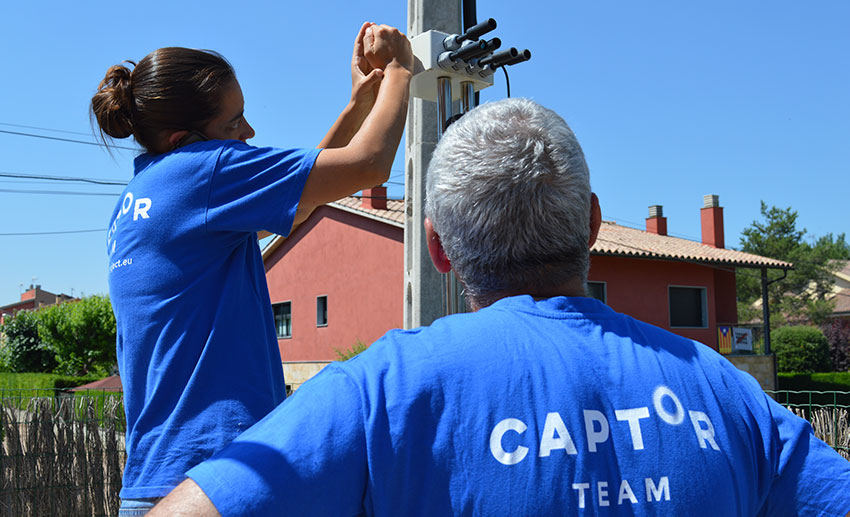 The CAPTOR team installs nodes in volunteers' homes
In the CAPTOR project, citizens and scientists work closely together to monitor and address the problem of ozone pollution in Europe. In fact, the goal is to promote grassroots collaboration between local communities, citizens, NGOs and scientists in order to find solutions to the problem of air pollution and to reinforce the citizens' awareness of their right to clean air.
This case study helps to achieve the following Sustainable Development Goals:



More info:
References:
Calibrated Air Quality Sensors for Smart Cities: libelium.com
Particle Matter – Dust Sensor (PM1 / PM2.5 / PM10). Air Quality in Smart Cities: libelium.com
Libelium Releases Smart Cities Sensor Platform for Precise Urban Monitoring: libelium.com
CAPTOR Project: captor-project.eu
CAPTORair App: captorair.org
European Environment Agency: eea.europa.eu
Institute of Environmental Diagnosis and Water Studies/Instituto de Diagnóstico Ambiental y Estudios del Agua (IDAEA): idaea.csic.es
Spanish National Research Council/Consejo Superior de Investigaciones Científicas (CSIC): csic.es
Universitat Politecnica de Catalunya – UPC: upc.edu
"Un proyecto europeo pone sensores de ozono en hogares de voluntarios" – CSIC: dicat.csic.es
"A European project led by the UPC involves citizens in the control of air quality" – UPC: upc.edu
Discover Air Quality Index Kits at The IoT Marketplace.
Do you want this case study in pdf?
Download it in English🇬🇧 and Spanish🇪🇸 directly to your inbox.
---
*TERMS AND CONDITIONS TO USE LIBELIUM CONTENT.
Libelium is the owner of all images provided on the website and it can only be used quoting the source. Any video, photograph, diagram, infographic or logo cannot be used or transformed without Libelium authorization. You can request the files in high resolution to publish on your website or to insert in marketing flyers always using Libelium logo and linking with Libelium website.
If you are going to publish the article in a website or media or in a white paper or research study, it must be done including all the references and mentioning Libelium as the source of the content.
© Libelium Comunicaciones Distribuidas S.L. – www.libelium.com