Libelium promotes health monitoring in the workplace with MySignals

Do you want this case study in pdf?
Download it in English🇬🇧  and Spanish🇪🇸  directly to your inbox.
The eHealth device, MySignals, developed by Libelium, has participated in a Corporate Social Responsibility (CSR) program for the promotion of healthy habits and health monitoring in the workplace. MySignals is an eHealth IoT Development platform for remote health monitoring, equipped with 17 different sensors that measure the most important vital signs.
Health surveillance is one of the objectives of the occupational risk prevention regulations. Companies develop active prevention policies and promote healthy habits among their workers to improve their health and prevent accidents at work.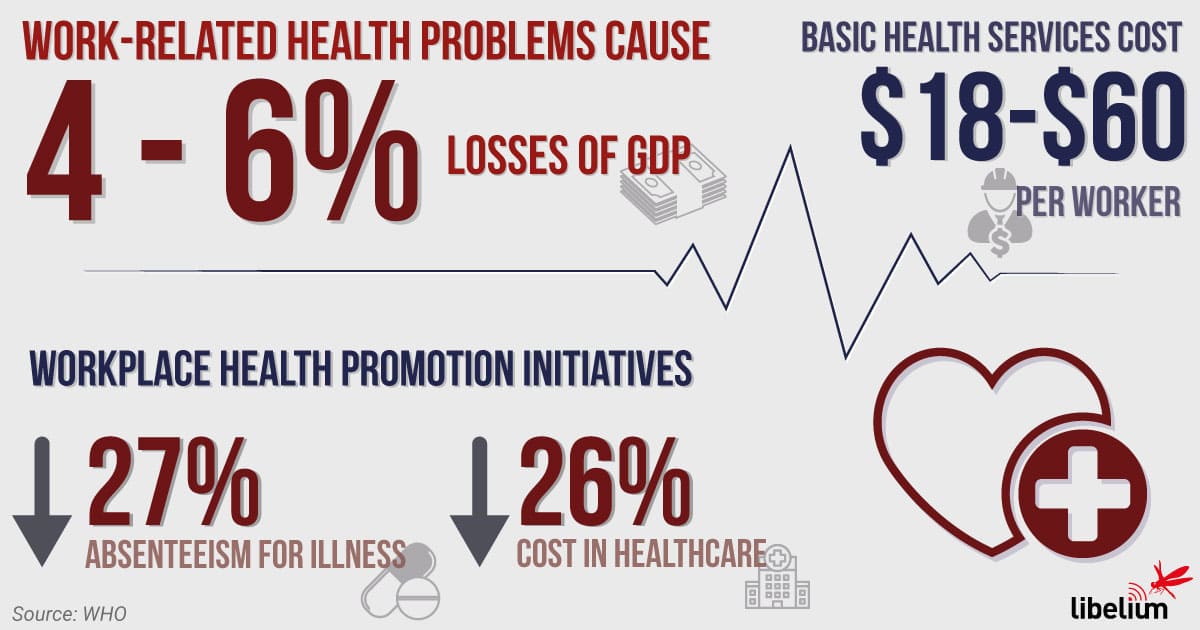 According to the World Health Organization, in most countries work-related health problems cause losses ranging from 4 to 6 per cent of GDP. Basic health services to prevent occupational and work-related diseases cost an average of between $18 and $60 per worker. Research has shown that workplace health promotion initiatives can help reduce absenteeism due to illness by 27% and healthcare costs for companies by 26%.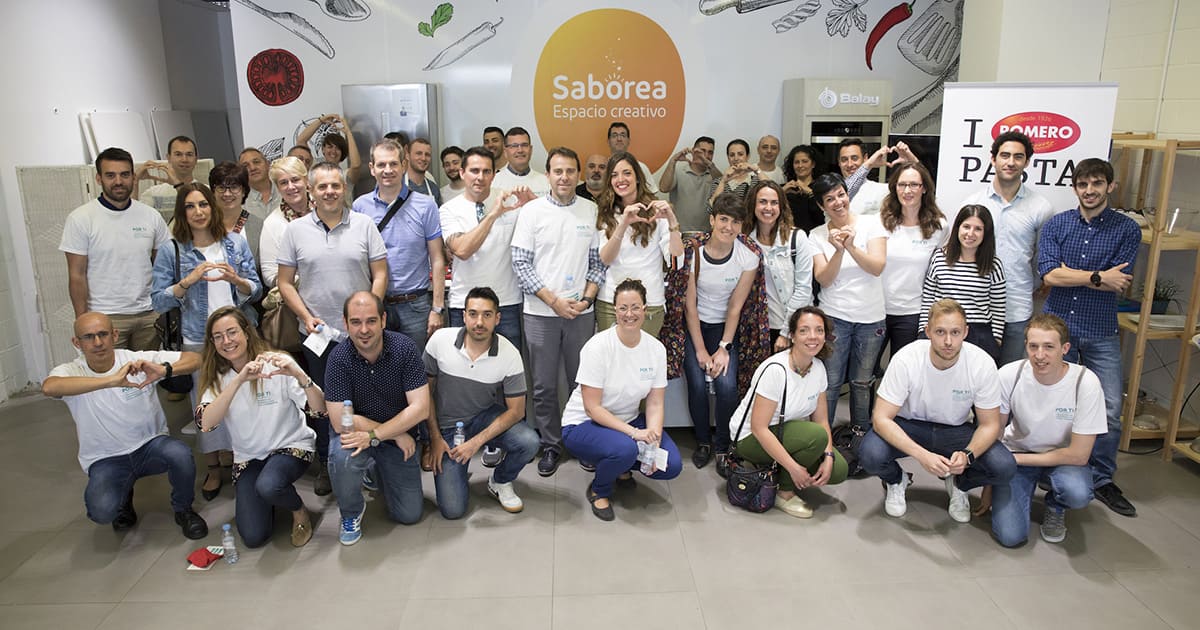 Participants at "Por Ti" CSR Program
Grupo Quirónsalud, Pikolin, Pastas Romero, Agua de Lunares, Podoactiva and Libelium, all Spanish companies stablished in Zaragoza (where Libelium has its headquarters), have joined together in a collaborative CSR programme under the slogan "For You".
During the project, 50 ambassadors, employees of the six companies, took part in different training sessions on the importance of health monitoring, rest, healthy eating, hydration, sports practice and emotional health.
Libelium and Quirónsalud have collaborated actively by providing workers with personalized medical surveillance services in which MySignals has participated. In this way, each participant passed an initial check-up with a health professional who performed some tests including blood analysis, electrocardiogram, audiometry, blood pressure and visual acuity.
To complete this test, users were also connected to MySignals to measure their body parameters through three sensors: the digital balance, the pulse oximeter (to check their blood oxygen level) and the blood pressure monitor (to measure blood pressure levels).
MySignals SPO2 Sensor, Body Scale and Blood Pressure Sensor
The health activities involved in health surveillance are aimed both at monitoring the early detection of damages of occupational origin, and at developing intervention programs capable of preventing damages, promoting the health of workers in the workplace, controlling occupational and environmental risks, promoting the safety and health of workers and their working conditions.
According to those responsible for Quirónprevención, medical examinations help to promote and protect the health, safety and well-being of workers, as well as the sustainability of the work environment on an ongoing basis. A healthy, motivated and well-prepared working population is fundamental to the future social and economic well-being of any company.
With this aim, Libelium wants to promote the use of MySignals as a tool in the internal medical services of the companies or in the services of prevention of the health of the workers to offer points of continuous surveillance of certain biometric parameters so that the workers can carry out routine controls.
MySignals allows the storage of the results of different user profiles in the cloud and thus be able to check their evolution over time. This improves the tracking of users with certain chronic illnesses that require more continuous medical surveillance.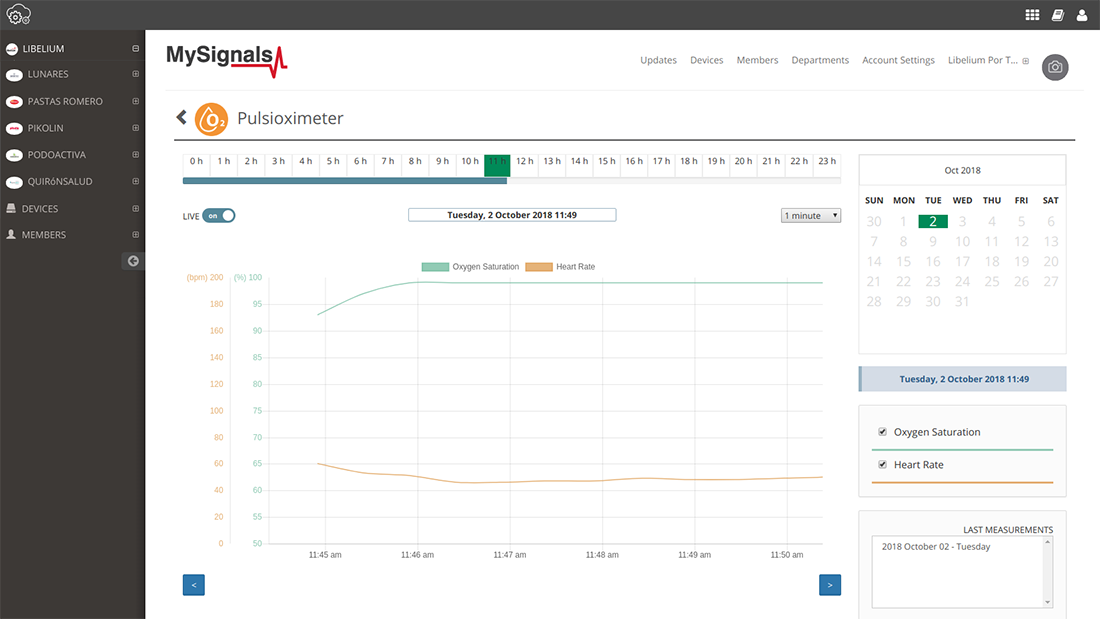 MySignals SPO2 Graphic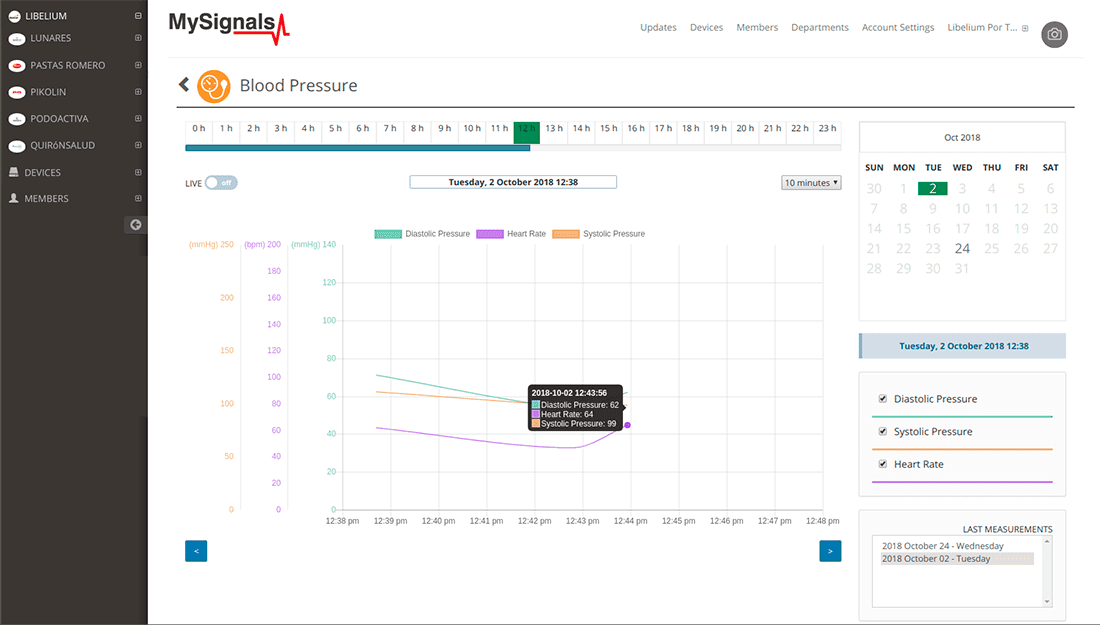 MySignals Blood Pressure Graphic
Libelium offers different health monitoring kits designed for users with different chronic pathologies that require daily monitoring of some medical parameters. Sleep disorders such as apnea and snoring, respiratory diseases like asthma and breathing depression, diabetes, arterial hypertension, arrhythmias and tachycardias are common disorders that affect the daily lives of some people. This remote surveillance allows users to monitor their health status on a daily basis.
This case study helps to achieve the following Sustainable Development Goals:

More info:
References:
Discover our MySignals eHealth Kits in The IoT Marketplace.
Do you want this case study in pdf?
Download it in English🇬🇧 and Spanish🇪🇸 directly to your inbox.
---
*TERMS AND CONDITIONS TO USE LIBELIUM CONTENT.
Libelium is the owner of all images provided on the website and it can only be used quoting the source. Any video, photograph, diagram, infographic or logo cannot be used or transformed without Libelium authorization. You can request the files in high resolution to publish on your website or to insert in marketing flyers always using Libelium logo and linking with Libelium website.
If you are going to publish the article in a website or media or in a white paper or research study, it must be done including all the references and mentioning Libelium as the source of the content.
© Libelium Comunicaciones Distribuidas S.L. – www.libelium.com