Predicting eruptions in the Masaya Volcano with wireless sensors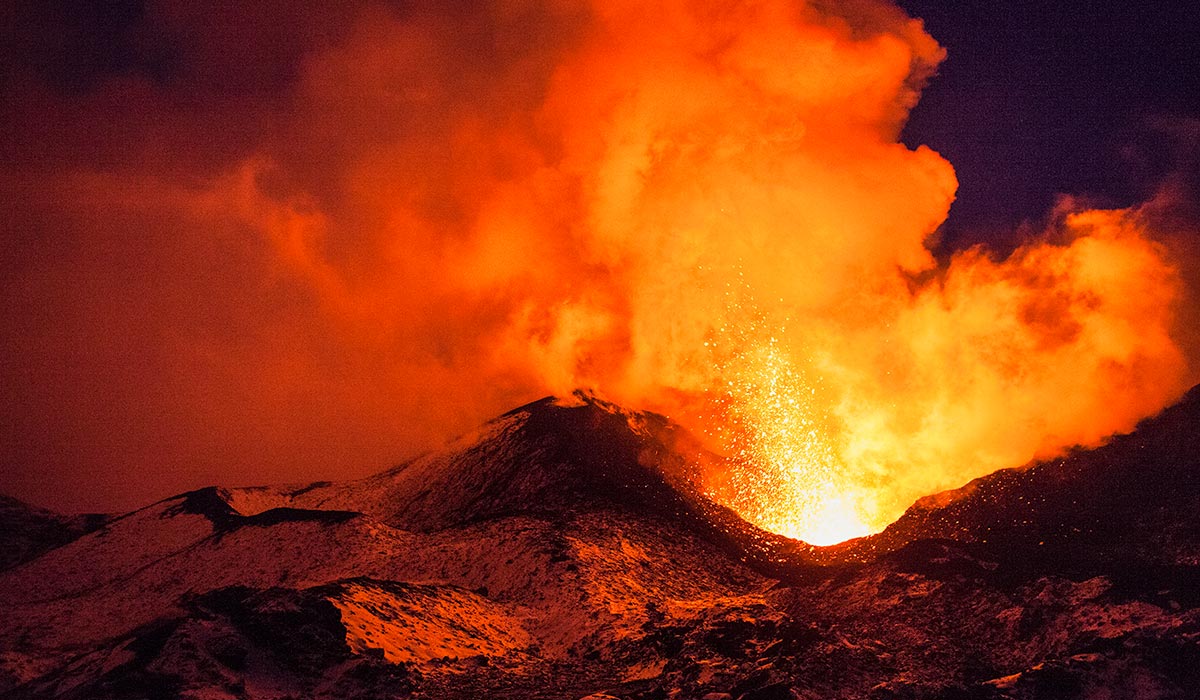 Do you want this case study in pdf?
Download it in English🇬🇧  and Spanish🇪🇸  directly to your inbox.
Volcanoes are one of the most unpredictable and impressive natural phenomenons. Worldwide researchers and scientists have always been trying to discover what happen inside volcanoes to predict future eruptions that will save lives. Their activity has provoked along years great disasters destroying entire settlements with lava flows and also endangering the environment or human health due to gas emanations or ash falls.
Some vulcanologists are currently focused on working with the latest technology to monitor in real-time everything that happens inside and outside the crater to predict eruptions. Qwake, a global brand that merges ground-breaking scientific expeditions with cutting edge technology to drive positive change, has trusted in Libelium technology to develop a wireless sensor network in the Mouth of Hell, Masaya volcano in Nicaragua.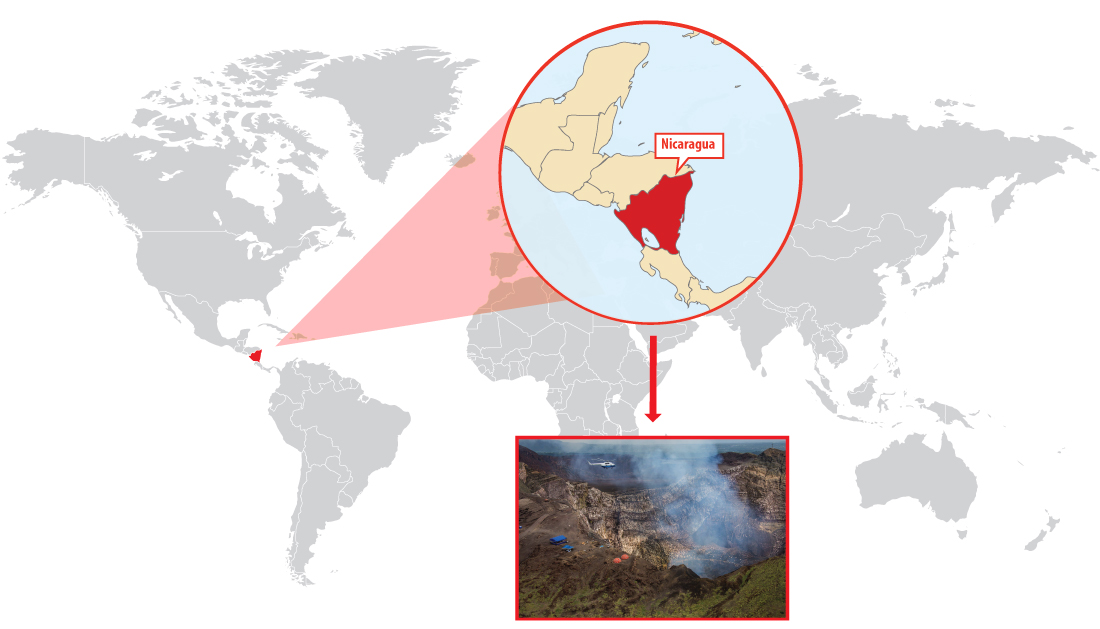 Masaya volcano (Nicaragua)
Masaya is one of Latin American most active volcanoes. In fact, in 2008 during September, November and December the caldera threw ash and steam rising a height of 2.1 kilometers. At this time, there is a lava lake in one of the craters with 600 m2 dimension that offers an unprecedented glimpse into the dynamic behavior of magma plumbing system including cascading as explosions, emission of lava jets, etc.
Real-time control at Masaya volcano with 80 sensors
Qwake team, with explorer and filmmaker Sam Cossman, Nicaragua government, Libelium and General Electric (GE) have worked in this project to bring the first volcano online. The expedition took place along July and August 2016. The team was looking for a wireless monitoring system able to collect, transmit and store data in real-time. For this reason, they chose Libelium to get information directly from the crater.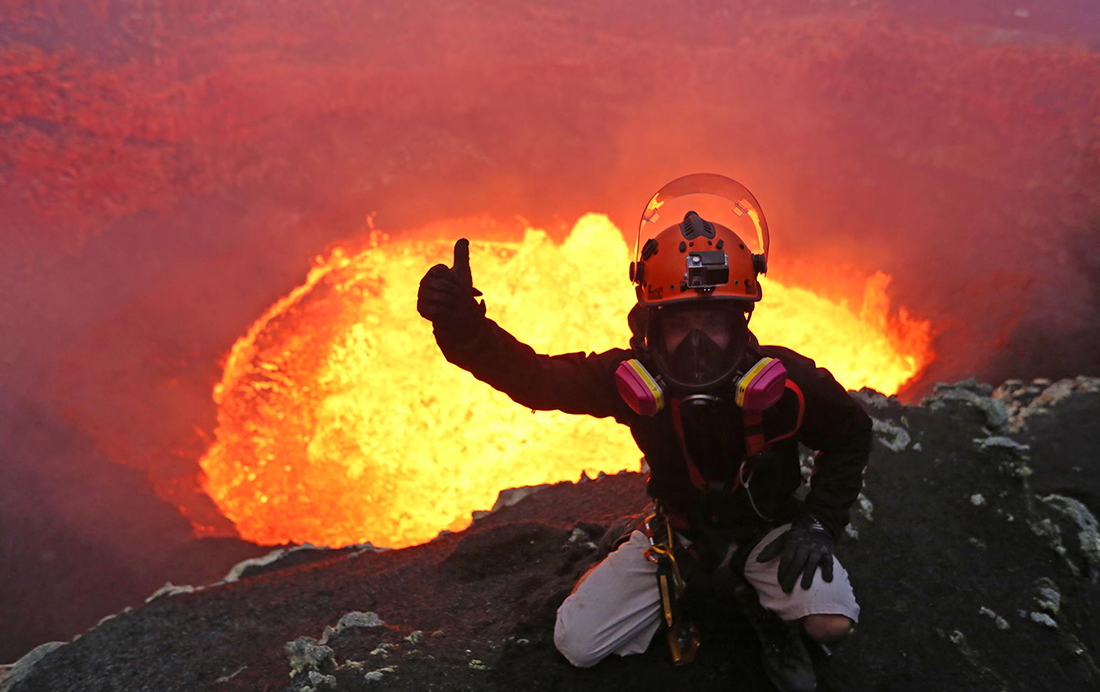 Sam Cossman at Masaya volcano
Our CTO, David Gascón, was a member of the expedition and experienced in first person the impressive landscape around Masaya volcano. "We are glad to contribute to a project that will help to save million of lives, not only in Nicaragua, but also in worldwide projects monitoring other volcanoes", has argued David Gascón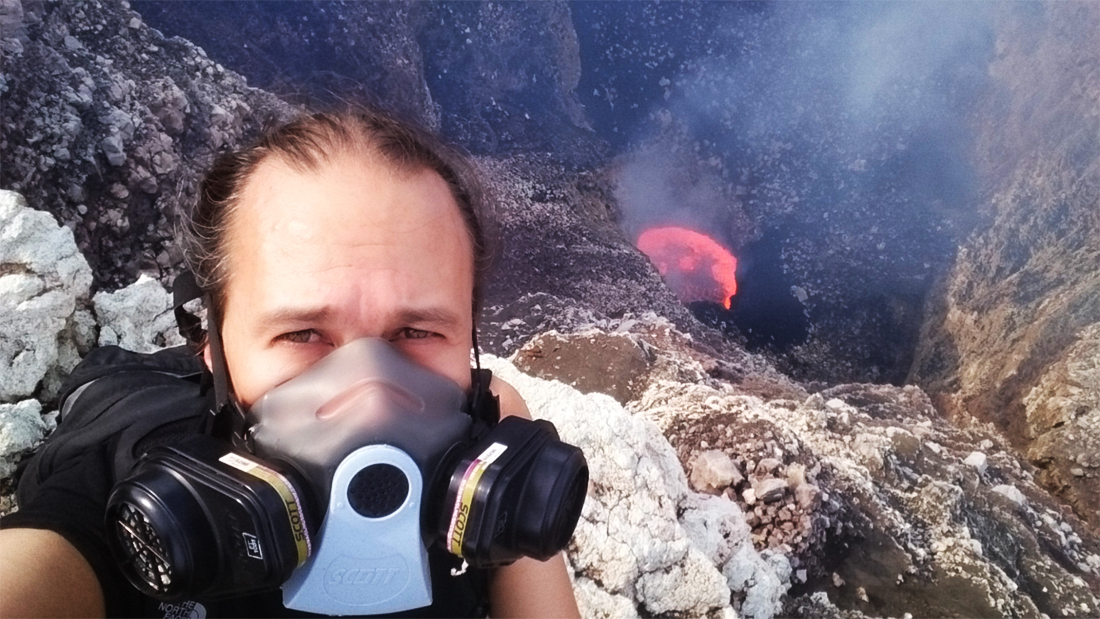 David Gascón, Libelium CTO, at the Mouth of Hell
In order to access safely to Santiago Crater, the open air lava lake, Sam Cossman and his expedition team developed a zip line system to solve some previous challenges and efficiently descend personnel and gear there. It allowed to install the Waspmote Sensor Platforms next to the crater to get data in one the most extreme and challenging environments.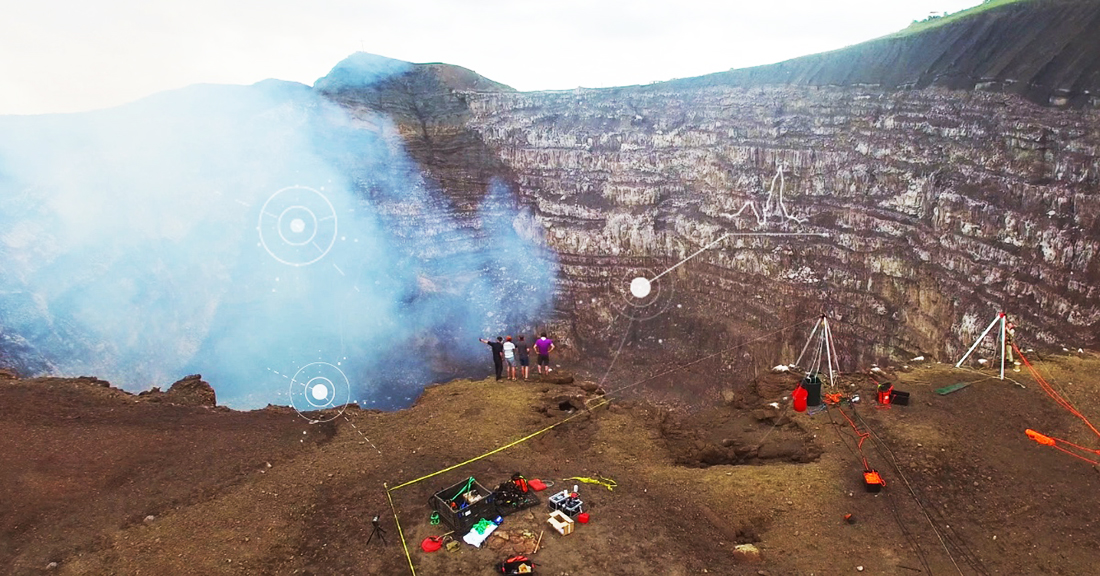 Location of the expedition camp at Santiago Crater
The Sensor Platforms deployed in Masaya volcano were Waspmote Plug & Sense! Smart Environment PRO and Waspmote Plug&Sense! Ambient Control as data repeaters. Sensors connected to Waspmote Plug & Sense! Smart Environment were more than 80 and measured CO2, H2S, temperature, humidity and atmospheric pressure.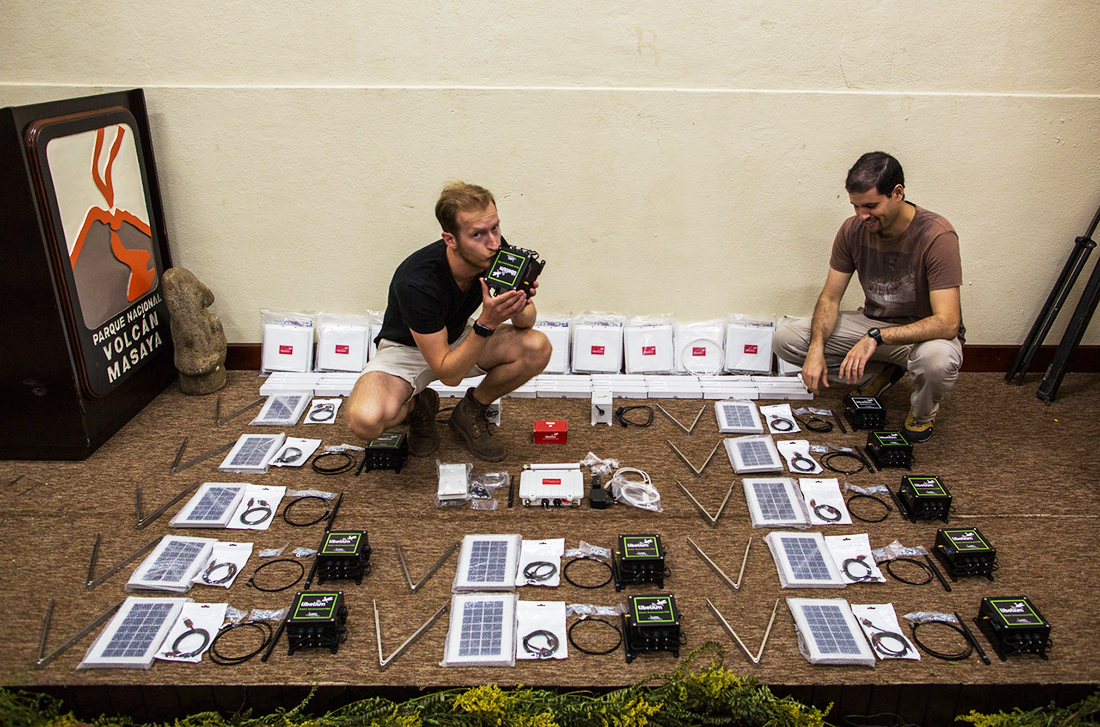 The expedition team with all the sensors deployed in Masaya volcano
The encapsuled sensor platforms were vacuum-sealed to be protect against the heat inside the crater and also in areas next to the volcano. There were around 150 degrees Farenheit (about 65 Celsius degrees) where most of the sensors will be placed, although parts of the active volcano reach 800 to 1,000 degrees Farenheit (between 426 and 537 Celsius degrees).
Waspmote Plug & Sense! Smart Environment PRO sent information directly to Meshlium Gateway and in some cases to Waspmote Plug&Sense! Ambient Control when there was low signal acting as repeater stations. This data was sent through XBee900HP. The IoT Gateway collected data and sent the information through 3G to GE database were after was visualized in Predix, a cloud-based software platform GE developed for the Industrial Internet.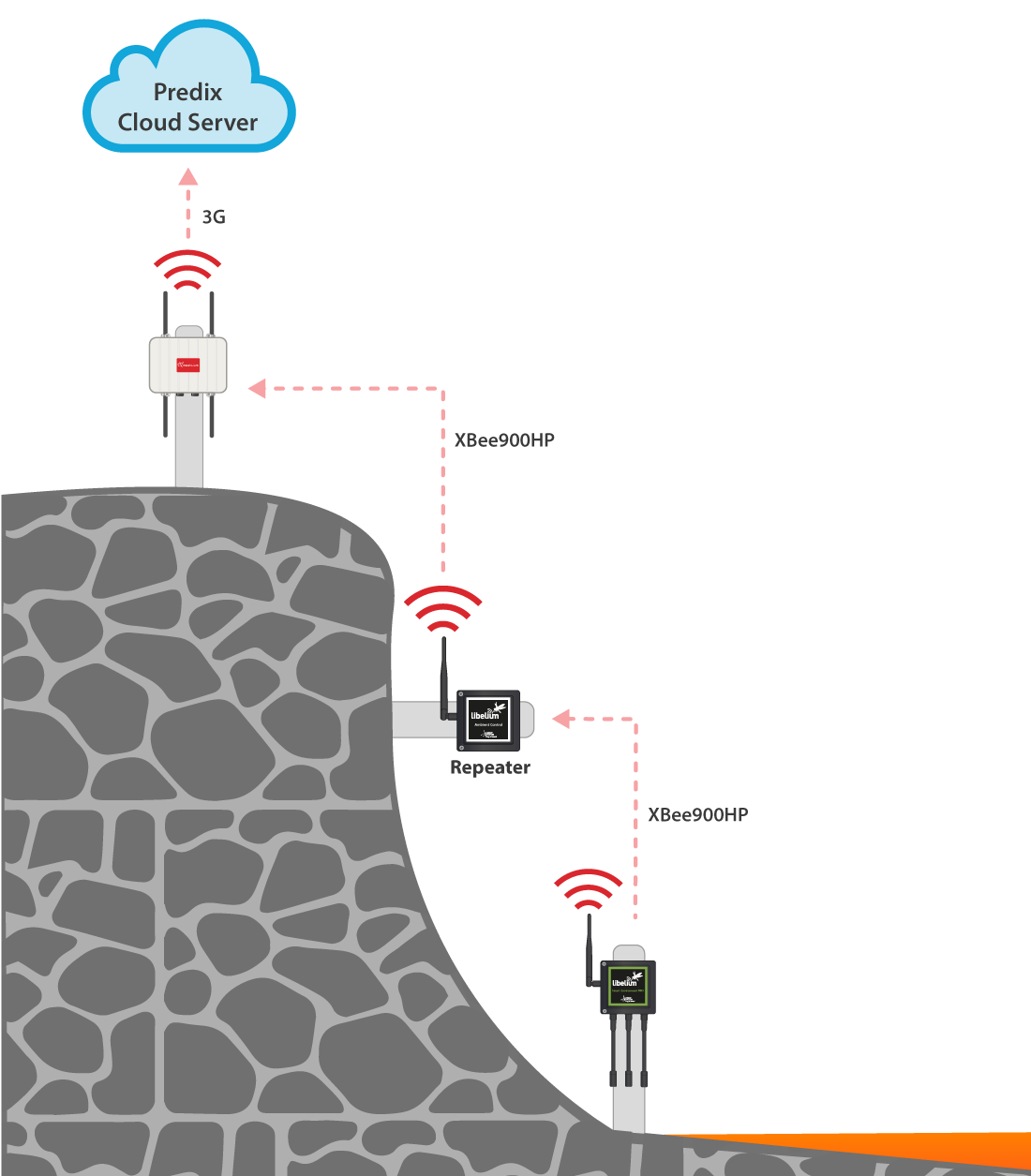 Deployment at Masaya volcano
One of the explorers from Qwake, Hugo Nordell, explained the benefits of using Libelium technology in Masaya volcano project: "Our team was able to quickly set-up and ensure that data was captured correctly. This allowed us to focus on solving actual problems related to deploying the sensors inside the crater and bringing the Masaya volcano online, rather than having to deal with connectivity and underlying data transfer".
Public service by saving lives and opening data
The main aim of the project has been building a digital early warning system to predict volcano eruptions. This information will be used by researchers and data scientists to build a family of "digital twins" to simulate digitally what is happening inside the cater.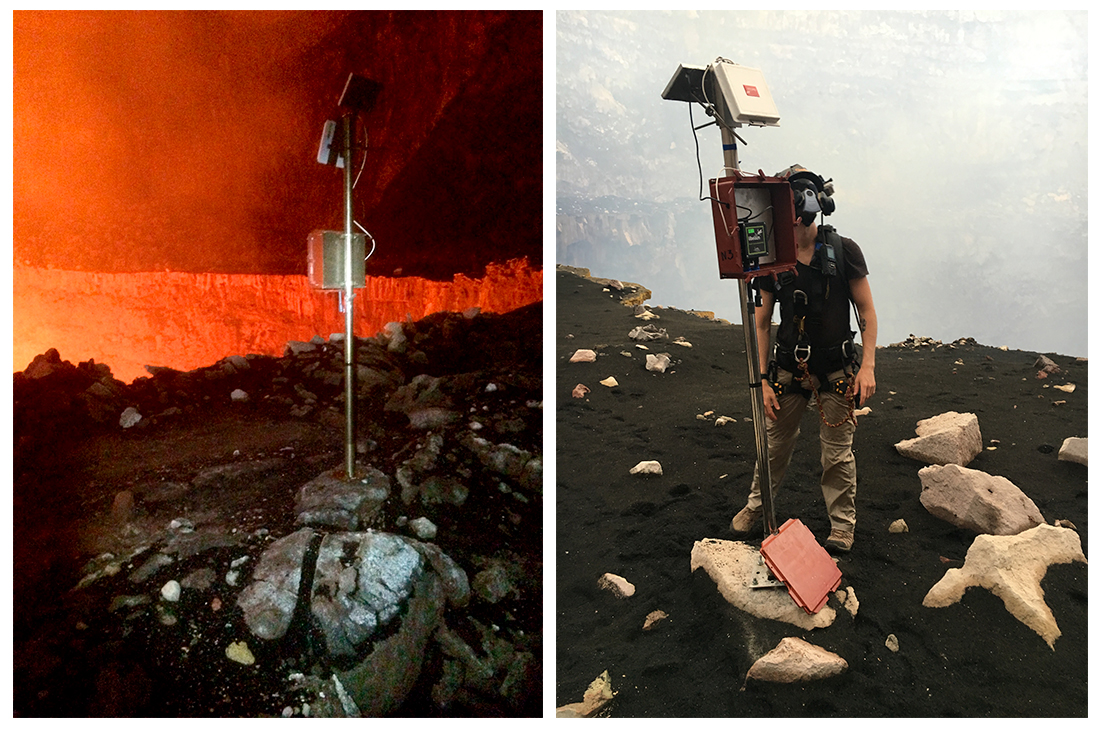 Waspmote Plug & Sense! installed next to Santiago Crater and Meshlium out of Masaya volcano
The vulcanologist who has participated in Qwake project, Guillermo Caravantes, has been widely researching about Masaya. He has explained that it represents "a real danger" for inhabitants from villages next to the volcano. "We could potentially have millions of lives at risk. It could happen at any time and the problem is that we are not able to predict when this could happen or what sorts of signs from the volcano", asserted Guillermo Caravantes, vulcanologist from Qwake.
The ultimate goal of the project is providing a public service by giving access to the general population and decision makers enabling them to experience an active volcano in real-time. The predictive analytic tools built on the cloud-based platform uses a combination of data gathered over more than 20 years of fieldwork at Masaya and also information gathered by the sensors connected to Waspmote Plug & Sense! Sensor Platforms installed in this project. All this data will help to anticipate volcanic crisis, and act as a pioneering, first-of-its-kind Early Warning System. After this project, the expedition believes that there is potential for huge applications in worldwide volcanoes.
For more information about our products contact the Libelium Sales Department: Contact us
More info:
Do you want this case study in pdf?
Download it in English🇬🇧  and Spanish🇪🇸  directly to your inbox.