Smartphone detection scanner to identify volume of visitors and behaviors in United Kingdom fair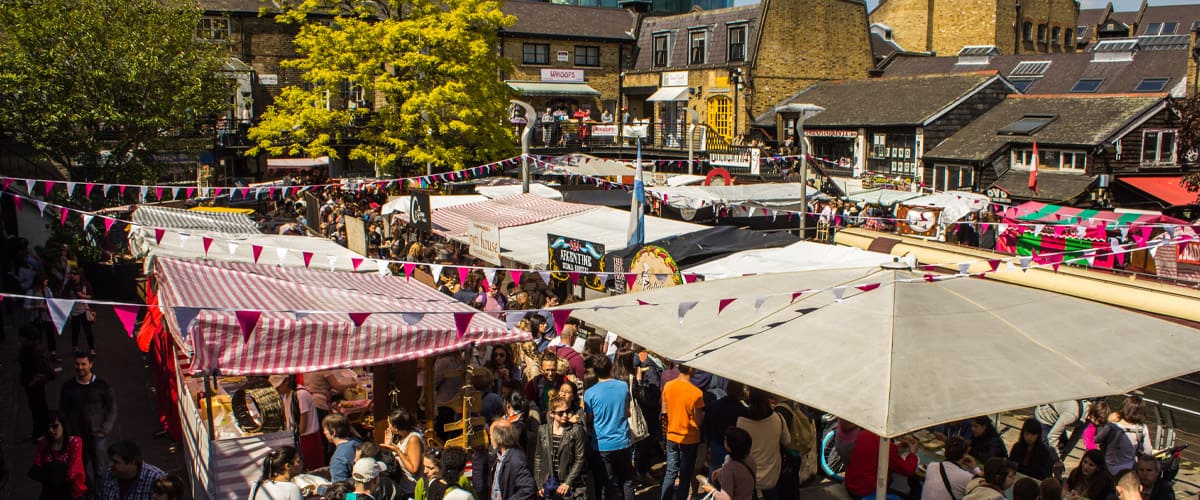 Do you want this case study in pdf?
Download it in English🇬🇧  and Spanish🇪🇸  directly to your inbox.
The "Bolton Food and Drink Festival" is celebrated every summer in the town of Bolton, located in Greater Manchester (United Kingdom). It is an event which unites different flavors and tastes from all over the world. The last gathering, in summer 2017, broke records again with more than 267,000 visitors. The organization requires control over the presence and behavior of the attendants.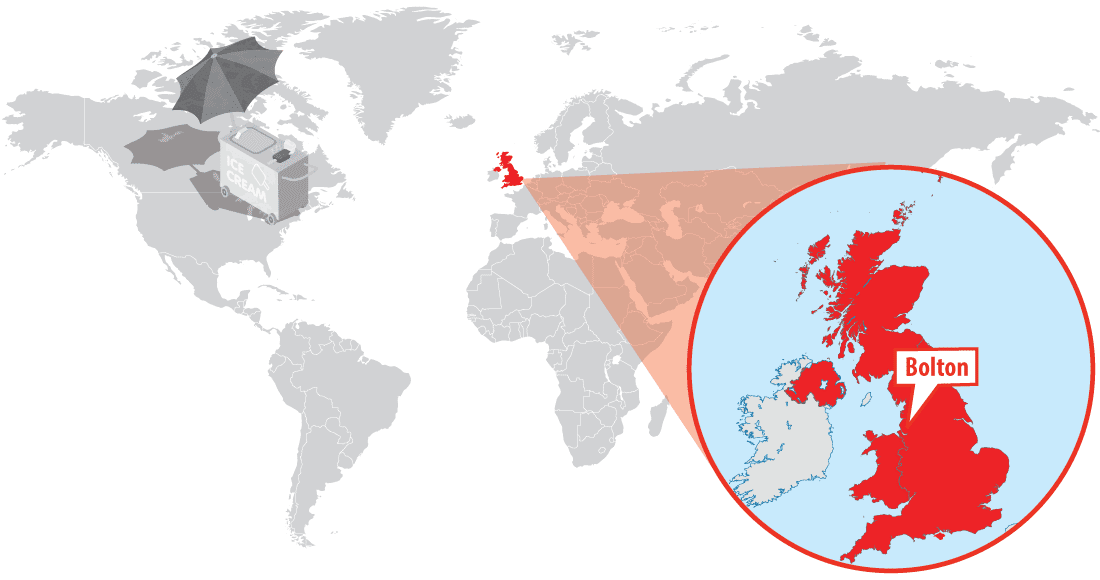 Location of Bolton, United Kingdom
IoT Technology to monitor the presence and behavior of the festival visitors
Innotech Concepts was selected by the festival organizers to manage a project to monitor visitors data. The start-up specializes in transport, events and urban data collection with a focus on connectivity, public safety and evacuation.
Innotech Concepts chose Libelium's Meshlium Scanner to deploy this project at the Bolton Food and Drink Festival. Scanning WiFi and Bluetooth devices in the festival area allowed the organizers to study the demand and conduct of the visitors in real-time.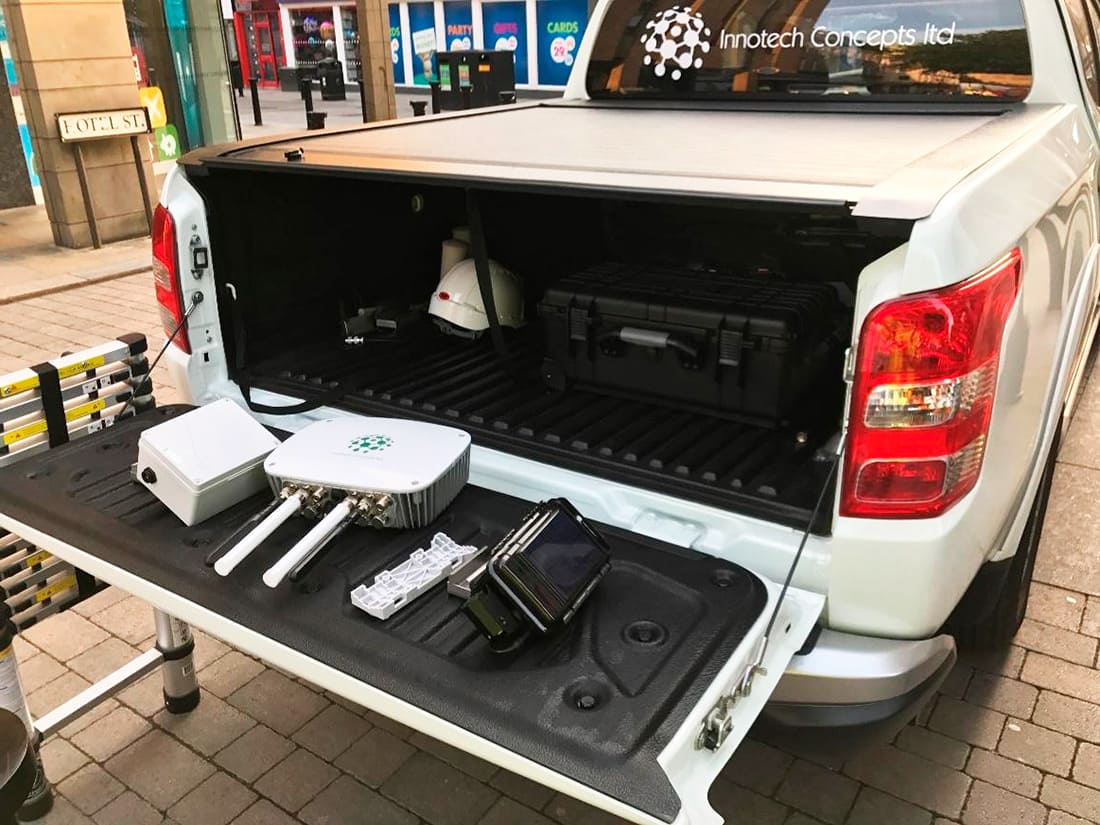 Materials for the Bolton project before the installation
The organizers needed to know the volume of visitors at three key locations including length of stay and individual journey routes between the festival and local car transport and car parks. The main goal was to create an off-grid solution that could be rapidly deployed as well as being lithium powered. Once deployed, the system scans individuals upon entry and exit.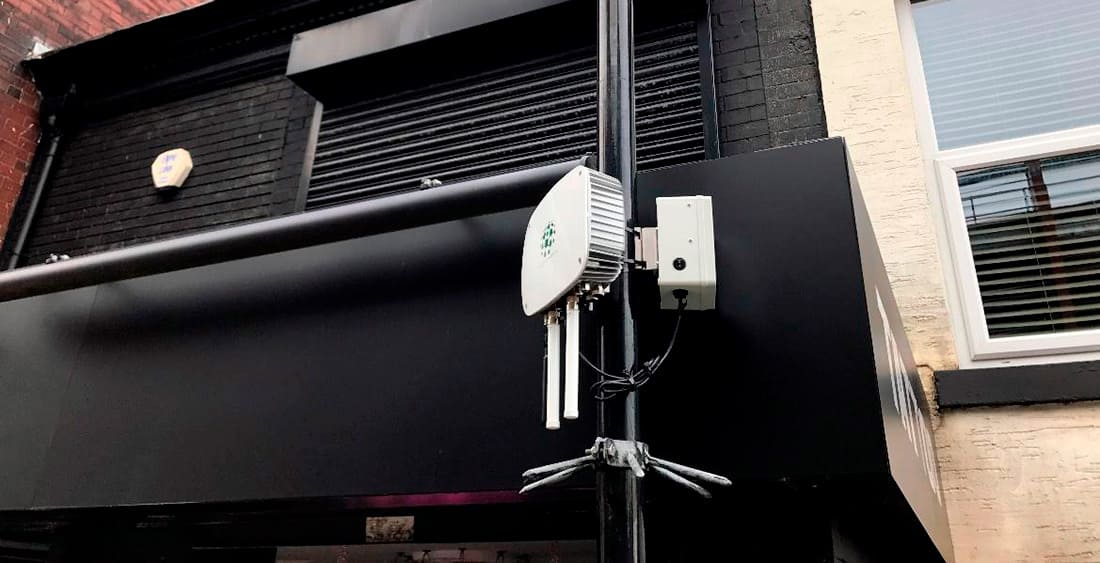 Meshlium Scanner ready to detect WiFi and Bluetooth devices
Two Meshlium Scanner units were installed at the main entrances of the fair and a third device was installed in one of the car parks and local transport parking zones, scanning devices via WiFi and Bluetooth every 15 minutes.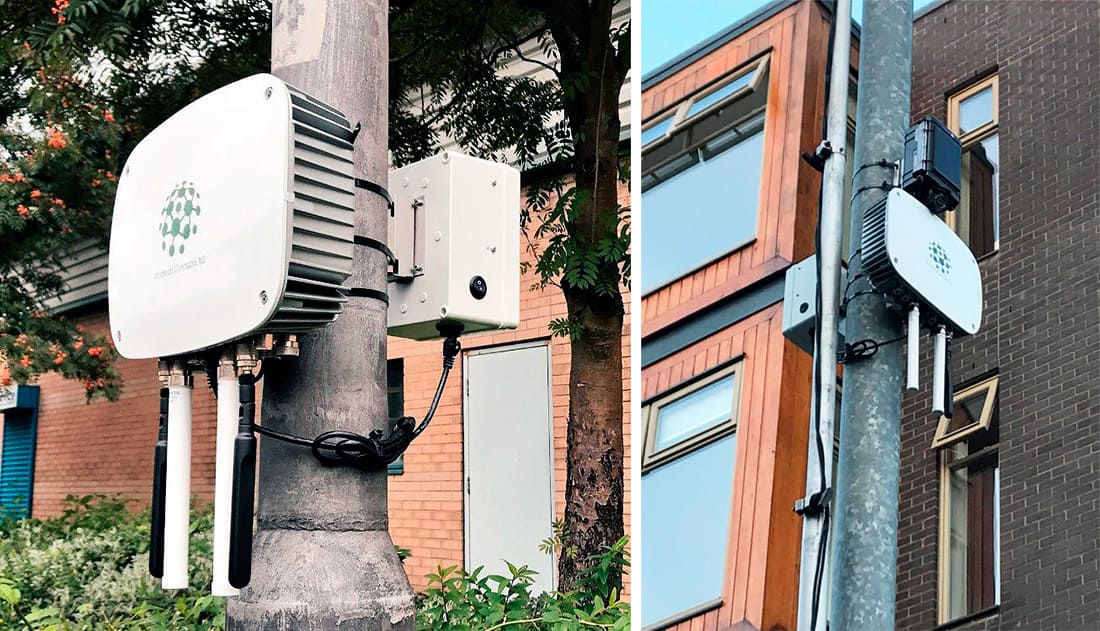 Meshlium Scanner devices at Bolton Food and Drink Festival
The main criteria for analysis were:
Duration of stay.
Visitor volume per location.
Visitor volume per day.
Most popular locations.
Most popular individual and group routes.
Total project visitors.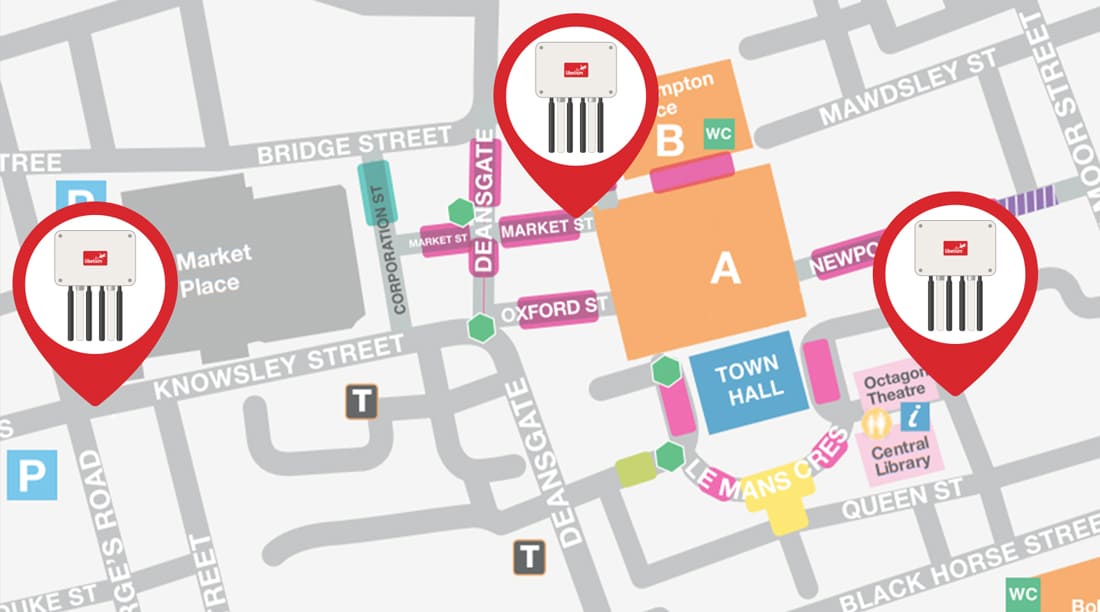 Map of Bolton Food and Drink Festival
The anonymous data was securely sent via 4G to the proprietary analysis platform, a software specially developed for modeling pedestrians called Innotech Insights Crowded™. The data is electronically analyzed and visual charts are provided alongside the raw data. Additionally, the platform also provides a raw data download option so that the customer has access to the raw data set. This means that a customer can perform their own calculations with the data and also show that the technology and its analysis is transparent, open and honest.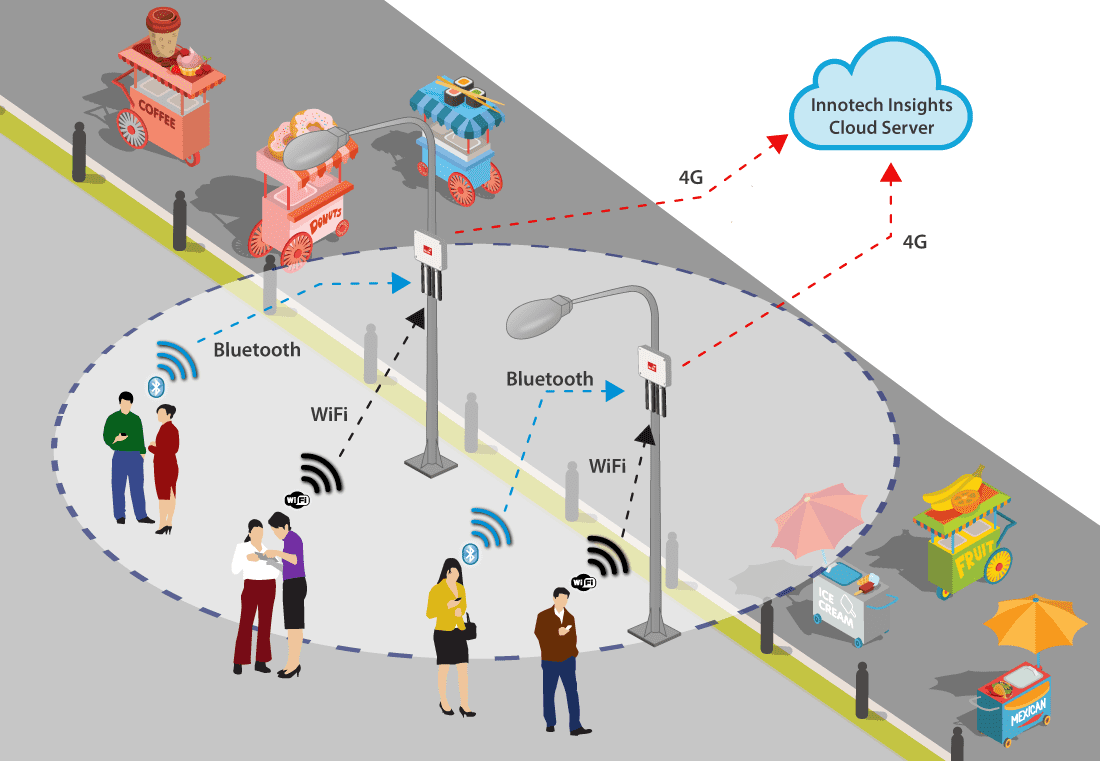 Diagram of the installation at Bolton city center
Crowded™ platform is able to process data from hundreds of projects anywhere in the world, and it is provided for both temporary and permanent installations. It includes a fully automated analysis service that provides the end-user with accurate visualizations based on projected pedestrian movements. The system can analyze data from an unlimited number of scanners for an unlimited project duration, which will allow the technology to transcend temporary study applications and support permanent smart city infrastructures.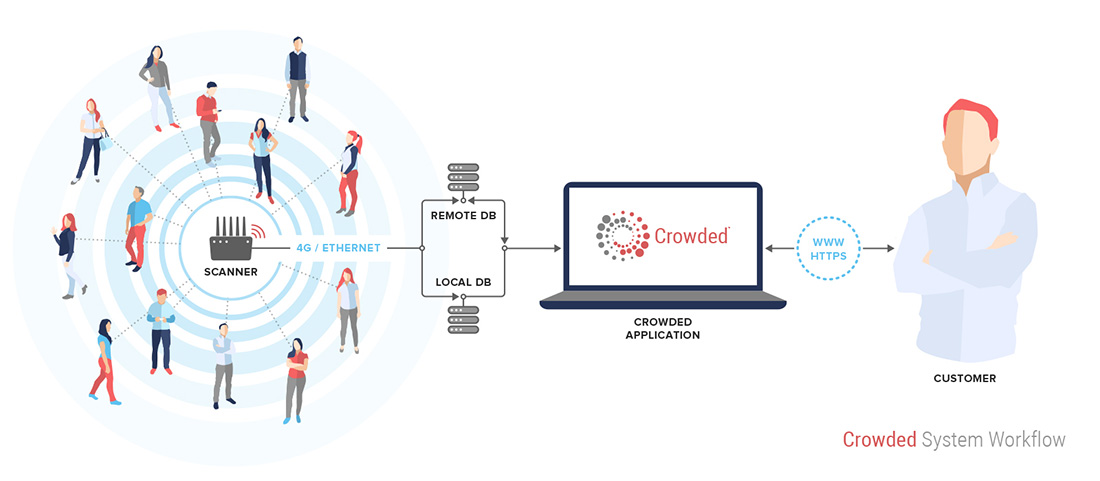 Crowded™ System Workflow. Source: Innotech Concepts Ltd.
Furthermore, the platform can incorporate emissions and other pollutant monitoring related to Smart Cities projects as an addition to the service and will utilize Plug & Sense! sensor platform.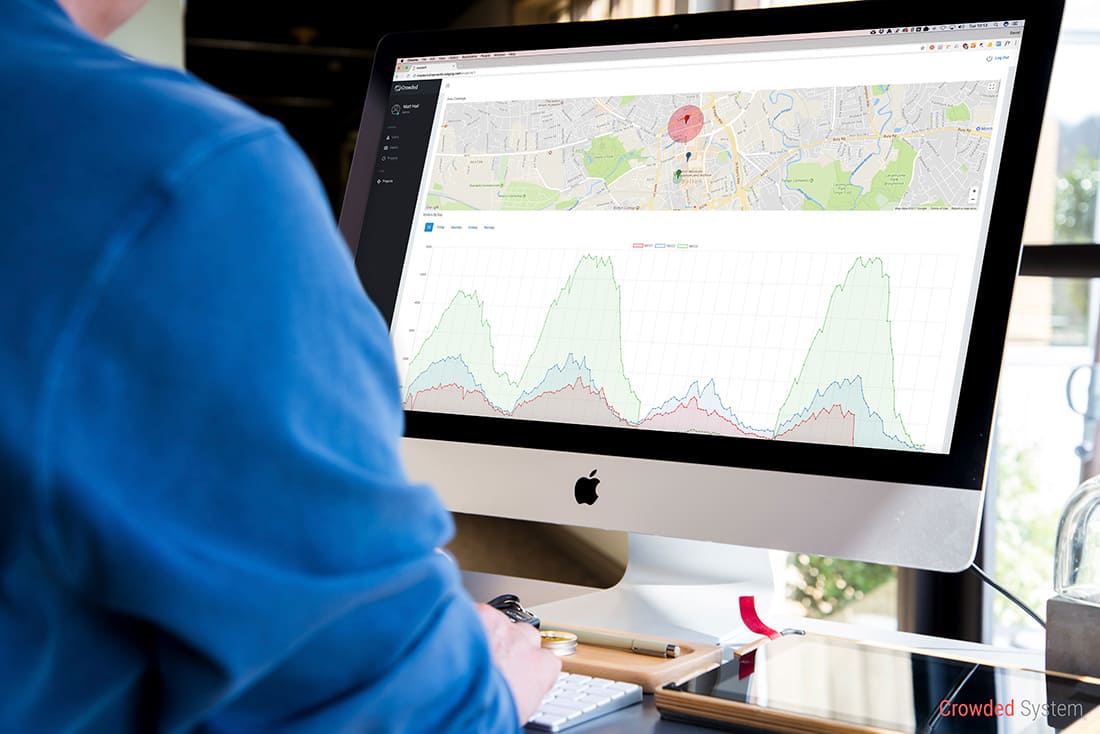 Crowded™ platform dashboard. Source: Innotech Concepts Ltd.
Liam Wright, Managing Director, responsible for R&D and Technology Commercial Application at Innotech Concepts Ltd., confirms that they are currently receiving great feedback from their customers and the major interest resides in transport consultancies.
"Libelium are fantastic in their support and they have the most advanced scanning technology on the market, we look forward to a solid working relationship", comments Liam Wright.
Libelium and Innotech Concepts have launched a new solution kit at The IoT Marketplace –the global IoT e-commerce–. The Libelium-Innotech Smart Crowded Solution Kit includes two Meshlium Scanner to detect devices which works with Bluetooth or WiFi interfaces. These devices can be detected with no need of being connected to an specific access point, enabling the detection of any smartphone, laptop or hands-free car kit which comes into the coverage area of Meshlium. In this kit, all the generated data can be visualized and analyzed through the application Crowded™ developed by Innotech Concepts Ltd.
This case study helps to achieve the following Sustainable Development Goals:

For more information about our products contact the Libelium Sales Department.
If you want to download the article in Spanish, please click here.
More info:
References:
Discover the Innotech Smart Crowded Solution Kit at The IoT Marketplace.
Do you want this case study in pdf?
Download it in English🇬🇧  and Spanish🇪🇸  directly to your inbox.
---
*TERMS AND CONDITIONS TO USE LIBELIUM CONTENT.
Libelium is the owner of all images provided on the website and it can only be used quoting the source. Any video, photograph, diagram, infographic or logo cannot be used or transformed without Libelium authorization. You can request the files in high resolution to publish on your website or to insert in marketing flyers always using Libelium logo and linking with Libelium website.
If you are going to publish the article in a website or media or in a white paper or research study, it must be done including all the references and mentioning Libelium as the source of the content.
© Libelium Comunicaciones Distribuidas S.L. – www.libelium.com