Libelium attends the IoT Solution World Congress in Barcelona
2022: Libelium returns to the IoT Solutions World Congress
After a couple of years locked by the pandemia, Libelium returns to on-site events.
In these two years, the world has paused and it seems nothing has changed, but, in fact, everything has accelerated: digitization in the administration, remote working in companies and citizens' demand for greater transparency and sustainability.
At Libelium we are convinced that the Internet of Things technology is a powerful weapon to build a friendlier and more sustainable world. And that is what we will share with you at the IoT Solutions World Congress.
Alicia Asín will share Libelium's new vision
Our CEO, Alicia Asín, will share the Libelium view which has led us to design a new game-changing IoT solution. She will talk about the new paradigm with  Libelium as the pioneer. It is not only a new IoT solution, it is even a more global way to think about IoT, privacy, datacracy and sustainability.
Save the date:
Who: Alicia Asín, Libelium CEO
What: The countdown for a more sustainable era has already begun
When: Wednesday 11 May, 2:30 PM CET
Where: Auditorium – Fira Barcelona Gran Via Hall 4
Visit our booth and discover our new solution: At Booth D447
W will show our new IoT concept: more flexible, more configurable, more secure and, overall, more sustainable.
We have listened to many different actors in the IoT ecosystem to design a game-changing technology for an improved fit for the market. Only 800 available on our first release! So be fast to know more about the ideal solution for your project. Our sales department will be pleased to attend your visit.
First look at the new Libelium brand positioning
Last, but not least, this is the first event in which we deploy our new brand positioning. As pioneers of IoT, we have climbed up a very long path to reach a new point of view. We have been behind the change of many companies and industries through their succeeded digitization, "powering the IoT revolution".
Now we want to go beyond the challenge that we are facing as Humanity.
Come and talk to our marketing team. We have a lot to share together 🙂
---
Review with us our participation in previous editions
2021: Global IoT Connectivity in 2030 (How Do We Get There?)
On the last 11th of May, our CEO & Co-founder Alicia Asín participated in a panel discussion under the IoT solutions world congress event together with Phil Sipper (Vodafone Group Business), Matt Hatton (Transforma Insights), and Allen Proithis (Capstone Partners, Inc) on what the global IoT connectivity landscape could be in another decade, and what implications does IoT connectivity has for the decisions we make today.
"In the intervening time, much has changed. New connectivity tools have become available, including 5G, LPWA, and eSIM, while trusty 2G is on the way out. The network architecture has also changed radically with the growth of cloud services, edge computing, private networks, and the arrival of the hyperscalers."
Now you can watch the entire Alicia Asín's intervention by clicking the following link: Global IoT Connectivity in 2030 (How Do We Get There?)

---
2019: Libelium participated at the IoT Solutions World Congress
One of the most important meetings in the Internet of Things (IoT) market every year takes place at Fira Barcelona. In 2019, Libelium was exhibiting at stand B217 where attendants will discover the innovative solutions for Smart City (water management and quality, smart parking, mobile scanning or air quality monitoring), Smart Agriculture (crops and farm intelligent management), and Cloud services, among others solutions.
One of our libelium's SAM, spoke in an individual session as a Green IOT Solutions Expert with the title "Drones, Sensors and Blockchain for water quality control in the Volga river to promote trustworthy data and transparency". Aleksandr Kapitonov, from Aira Life, will accompany him as Project Manager of this success story. This case study was shown in the testbed area for all those who wanted to know this original solution that mixes several disruptive technologies in order to control the water quality of one of the most important rivers in the world.
2018: The IoT Marketplace by Libelium shows at IoT Solutions World Congress more than 100 solutions to improve sustainability and competitiveness
Libelium participated in IoT Solutions World Congress in Barcelona with The IoT Marketplace as the guest star of the booth. This online store currently offers more than 100 kits ready to be deployed, including hardware devices and software visualization, for different applications that improve sustainability and competitiveness. The most demanded solutions exhibited revolve around monitoring different agriculture crops, water quality management, fish farms supervision, air quality control, applications for smart buildings and factories, fire and flood prevention, smart parking, among others.
The IoT Marketplace allows customers to try solutions and visualize how to scale them in a cost-effective way. "While the hype of the IoT and the lack of integrated solutions discourages the investments and the fast adoption, The IoT Marketplace helps to prevent customers from getting lost while designing their IoT projects, choosing the right hardware and the cloud application in a simple process," states Alicia Asín, Libelium's CEO. In addition, The IoT Marketplace is the seed for the consolidation of a unified portfolio of solutions for the IoT market in which all members of the value chain can participate: from sensor manufacturers, through wireless communication protocols and gateways to cloud software service platforms.
Smart solutions to join the physical and digital world
The Libelium stand staged the union of the physical and the digital world that the IoT technology currently allows to connect. With this aim, Libelium showcases 6 common urban spaces to set the 6 most outstanding technological solutions for smart water management, for precision agriculture, for measuring air pollution and noise levels in cities, for parking management, for measuring vehicles and consumer patterns in commercial areas and for e-health control.
At Libelum's stand, the attendees will have the opportunity to test some of Libelium's most outstanding solutions in action hand in hand with the software solutions of our partners:
Demo of marine habitat conservation
Libelium was selected by IoT Solutions' Jury to be present at the Testbeds area. This space offers experimentation platforms deployed and tested in an environment that resembles real-world conditions.
Libelium showcases its Smart Water Testbed titled "Protecting and conserving the Beluga whale habitat in Alaska", a project developed in partnership with Aridea Solutions.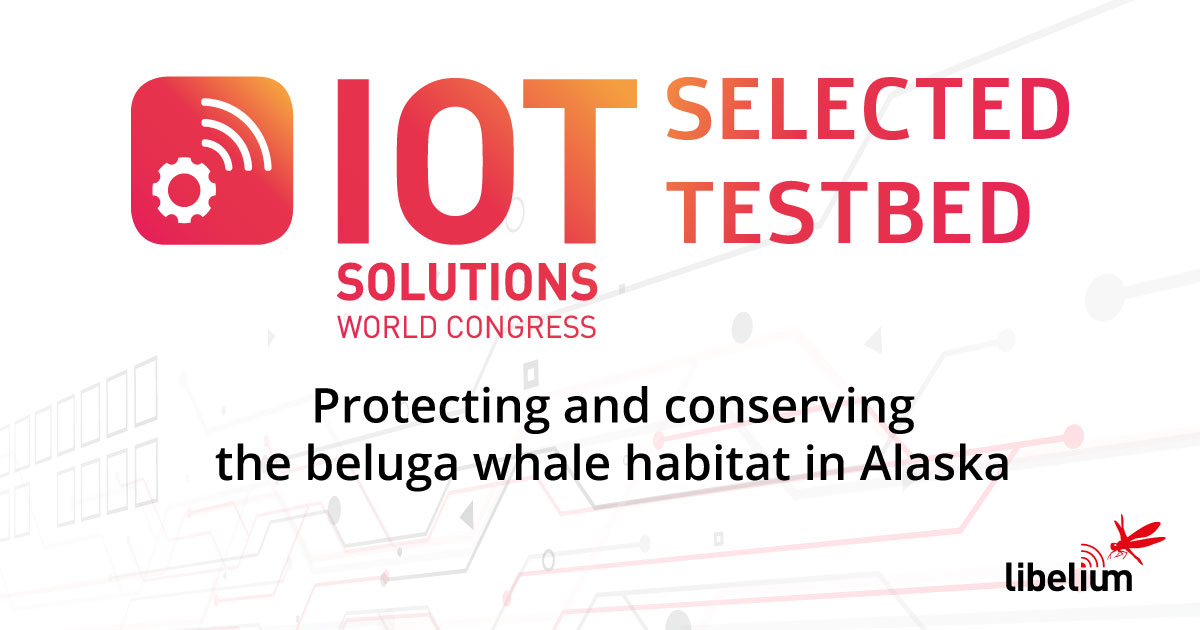 This testbed shows a project developed to monitor air and water quality after a gas leak at the Cook Inlet in Alaska, home of the endangered Beluga Whale. Aridea Solutions designed a buoy equipped with Libelium's wireless sensor platform to monitor pollution levels in air and water near the leak affecting the Beluga whales and other aquatic mammals. Conservation of marine habitat and protected species with IoT technology is helping to reduce pole warming and consequent climate change.
Conference about interoperability and ecosystem cooperation based on a fishfarm project in Iran
Libelium presents the session "Interoperability and ecosystem cooperation: IoT water quality control in fish farms in Iran".
ASM, Libelium distributor in Iran developed a Smart Water sensor network to measure the water quality parameters of the fish farms. Having information about water quality parameters in fish breeding ponds offers the farmers the possibility to manage their installations in an improved and more effective way, accelerating their inner processes.
Libelium and ASM, in collaboration with Loriot and Daliworks, have constructed the best example of an interoperability project as a result of its ecosystem based relationship: a system where all the members interact and depend on each other. On the project developed in Iran to monitor water quality in fish farms, Libelium is providing the first part of the value of chain, the hardware; Daliworks is providing the clouding; Loriot offers the network server for handling LoRaWAN connectivity; and ASM is providing the analytics, the local support ant the commercialization from the A to Z solution. This is a winning strategy based on the construction of a strong ecosystem.
The IoT Marketplace, finalist of IoT Solutions Awards 2018
The IoT Marketplace competed with Huawei and Serimag as finalist of The IoT Solutions Awards in the Business Transformation Category. The IoT Marketplace has been selected for being a one-stop click-and-buy online store that offers fully integrated solutions, from hardware sensors to cloud applications, with the aim to speed up IoT adoption allowing the use in real projects with the minimum time to market.
If you want to arrange a meeting there contact our Libelium Sales Department.
More information:
Protecting and conserving the beluga whale habitat in Alaska with Libelium's flexible sensor platform: libelium.com
Precision Agriculture: Predicting Vineyard Conditions, Preventing Disease: libelium.com
Controlling fish farms water quality with smart sensors in Iran: libelium.com
Smart Parking Sensor Node Solution: libelium.com
Meshlium Scanner: Smartphone Detection: libelium.com
MySignals eHealth Development Platform: my-signals.com
Partners' kits at The IoT Marketplace: