Rey Jaime I Awards: Science, Innovation and Entrepreneurship: 27 April 2018, Zaragoza, ES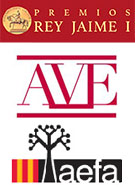 Alicia Asín, Libelium CEO, will be participating in an event organized by the Rey Jaime I Awards Foundation, Asociación de Empresa Familiar de Aragón and Asociación Valenciana de Empresarios in Zaragoza (Spain) on the 27th April 2018.
Alicia Asín received Jaime I Entrepreneurship Award on the 30th October in Valencia (Spain). The Rey Jaime I Awards are one of the most prestigious prizes in Spain, granted by the Government of Valencia and whose members of the jury include several Nobel winners. These awards aim to enhance research and development among scientific and business entities.
Several "Rey Jaime I" awarded will participate in the roundtable about science, innovation and entreprenerurship. The session will take place at Caixaforum building (Zaragoza), between 12.00 and 14.00 (CEST).
If you want to know more about the event, please enter the registration form.