Libelium presents the latest innovations of its new IoT Platform at Mobile World Congress
Libelium will participate as exhibitor in its second year at Mobile World Congress in Barcelona between February 27 and March 2 with a larger stand. The company will show its wide range of solutions for Precision Farming, Water Management, Industry 4.0 or Environment at stand 8.0F9 in the IoT Pavilion (hall 8).
This year, Libelium will focus on its new IoT Sensor Platform worldwide certified with important improvements for the sensor nodes Waspmote and Plug & Sense! and the IoT gateway Meshlium. The devices are now faster, more accurate, energy-saving and compliant with the latest radio and cloud technologies in the market.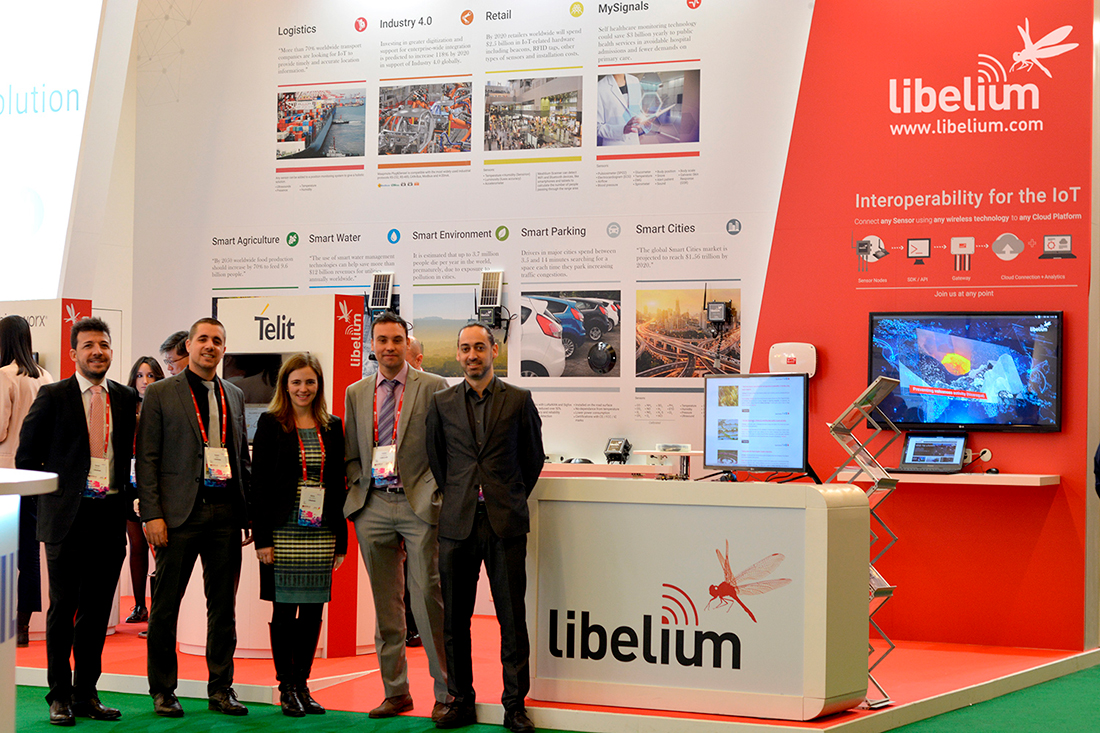 Libelium team at MWC 2017
The new IoT Smart Cities Platform will also be displayed at the booth. It enhances accuracy in noise level and air quality pollution sensors to combat climate change and prevent the impact in citizens health. Libelium has improved its sensors design according to regulations of noise and environmental control.
Libelium also displays on the booth te real projects developed with five partners: Thingworx, Egle.io, Telit, Spark Compass and Arrow. Thingworx will show a demo deployed in three areas around Boston (downtown, industrial area, residential neighborhood) to control and calculate air quality index. Besides, alerts have been set to create notifications when the air quality is reaching an unhealthy level so corrective actions can be taken.
Eagle.io will display a Smart Water Solution to improve and simplify remote water quality monitoring in rivers, lakes, fish farms or the sea. The platform allows to store, visualize in real-time and alert on time series data for portfolios of connected devices. For its part, Telit will offer a live demonstration of their IoT portal and Industrial IoT (IIoT) platform with the collection and visualization of data from a PLC and various Waspmote sensors connected to Meshlium at Telit booth in MWC.
Rosecroft is a historic estate in San Diego, California. Total Communicator Solutions, Inc. has developed there a Living Lab that includes Libelium sensors to get Air quality, Agricultural and Parking data. The dashboard will show live streaming data at our booth through the Spark Compass platform. Arrow will represent a smart city with our sensor platforms and use cases to demonstrate sense and react capabilities of Arrow platform.
If you want to arrange a meeting there contact our Libelium Sales Department.
Buy our IoT Kits at The IoT Marketplace!
The IoT
Marketplace
Buy off-the-shelf
IoT kits