Verified hardware and software enhance interoperability and allow faster time to production
Libelium has joined Microsoft Azure Certified for Internet of Things (IoT), ensuring customers get IoT solutions up and running quickly with hardware and software that has been pre-tested and verified to work with Microsoft Azure IoT services. Microsoft Azure Certified for IoT allows businesses to reach customers where they are, working with an ecosystem of devices and platforms, allowing for faster time to production.
Libelium sensor networks based on Waspmote sensor nodes and Meshlium Internet gateways power projects in the industrial IoT, smart agriculture, energy monitoring, and for environmental and industrial control.
For Libelium customers, Microsoft Azure provides a scalable infrastructure for data, virtual machines, server and front-end applications. With sensor technology to measure energy use, monitor environmental conditions, water quality, businesses can reduce costs and increase productivity. A customer integration of Libelium and Microsoft Azure demonstrates a complete industrial IoT solution in a Smart Factory, from sensor integration on the factory floor to business processes and data visualization in real time.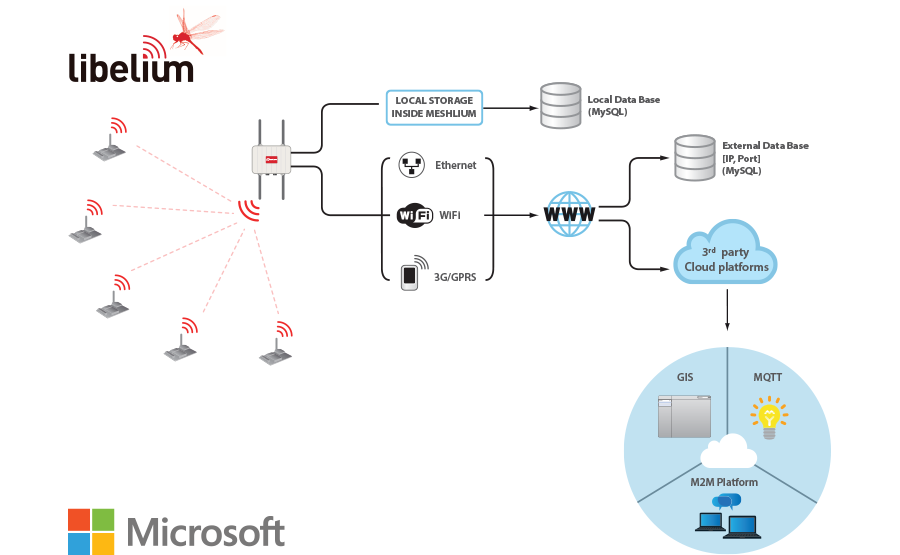 Libelium Sensors Connect with Microsoft Azure Cloud Platform
"Microsoft Azure Certified for IoT validates our ability to jump-start customers' IoT projects with pre-tested device and operating system combinations", said Alicia Asín, CEO at Libelium. "Decreasing the usual customization and work required for compatibility ensures Libelium helps customers get started quickly on their IoT solution."
"Microsoft Azure Certified for IoT extends our promise to bring IoT to business scale, starting with interoperable solutions from leading technology companies around the world," said Barb Edson, general manager for Data Platform and Internet of Things, Microsoft. "With trusted offerings and verified partners, Microsoft Azure Certified for IoT accelerates the deployment of IoT even further."
IoT projects are complex and take a long time to implement. Customers find that choosing and connecting the right set of devices, assets or sensors to the cloud can be time-consuming. To jump-start their IoT projects with confidence, customers are looking for certified devices and platforms that are tested for readiness, compatibility and usability with the Microsoft Azure IoT Suite. By choosing a partner from the Microsoft Azure Certified for IoT program, customers can save time and effort on project specs and RFP processes by knowing in advance what devices and offerings will work with the Azure IoT Suite.
Libelium has partnered with the best Cloud software solution providers to offer all the necessary components to deploy Internet of Things (IoT), machine-to-machine (M2M) or Smart Cities projects with minimum time to market.Read more about the Libelium Sensor Clouds
To learn more visit Azure IoT Suite website..
Read more about the Libelium and Microsoft collaboration.
For more info, please visit Cloud Software Solution Partners and read the Meshlium Technical Guide
.
For more information about our Cloud solutions and partnerships contact the Libelium Commercial Department.