IoT sensor market demands local support for Smart Cities, agriculture, water quality, air pollution projects
SAN MATEO, Calif., TOKYO, and ZARAGOZA, Spain—February 17, 2015—Libelium has added seven new distributors to its network of Value-Added Resellers (VARs) in Asia, Europe, and the Americas, doubling the number of authorized distributors of its Waspmote sensor network devices worldwide in less than a year.
Libelium's new distributors in Asia Pacific, Europe, North and South America will sell and install sensor network systems based on Waspmote sensor nodes and Meshlium gateways to meet increased demand for Internet of Things (IoT) technology in many areas. Sensor technology is deployed to reduce energy use, monitor environmental conditions and water quality, to improve infrastructure and urban resilience in Smart Cities, in agriculture, for environmental control, and industrial IoT projects.
Libelium's distributor program includes systems integrators and VARs specialized in electronics, telecommunications, embedded systems, sensor deployment and wireless networks.
Check Libelium Distributor Network in https://www.libelium.com/contact/#distributors
"We work with our distributors as go-to-market partners to share the opportunity for expertise in wireless sensor networks. Customers of sensor network technology look to systems integrators to deliver technology solutions that fit their business needs," said Javier Martinez, Libelium Vice President, Business Development. "With our program, VARs have access to a range of development tools, training and information resources that allow them to increase revenue and accelerate adoption of Libelium's sensor products and services."
Libelium products are sold and deployed through a global distribution network. To locate or propose a distributor, please contact: commercial@libelium.com; telephone: +34-976-547-492.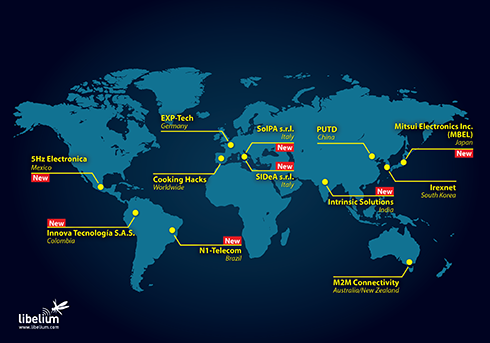 Libelium Distributors / VARs
Asia
Australia/New Zealand
Europe
North America:
South America:
Worldwide:
For more information about our solutions, distribution network and partnerships contact the Libelium Commercial Department.